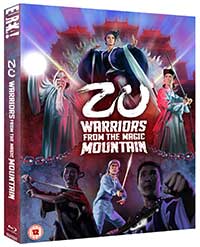 From the legendary Tsui Hark, Zu Warriors from the Magic Mountain is an exhilarating wuxia film that follows young Tang Dynasty soldier Dik Ming-kei (Yuen Biao, Wheels on Meals) who is caught in a civil war between two rival armies when he takes refuge in a cave in the ominous Zu mountain. There he meets Ting Yin (Adam Cheng) and teams up with him in a supernatural fight to save the world from the creature known as the Blood Monster.
With colorful sets and costumes and high-octane action and martial arts sequences directed by Sammo Hung (Iron Fisted Monk), the film has some flaws, but it is an undeniably fun film that laid the groundwork for a lot of films to come in this genre such Painted Skin or Flying Swords of Dragon Gate.
The Video
We get a brand-new 2K restoration of Zu Warriors from the Magic Mountain making its worldwide debut on Blu-ray from Eureka Entertainment's Eureka Classics range here in a 1.85:1 AVC 1080p encodement that has vivid colors, natural, organic film grain, and excellent detail.
[envira-album id="123192″]
The Audio
The film comes with the original Cantonese monaural track in LPCM Mono and an English stereo dub as well. The sound for the Cantonese mix is a little boxy, and we get the usual out of sync lips as one assumes actors speaking a mixture of both Cantonese and Mandarin are dubbed over in Cantonese, but ultimately it works.
The Supplements
Zu Warriors from the Magic Mountain is packed with archival interviews of cast and crew plus a contemporary interview with filmmaker Tsui Hark in addition to the collector's edition inclusions such as booklet and O-card.
Alternate Opening Credits
Select Commentary with Tony Rayns
Zu: Time Warrior – Export Cut
Son of the Incredibly Strange Film Show: Tsui Hark (1.33:1; 1080p; 00:22:24)
Interview with Tsui Hark, Hong Kong, January 2020 (1.78:1; 1080p; 01:01:23)
Interview with Yuen Biao (1.33:1; 720p; 00:12:28)
Interview with Moon Lee (1.78:1; 720p; 00:21:16)
Interview with Mang Hoi (1.78:1; 720p; 00:17:39)
Original Hong Kong Trailer
Limited Edition O-Card with new artwork by Darren Wheeling (2000 units)
Collector's Edition Booklet featuring new writing on the film (2000 units)
The Final Assessment
Eureka Classics brings a stunning restoration of this early 1980s martial arts classic to Blu-ray. Genre fans will certainly enjoy this gorgeous to watch thrill ride wuxia film with its easy mix of comedy and hard-hitting action.
Zu Warriors from the Magic Mountain Limited Edition is out 20 April 2020 in the UK from Eureka Entertainment's Eureka Classics imprint.
---
The Creative Content: 3.0/5
The Video: 4.0/5
The Audio: 3.5/5
The Supplements: 4.0/5
Rating Certificate: UK:12
Studios & Distributors: Golden Harvest Company | Eureka Entertainment
Director: Tsui Hark
Writer: Szeto Cheuk-Hon
Run Time: 98 Mins.
Original RRP: £22.99
Street Date: 20 April 2020
Aspect Ratio: 1.85:1
Video Format: AVC 1080p
Primary Audio: LPCM Mono
Secondary Audio: English Stereo
Subtitles: English