–
The Series
[Rating:3.5/5]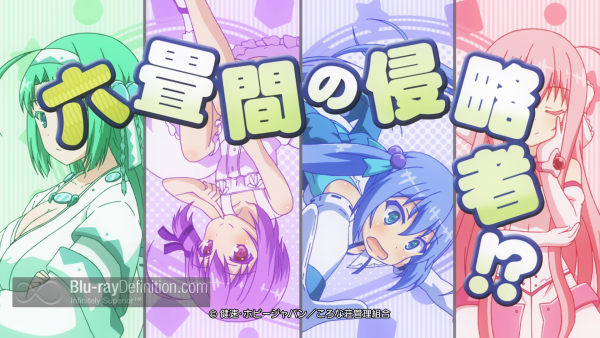 Invaders of the Rokujyoma!? (六畳間の侵略者!?) is based on the Japanese light novel series written by Takehaya and illustrated by Poco. The series is a harem romance comedy that follows male protagonist Satomi Kōtarō, a teenager who decides to live on his own when he begins high school. When Kōtarō moves into his new room, Room 106 of Corona House, a room he chose because of its affordability, he finds it is haunted by a a young female ghost, Higashihongan Sanae. She want to oust him from the room, and she uses her ability to manipulate solid objects to attempt to do just that. But Sanae isn't the only one in Room 106. Kōtarō has gotten himself into a real pickle with Room 106. There are numerous magical and supernatural girls who want to "invade" the room, including the clumsy mahō shōjō Nijino Yurika who intends on occupying the room, but no one actually believes she is magical; they think she's just really into cosplay. Then there is the beautiful, busty Kurano Kiriha who appears from an underground lair inside Room 106 claiming to be a descendent of the Earth People. She says she needs the room as sort of a majical shrine from which to create weapons and launch an invasion of the Earth's surface for her people. Also, there's an alien princess, Theiamillis Gre Fortorthe, a rather rambunctious girl whose spaceship is revolving the planet. She was tasked with claiming a spot in the universe in order to prove her worthiness for succession to the throne on her planet and, wouldn't you know it, her ship's computer spit out Room 106 as the place she should conquer. Along with her for the quest is her servant girl Ruthkhania Nye Pardomshiha. Lastly, Kōtarō finds himself always around the lovely Sakuraba Harumi, a girl from his school that has a crush on him. She is the only one who is not some supernatural being, but her presence and feelings for Kōtarō, as one might expect, are a constant source of jealousy for the other girls in Room 106, as they not only compete for the room, but slowly but surely begin to compete for Kōtarō's affections.

This is an oddball series, if I may use a highly technical term, that has an unusual plot. Yes, the idea that all of these cute girls would show up in this high school boy's room to try to conquer it seems way out of left field, but somehow the plot device works, especially since the characters are all so compelling when thrown together, even if they do fit the usual anime archetypes. That said, the series is not without its quirks. The story arch does not develop as smoothly as one would like. While the series starts off quite normally – if you could call this whole setup normal at all– by the end it seems that the writers have turned Kōtarō himself, not to give too much away, into some sort of powerful hero. It worked much better when he was just a hapless guy trying to navigate through the peculiar behavior and romantic come-ons of his unwanted house guests.
Still, the comedy is good and the actors, the female ones especially, are excellent. And while the animation doesn't break new ground, it is nevertheless eye-catching in its own right. The characters designs are reasonably sketched.

Video Quality
[Rating:4.5/5]
The AVC/MPEG-4 1080p encodement on Blu-ray of the digital animation for Invaders of the Rokujyoma!? looks really strong. We get great color reproduction and crisp line art. There are only the slightest hints color banding in some areas that are not a major issue at all. This is a very pleasing transfer that resides on one disc.

Audio Quality
[Rating:4.5/5]
Invaders of the Rokujyoma!? comes with a Japanese DTS-HD Master Audio 2.0 stereo (48kHz/24-bit) soundtrack as the sole audio option. The mix is a good one for a stereo mix with wide stereo imaging and good dynamics and clean dialogue. The Japanese voice cast is also very good at their characters and really make you enjoy the series.

Supplemental Materials
[Rating:0.5/5]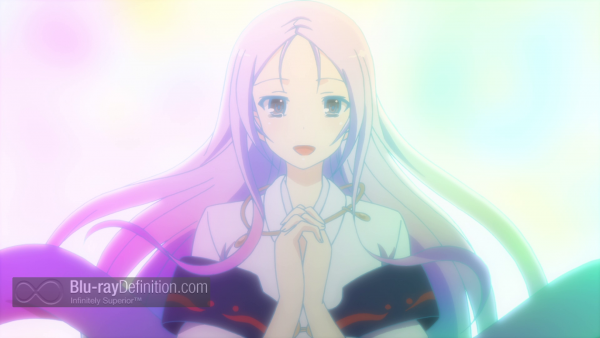 Just the clean opening and closing animations and additional Sentai Filmworks trailers are included.

The Definitive Word
Overall:
[Rating:3.5/5]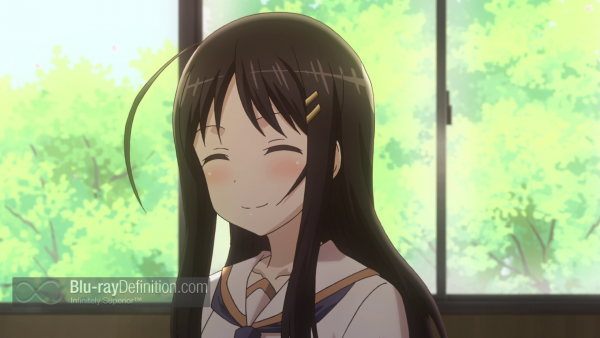 An overall pleasing series with some minor flaws, Invaders of the Rokujyoma!? is a good 12-episode series that is funny and quick-paced, providing a good voice cast and decent animation. It looks splendid in this Blu-ray release from Sentai Filmworks.
Additional Screen Captures