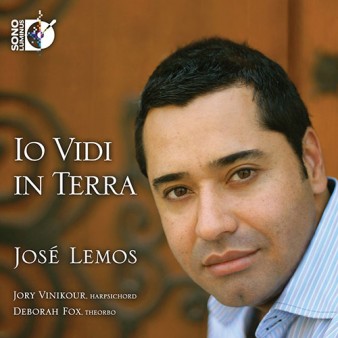 – –

The Album
[Rating:4/5]
A program of music that is four centuries old provides the bill of fare in this recent Sono Luminus release, Io Vidi In Terra. We get a nice sampler of works by some of the most famous composers of the early Italian Baroque like Monteverdi and Frescobaldi. It is to our advantage that this infrequently performed music is delivered so expertly by Brazilian countertenor José Limón, and Americans, Jory Vinikour (harpsichord) and Deborah Fox (guitar, theorbo). This is a 2-disc set, containing a Pure Audio Blu-ray™ Surround Sound disc and a standard CD.
For listeners unaccustomed to the sound of a countertenor, this is a male voice that covers the vocal range of a female mezzo-soprano. Many countertenors tend to have a "whitish" tone that lacks some of the warmth of their female counterparts. While this is occasionally true of Limón, his voice is mostly very expressive and appealing. Limón's two colleagues are veteran performers who are also at the top of their respective music games. The playlist contains the following works:
Su La Cetra Amorosa (Tarquinio Merula): 8:18
Io Vidi In Terra (Marco Da Gagliano): 3:09
Spagnoletta (Bernardo Storace): 4:42
Se Dolce E'l Tormento (Claudio Monteverdi): 2:45
Ardo (Benedetto Ferrari): 6:44
Quel Sguardo Sdegnosetto (Monteverdi): 1: 56
Partite (Alessandro Piccinini): 2:47
L'Amante Segreto (Barbara Strozzi): 6:24
Balleto (Storace): 3:09
Cosi Mi Disprezzate (Girolamo Frescobaldi): 3:34
Se L'Aura Spira (Frescobaldi): 2:32
Canzonetta Spirituale (Merula): 6:51
Most of these selections are vocals with accompaniment. Spagnoletto and Balleto are harpsichord solos and Partite is a piece for solo theorbo. The overall effect of this well-chosen and performed program conveys a travel back in time, delivering what fortunate audiences, usually seated in a private music salon, might have heard in the early 1600's.
Audio Quality
[Rating:4.5/5]
Listening to the DTS-HD Master Audio 5.1 version (192kHz/24-bit resolution) on the Blu-ray Audio Disc, was a true aural pleasure. The presentation of this small group was extremely lifelike and well balanced. The two-channel version was also excellent with a bit less space and studio echo (the 7.1 channel (96kHz/24-bit) was not evaluated).
Supplemental Materials
[Rating:4/5]
Sono Luminus again gives us a bonus CD of this fine program and stellar program notes about the group, the composers, and the works on the program.
The Definitive Word
Overall:
[Rating:4/5]
This Blu-ray audio disc will be a revelation to listeners who are unfamiliar with music of the early Italian Baroque period and, particularly, with compositions for the countertenor voice. Io Vidi in Terra offers some extremely strong performances by superb artists who, in turn, receive a great recording. This recital makes a strong case for a repertoire that should be explored by all music lovers.
[amazon-product]B00E5NXRCQ[/amazon-product]