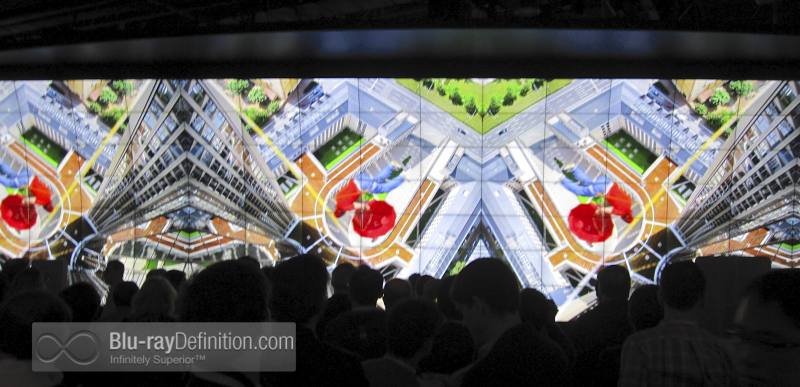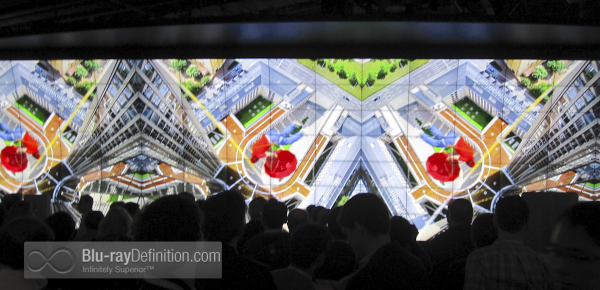 The International Consumer Electronics Show (CES) took over much of downtown Las Vegas for the first full week of January 2014, attracting more than 150,000 visitors and 3000 exhibitors from the United States and abroad. The CES is the ultimate showcase for current and future technologies ranging from wearable data devices (watches and glasses) to intelligent robots (care for a drink?) to cars that drive themselves (still shudder at that thought!). Centered at the humungous Las Vegas Convention Center, the CES spills over into other venues including the Venetian Hotel where most of the high-end audio equipment was on display.
It is beyond the mental and physical capabilities of a single individual to take in, let alone report on, the entirety of this show but it is possible to look at some buzz-worthy new audio and video products. While a number of models are in prototype stage (with no release dates or prices set), there are many that are market-ready and already being sold or will be reaching A/V dealers' shelves in 2014.
This writer took on the formidable task of focusing on some of the thousands of devices on display, dodging armies of videographers equipped with HD cameras, often mounted on tripods in the LVCC's narrow aisles, and barely avoiding the ubiquitous distractions of "booth babes" who bounced, bumped, and gyrated to tireless DJs and their blaring hip-hop sounds at nearly every intersection.  The casino-like atmosphere of the Convention Center was further enhanced by endless mazes of large placards and booths, relatively few straight point A to point B pathways, and limited crowd control at the show's many exhibits.
After four days of mixing it up with thousands of my new best friends, here are some products that caught my attention.
Video
In deference to the old saw, something old, something new, something borrowed, and something blue, what I saw in the 2014 CES was often something old or borrowed, occasionally new, and with little emphasis on something "Blu."
Ultra HD Displays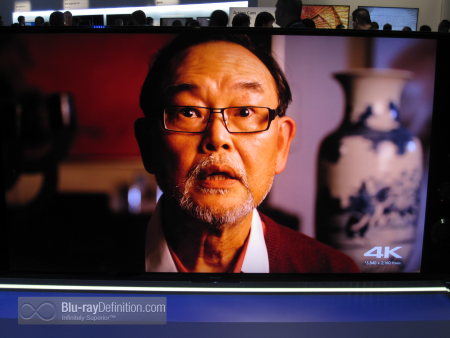 All of the video big boys had 4K or, in current street terms, "Ultra HD" models on display.  However, a recent 1World poll suggested that consumers are lukewarm to this technology as only 31% of those surveyed were interested in purchasing such a television set. That notwithstanding, Sony has enhanced their product line with top models XBR 950B Ultra HD TVs that will be available in 85" and 65" versions. Compared to the Bravia series that were edge-LED driven, and now available in "only" 65" and 55" versions, the XBRs are direct-LED driven, providing better contrast and deeper blacks.  While it is difficult to judge show-quality pictures due to the varying quality of ambient lighting, these displays seemed noticeably improved over the 84" Bravia models of only two years ago with better colors and deeper blacks.
OLED Displays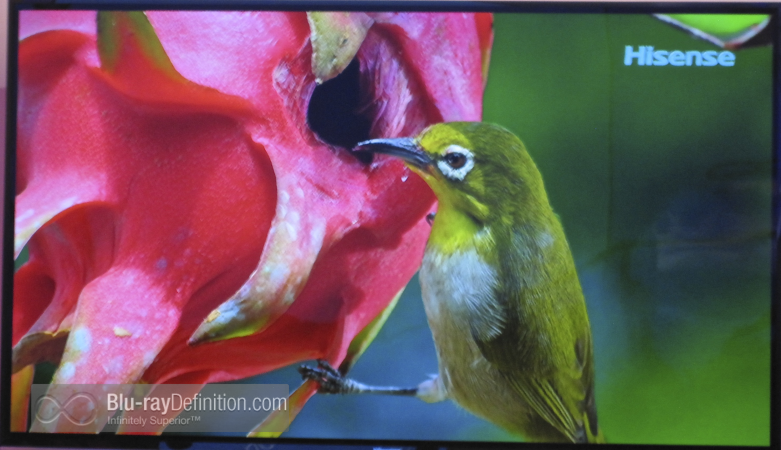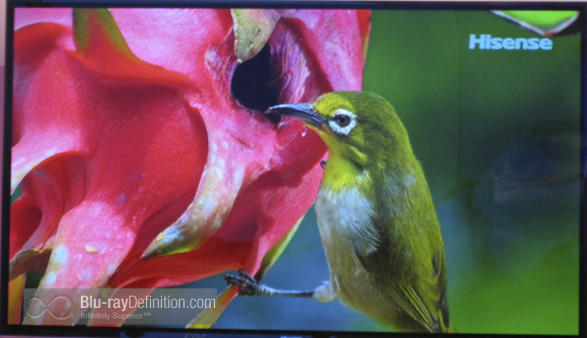 Organic Light Emitting Diode (OLED) sets were also abundant and featuring larger screen sizes. Hisense, a major Chinese electronics corporation debuted their new 55" OLED HD display with a stunning picture. Given their previous models' typical low price points, Hisense may force other manufacturers to bring down the cost of these deluxe models, a real boon for those anxious to buy the next big thing in television.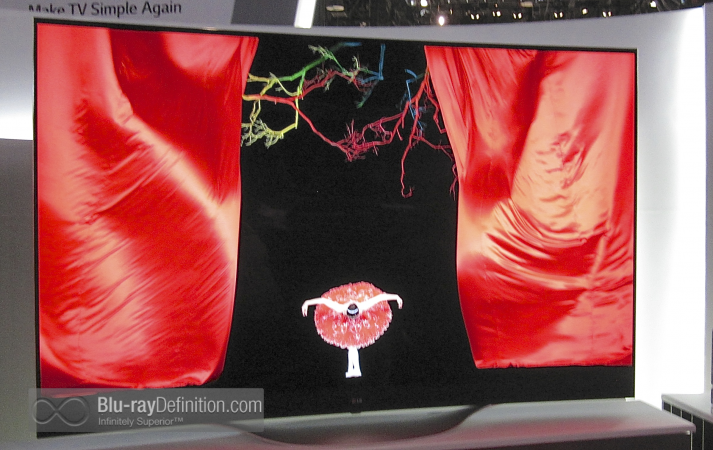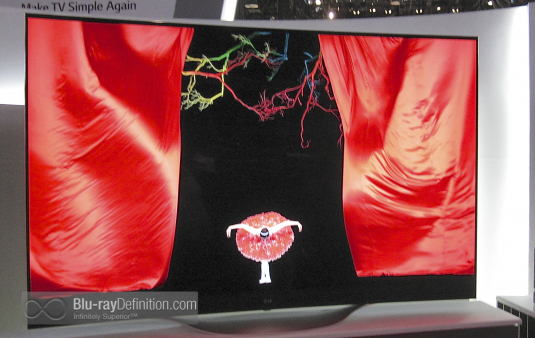 The big kahuna of the OLEDs was LG's 77" UHD display with a screen that could be curved to about 30 degrees by the unit's remote control for a "more immersive experience." Hearkening back to the ancient times of the large curved movie theater screens beginning with Cinerama (remember that one?) this design appears to address LED fade for off-center viewers.  Patrons with tickets to the video "sweet spot" will get images that are quite impressive, particularly with respect to black levels.
3D Displays
Glasses-free 3D, anyone?  The 1World poll also showed that 58% of respondents would consider purchasing a 3D television if it were glasses free. The last time I paid any attention to this new development, I was underwhelmed by image quality and bothered by the absolute need to remain motionless while viewing.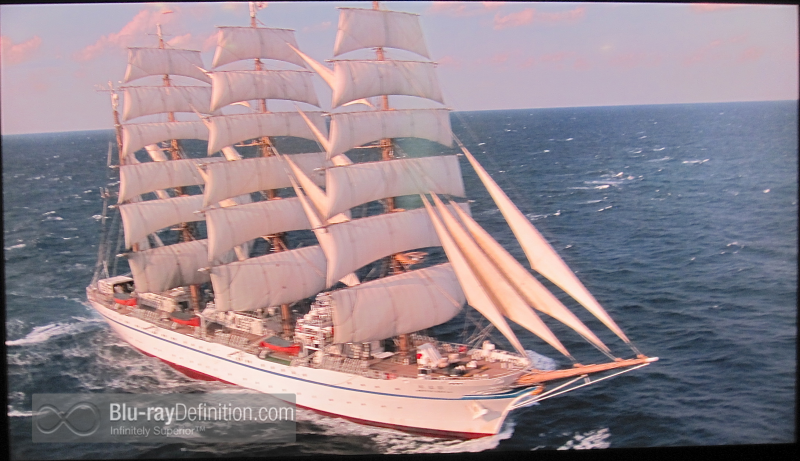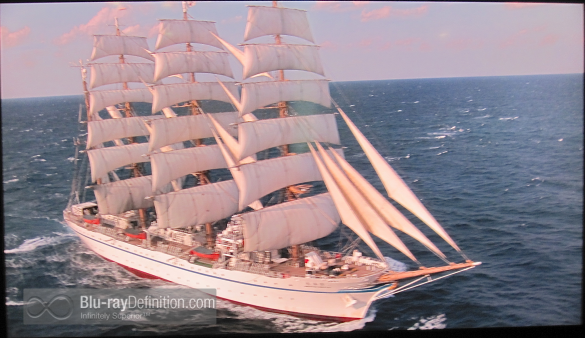 Sharp has taken a somewhat different tack toward enhancing the video experience by increasing the resolution to 8K in its 85" flagship model. Using location dots at the bottom of the screen, viewers can optimize their viewing position. The result was a substantial improvement over the early generation glasses-free (GF) 3D displays although the pictures still seemed a bit soft-edged when compared to standard glasses-required sets. The "bigger" question remains: will 3D be a viable medium going forward or will it end up in the La Brea tar pits that have already swallowed other formats like BetaMax videotape, LaserDiscs or HD DVDs.
Plasma and LED Displays
Painting with a better video palette was the thrust of Panasonic's Studio Master Color application on its flagship AX800 Series of 65" and 55" 4K LED panels. A demonstration of how color reproduction benefitted from the 4:4:4 processing provided examples that brought conventional LED imaging much closer to what I have come to expect from the best plasma displays. Panasonic is exiting the plasma business, leaving LG and Samsung as the sole survivors in the plasma wars. This is a real shame as the Panasonic Viera®  ZT60 series had the best plasma picture that I have seen since the long-departed Pioneer Elite Kuro series.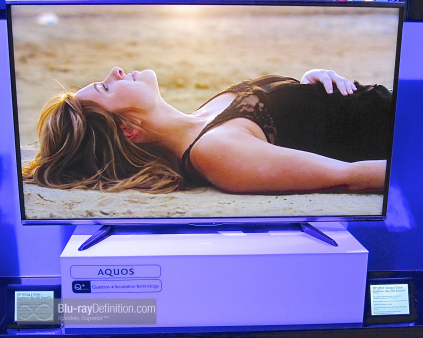 Sharp's Aquos Quattron+ big screens (up to 90" diagonal) have gone a different route by adding a fourth hue, yellow, to RGB (hence the Quattron designation). The company claims to have added 10 million pixels (really subpixels) to the HD picture, making it capable of displaying 4K content with an improved upscaler for standard HD fare and at a much lower price than its Ultra HD competition. I spent a good bit of time with their 70" (diagonal) display (with a sticker at about $3K on the street) and was mightily impressed with its picture quality. This line up could make sense for those wanting the big picture without the big price, particularly since 4K viewing content will be limited for the near future.
Smart TVs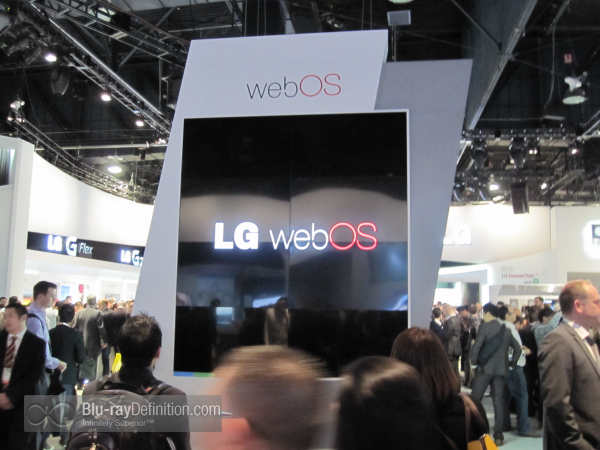 Building on the interaction of computers and video displays, virtually all of the exhibitors had some form of "smart" television systems. Whether it be LG's WebOS enabling the use of smart apps while watching live broadcast or voice-command systems from Panasonic that open up a variety of program selections by genre, each major manufacturer had some features to enable more flexible viewing options, configurable to user preference. How far this trend evolves will depend on the degree of enthusiasm among its early adopters.
Netflix Goes 4K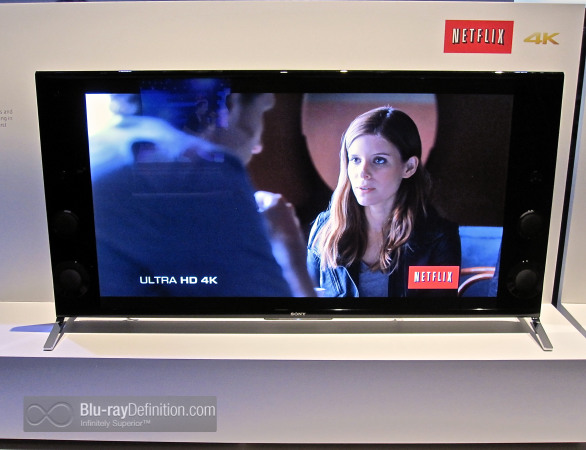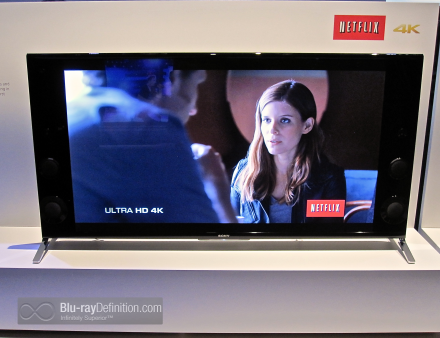 One of the most exciting developments in the video arena was the announcement of an agreement between Netflix and television giants like Sony, Samsung, LG and Vizio that will enable the 4K transmission of some this service's original content such as House of Cards. To make this possible, the UHD sets will require chips that can decode signals meeting the High Efficiency Video Coding (HVEC) standard and download rates that are at least 15 mpbs. While no demos of these 4K broadcasts were being shown, viewers with Netflix accounts will not see price increases for this service, very good news indeed.
Blu-ray Players
The word on the player front was pretty mum with nearly all of the leading Blu-ray manufacturers demonstrating, "smart" players with fast load times, 3D playback, 4K upscaling of standard HD discs, MiracastTM  or WISA streaming capability, and numerous apps, like the Sony BPD-S6200, and Panasonic BDT360. Overall, no big breakthroughs here, as most companies are already beginning to anticipate decreasing disc sales and, eventually, a disc-free future.  The issue of how to best deliver native 4K content remains open, with Sony having taken the lead, at least temporarily, with its outboard media player pre-loaded with 4K films and intended to be played with one of their 4K displays. There was also mention from Samsung about a 4K multi-layer Blu-ray player but, to date, no product has been announced. However, Samsung has signed an agreement with Paramount Pictures for 4K content so things are looking up.
Future Developments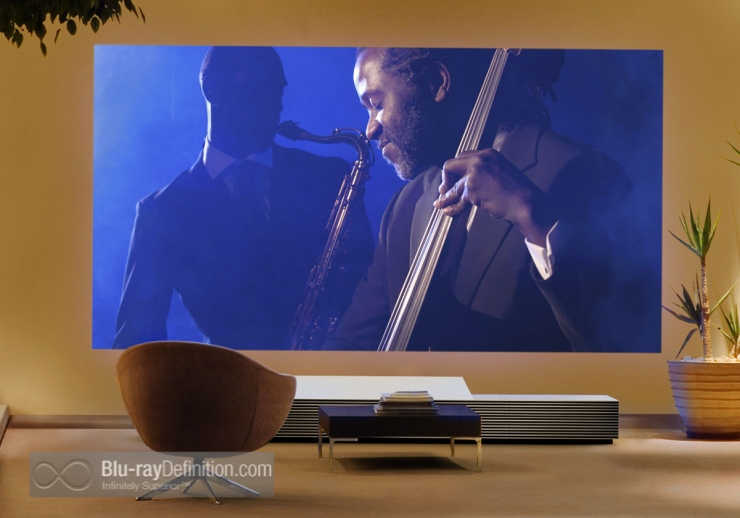 What will the home entertainment space of the future look like? Sony seems to have its answer. It is the "Life Space" UX system that incorporates a low-profile short-throw laser  HD projector that can be placed about two feet (!) from the wall and can generate an image up to twelve feet(!) (diagonal). There are discretely placed laser devices in light fixtures that convert a table top into a smart screen or create an atmospheric skylight.While a firm launch date to your local A/V installer's shop (and you will definitely need an installer  for this system) is still some time away, you better be sure that your pockets are pretty deep as the projector alone will run around $40K.
Best in the Video Show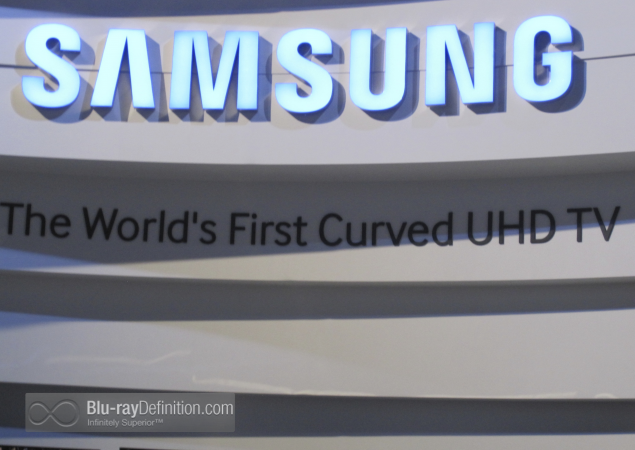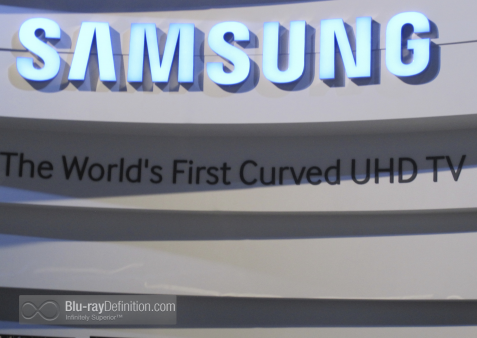 This one's a toughie. I rooted for the OLED family because I think that is where video displays are heading as plasma sets are gradually going away. Curved screens? Well, maybe. This year's CES produced no clear-cut winner but, as noted above, there were some worthy contenders from all of the exhibitors.
Audio
Digital Playback
The most frequently heard catchphrase in 2014 was high-resolution downloads, particularly those with DSD 64 or SACD resolution (2.8MHz sampling frequency) and DSD 128 (5.6 MHz sampling frequency). These files are available with new releases each month from internet sites like Acoustic Sounds and Blue Coast Records. Having heard a number of DSD 64 downloads in their native resolution at home and now at the CES, well mastered material (and original mastering is the key) sounds superb and very analogue-like in this digital format.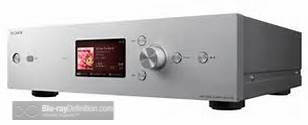 A number of companies, including TEAC and Sony, are getting on the bandwagon of DACs that can play DSD files. The TEAC UD-501 is a compact unit that, at $850 (USD) can play files of all standard resolutions (up to 192 kHz/24-bit) and the new DSD media. Sony has two models that were on display, the HAP S1($999) and HAP Z1ES ($1999), both of which can play back native DSD 128 files and upconvert other files to that resolution. The ES version has higher performance DACs and enhanced storage capacity (1 terabyte).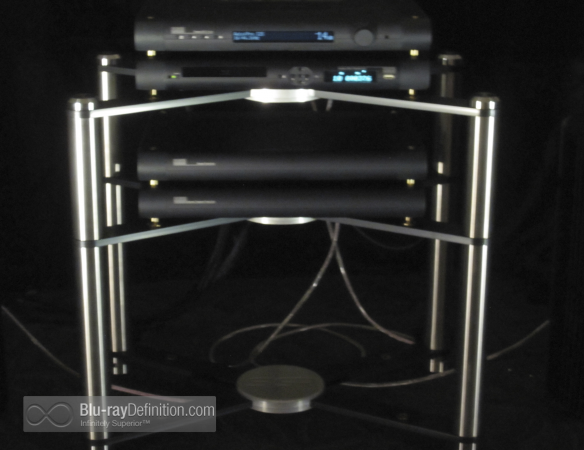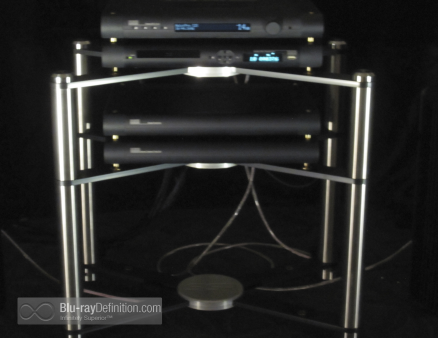 Not to be outdone, MSB Technology, a perennial leader in the digital sweepstakes, had its Diamond DAC on display. At a premium price (the Diamond DAC IV Select will relieve buyers of a mere $60,000 USD), its open architecture will currently enable playback of resolutions up to 352 and 384 kHz/32-bit and, eventually, DSD files. This MSB's future-proof design will become more important with the eventual introduction of the DXD format that doubles the current 192 kHz sampling frequency. With its outboard power supply, the MSB DAC provided some of the very best sounds, digital or analogue, heard during my CES visit.  Of course, I had to see and hear the dCS Vivaldi digital stack (CD/SACD player, DAC, upsampler, and outboard clock) and the Teac Esoteric Grandioso P1/D1 (dual mono DAC) digital combo. Both of these systems are priced in the Mercedes S-Class category, but listening to the former in the Magico room and the latter (with all Esoteric electronics and Cabasse speakers) in the Esoteric room demonstrated just how far the envelope for state-of-the-art digital playback has been pushed.
Analogue Playback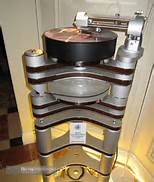 Turning toward analogue, vinyl lovers can take heart as there were turntables aplenty in Las Vegas from Clearaudio, Transrotor, AVID, and Kronos, to name but a few. While the Clearaudio Statement  ($180K) was not on display, its little brother, the Master Innovation, was, tipping the beams at only $55K. Coupled with the Aesthetix Janus/Calypso preamps and Atlas amps, this TT rigged with a Clearaudio Goldfinger Statement cartridge was a sonic winner, pumping out Paul Simon's "Diamonds on the Soles of Her Shoes" like nobody's business.  Internet music vendor giants, Music Direct and Acoustic Sounds, are certainly banking on the future of vinyl with a passel of new releases of old favorites like MoFi's remaster of The Band's Music From the Big Pink at the former and some tasty Blue Note jazz reissues at the latter exhibit.
Front End Electronics
While amplifiers may not be the most exciting components in the playback chain, there were some really spectacular new ones at CES 2014.  Pass Labs has retooled its line, taking off from their XS statement amplifiers that debuted two years ago. Called the Point 8 series, there are five XA (30 to 200 watts/channel) and five X series (150 to 600 watts/channel) amplifiers. These class A amplifiers range provide much of the sonic benefits of their XS cousins at more affordable prices.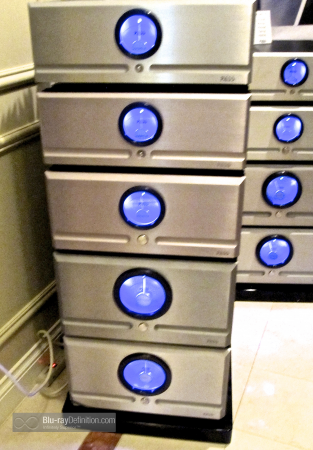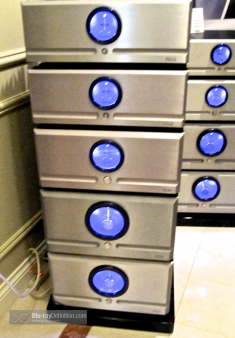 It seemed like almost every other high-end room that I visited was displaying Dan D'Agostino's Momentum monoblocs. At $55K a pair and putting out 300 watts at eight ohms, these gorgeous aluminum and copper clad units had a retro-style power meter that seemed to whisper subliminally,  "buy me, buy me."
The heavyweight champions, for sure, were the Boulder 3050 monoblocs that weigh in at 445 pounds, crank out 1500 watts, require a dedicated 240V AC circuit, and will set you back $200K. Although not powered up in the Boulder exhibitor suite, listening to other components in their product line was certainly whetted my appetite to hear these big boys in action.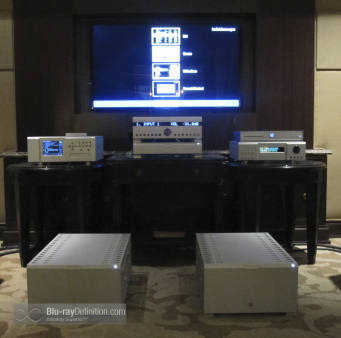 Soulution, a Swiss-based audio company, debuted its 5 series components that include the 520 preamplifier (with MC phono section) and matching 530 disc player. While scaled down from its well-established 7 series, from what I heard there was no scale down in audio performance.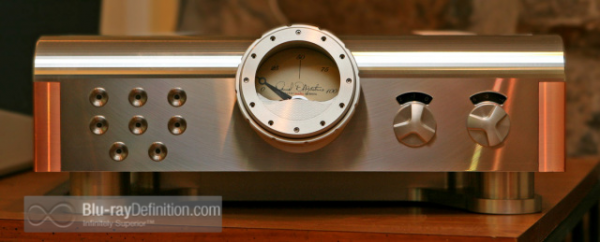 The new D'Agostino Momentum preamplifier was also on display in a number of exhibits and with its high cool-factor styling bearing a strong resemblance to the Momentum amplifier (with which it was matched). Effortless and transparent were the adjectives that I noted down during an extended listening session.  Returning to the Boulder room, Jeff Nelson showed me one of the latest jewels in the crown, the 2110 is completely modular fully balanced beauty (at $54K you would expect no less). Mated to the new 2150 monoblocs (and in a small room to boot) this preamp got high marks with its natural sounding presentation of the high quality digital sources that were streamed to a connected network player.
Loudspeakers
Speakers, speakers, and more speakers. Two of the most innovative speaker companies, Magico and YG had their newest and more "affordable" offerings, the S3 and Hailey 1.2 on display, respectively.Borrowing from their higher priced and wider ranging relatives, these relatively compact offerings would be outstanding primary speakers for most listeners and complementary surrounds for those who already own the larger speakers in their lines.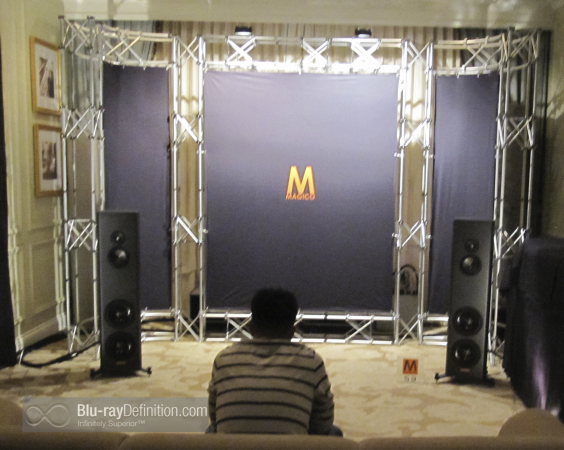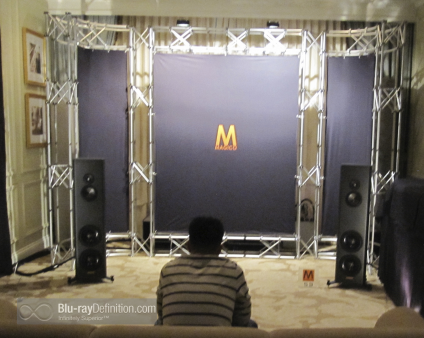 Raidho, a Danish rising star among loudspeaker companies, displayed its baby-in-a-manger, the X Monitor LE Belying its small size (34 x 18 x 28 cm), this stand-mounted speaker was easily capable of room-filling sound and amazing bass.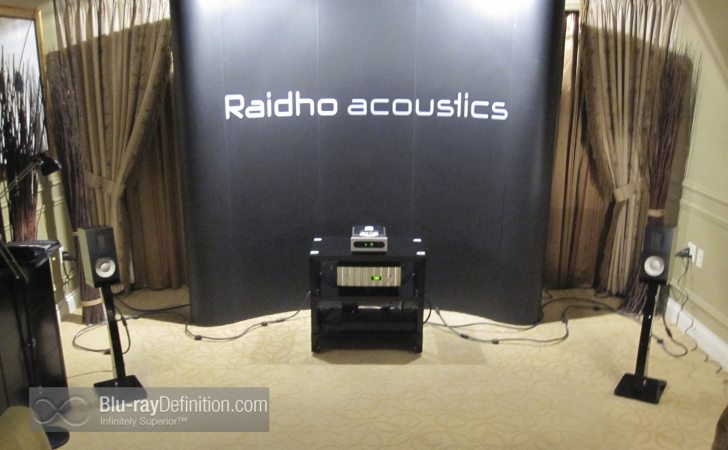 From the land of Northern Lights and Blondes, actually Sweden, I discovered the DLS room with walls of their Flatbox speakers, including active subwoofers. Coming in a variety of sizes and black or white cabinets, these little guys sounded better than they had a right to sound, and did I mention high spousal acceptance factor?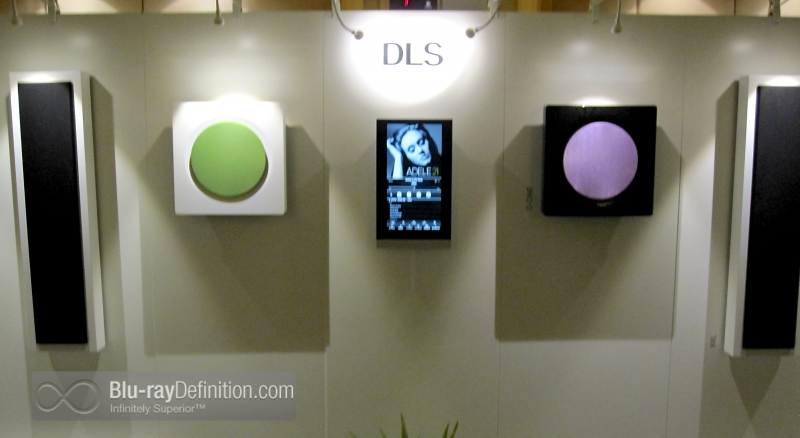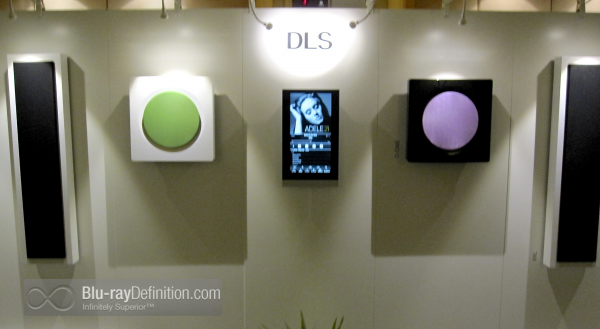 MBL, famed for its innovative radial transducer designs introduced a new line of mini-radialstrahler speakers, starting with the 111F that sounded spacious, warm and wonderful as powered by their new Noble line of electronics. Last, but certainly not the least, I was treated to some truly potent two-channel music in the Bryston salon, as James Tanner revved up his Midi T floorstanders, powered by 28B SST2 monoblocs, and, if Robbie Robertson's Somewhere Down The Crazy River with its heart-stopping drumbeats is any example of what to expect, then be prepared for something special that does not require a second mortgage to own.  Okay, that was not the last. There is a new super ultramodern Thiel speaker (not yet released) that was not hooked up but was it ever a looker! Fortunately, the TM3 two-way stand mounters were playing and with the assistance, you guessed it, of the aforementioned D'Agostino preamp and amp, sounded far bigger than their $3K price tag would suggest.
The 2014 Coolness Factor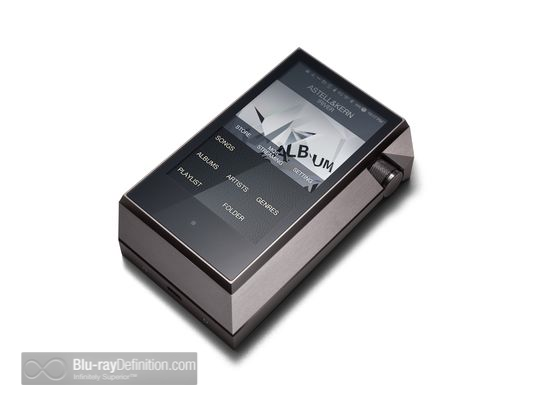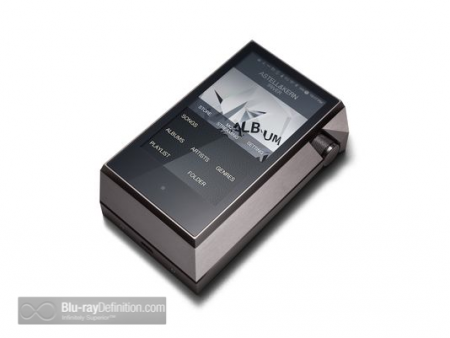 Breakthrough products of the 2014 audio show? No, it was not an earthquake-rendering subwoofer or a kiloton amplifier. In fact, this component fits in your pocket, and can chuck out some amazing sounds into a decent pair of headphones or earbuds. Answer: the Astell & Kern's line of portable digital players, headed up by  the AK240 featuring a pair of Cirrus Logic 4398 chips, 256 GB storage, WiFi and DSD capability, and an OLED screen. There is also the AK120 Titan, an upgrade to the previous flagship AK120 and a second-generation AK100 Mk II. Listening to all of these mighty mites through AK's AKR02 balanced armature earbuds was a real transport of delight. Even better, these pocket-sized players can act as the digital front-end for the real home audio system that I heard in their other demo room.
 Final Thoughts
In spite of an uncertain economy and often faltering job market, this year's CES had more high-end (and high-priced) audio and video components than I have seen in previous shows. As an example, the YG speaker folks actually provided a "statement" of what their "larger room" exhibit, featuring the new Haileys, would cost,  complete with all audio components, cables and equipment racks. Are you sitting down? Only $412K! The good news, after obvious sticker shock has subsided, is that many companies offering über-expensive gear have trickled much of their new technology down to more affordable products. Cases in point are some of the new 4K and OLED displays as well as audiophile-grade amplifiers, speakers, and turntables. Remaining questions are the fate of 3D video (not much buzz this year), physical audio and video discs (digital downloads appear to be the future), and smart systems (do most users really want or need them?). Well, maybe the 2015 CES will hold some of the answers to these queries or, at least, continue to forecast a bright future for the A/V industry. As the perennial optimist, I have already started planning my CES 2015 itinerary.