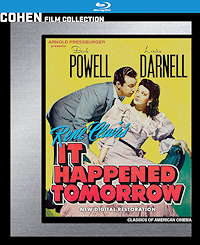 It Happened Tomorrow, from director (Man About Town; I Married a Witch) is a pleasant bit of wartime escapism from 1944. This period comedy-fantasy follows a reporter (Dick Powell) at the end of the 19th century who wishes he could predict the next day's headlines and scoop his competitors in the newsroom. When a mysterious old man makes his wishes come true by giving him a newspaper that predicts the next day's headlines, his wishes come true, but also bring unexpected consequences. It starts when he gets the scoop on a group of bandits who pull off a robbery and suspicion lands on him. Then when a headline also predicts his death, he finds himself wrapped up with a beautiful fortune teller (Linda Darnell) and her suspicious uncle (Jack Oakie). The film is a pleasant and humorous comedy of errors that skips along at a breezy pace. Powell is charming, Darnell enchanting, and the production impeccable. There isn't much exposition and there is always an issue with timelines getting confused with anything involving predicting futures and so on, but Tomorrow doesn't bog down on details such as those.

The Video
This is a new digital restoration of It Happened Tomorrow from Cohen Film Collection arriving on Blu-ray in an AVC 1080p encodement. The original aspect ratio for this 1944 film is 1.37:1 but Cohen lists the AR for this disc as 1.33:1. This black and white classic looks beautiful despite some source damage that is still apparent and perhaps unavoidable. There is an incredible amount of detail and extension as well as contrast, from bright whites in many of the indoor parlor and newsroom scenes to the dark and nuanced nighttime scenes.  The detail is more than strong enough to show up the seams and crumples in the fake background in the scene where Powell dives into the water to save Darnell, for instance. Darker scenes do expose some of the source damage like scratches a bit more, but overall, this is a satisfying restoration and transfer that has a natural, organic layer of grain.
The Audio
The original monaural audio for It Happened Tomorrow is included in LPCM 2.0. It has clear intelligible dialogue and reasonable fullness in the foley effects given the vintage of the film. Hiss and pops are not an issue either.
The Supplements
Only a trailer for the film is included.
The Final Assessment
A charming classic that looks as it should in this new restoration from the Cohen Film Collection. Recommended for lovers of classic films from the Golden Age era.
---
If you found this article useful please consider clicking the button below and donating to help keep TheaterByte funded, which will allow us to continue posting great content.
---
It Happened Tomorrow is out on Blu-ray May 18, 2021 from Cohen Film Collection
---
Studios & Distributors: Arnold Pressburger Films | United Artists | Cohen Film Collection
Director: René Clair
Written By: Lord Dunsany (play) | Hugh Wedlock Jr. (story) | Howard Snyder (novel) | Lewis R. Foster (ideas) | Dudley Nichols (adaptation) | René Clair (adaptation) | Helene Fraenkel (additional dialogue)
Run Time: 85 Mins.
Street Date: 18 May 2021
Aspect Ratio: 1.33:1
Video Format: AVC 1080p
Primary Audio: English LPCM 2.0 Mono
Subtitles: English SDH