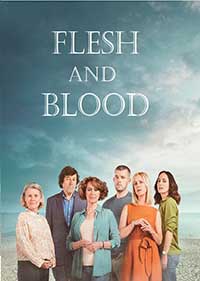 At the very beginning of this four-episode mini-series, we are shown an accident scene at a beach house. Spoiler alert: the subsequent police interrogations of Vivien, her children, and Mary leave little doubt as to the identity of the victim. The widow Vivien (Francesca Annis) embarks on a new romance with widower and retired surgeon Mark Kinneally (Stephen Rea). Vivien's children Helen (Claudie Blakley), Jake (Russell Tovey), and Natalie (Lydia Leonard) are not thrilled with this relationship since they know so little about Mark and their father Terry has been dead for "only" eighteen months.
Vivien's children have their own issues.  Helen has recently received a huge job promotion but has a drinking problem and her "house husband" George (Keir Charles) is preparing to leave her. Jake, a fitness trainer and former boozehound, is separated from his wife Leila (Lara Rossi), and provides personal "treatment sessions" to wealthy attorney Stella (Sharon Small). Natalie has been involved in a five-year affair with her married boss Tony (Vincent Regan) that is stalled on the tracks. Nosy next-door neighbor Mary (Imelda Staunton) has been a fixture in Vivien's household since the three children were small and has kept numerous mementos from their respective childhoods.  Mark and Vivien secretly get married on a weekend getaway and when they return, the newlyweds decide to sell the family beach house at Dover.
Vivien and Mark have planned a long trip to India for their belated honeymoon.  When the three children investigate the suicide of Mark's wife and his benefitting from her estate, they air their concerns to Vivien who summarily brushes them off. The dramatic crux of this series takes place at the family beach house where a 70th birthday party is being held for Vivien with all of  the principals in attendance.
This talented veteran cast led by Imelda Staunton (The Crown), Francesca Annis (Bancroft), and Stephen Rea (The Crying Game) deserved a far better script than the Daphne du Maurier knock-off that they received from Sarah Williams (The Long Song).  There are plenty of plot intricacies, but it is a challenge to exert the effort to care about what happens to the main characters once the wheels start rolling.  The children are a self-absorbed bunch more concerned that their potential inheritance (which they all need) might be threatened by their mother's remarriage. Doctor Kinneally is never fully fleshed out (does he also have a drinking problem?) and we are left wondering if he is somehow responsible for Vivien's new sports car's explosion or her lightheaded spells. While Vivien receives considerable screen time, we get limited insight into what makes her tick. Perhaps the most completely realized character is neighbor Mary who worries about her losing the benefits of years of ready access to the beach house when it is sold. With no mention of a possible second season, the cliffhanger ending may simply be left dangling and, given everything that has preceded it, that might just be for the best.
Masterpiece: Flesh and Blood is available now for streaming on demand on the Masterpiece Prime Video Channel and PBS Passport
---
Show Creator: Sarah Williams
Original Release Date: 2 October 2020
Network or Streaming Service: PBS | PBS Passport | Masterpiece
Ep. Run Time: 60 Mins.
No. Eps.: 4
Studios & Distributors: Silverprint Pictures | Independent Television | PBS