Todd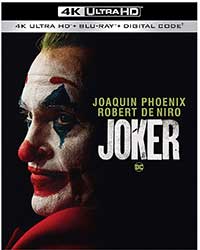 Phillips (War Dogs, The Hangover Part II) wrote and directed this disturbing origin story of the most famous supervillain from the DC Comics canon. Joker, an one-off film that stands apart from the DCEU, stars recent Golden Globe Winner for his portrayal Joaquin Phoenix (Best Actor in a Movie Drama) as Arthur Fleck, a mentally disturbed, pathological laugher who slowly deteriorates into madness and violent psychosis in a crime-ridden Gotham City that abandons him when he most needs help.
The film, a big departure in style from Phillips' previous works, is heavily influenced by such classic 1970s dramas as Taxi Driver, Serpico, and Dog Day Afternoon in everything from its look, feel, and the very setting. This may be Gotham City, but the on-location shooting in Brooklyn and parts of the Bronx with the 1970s clothing, automobiles and set designs in combination with the film's thematic undercurrent of a system on the brink of collapse, a man beatdown by a corrupt system to the point of madness, places it firmly in the realm of those New Hollywood classics.
Joaquin Phoenix mesmerizes with a performance that earned a well-deserved Globe. He is the anchor, the heart, the passion of this play, surpassing the best Jokers we have seen on the big screen, even Nicholson and Ledger. It's this performance that helps propel what is a very bleak first half of Joker that tells the origin tale of Arthur Fleck, a man who still lives with his sickly mother, barely makes a living working as a clown for hire, and dreams of being a stand-up comedian, even though his comedy isn't that good. Phillips and co-writer Scott Silver weave in social commentary about income inequality and Thomas Wayne as one of the über-rich, which sets up the well-known event that leads to the origins of Joker's archenemy.
Some superfans may scoff, but given the whole package of performance, cinematography, and powerful climactic finale, the film is one unforgettable ride into the twisted psyche of the most infamous supervillain in comic history. Still, given the deviations from the canon, one can see why this is a stand-alone, even if it is a great one.
[envira-album id="121730″]
The Video
Joker was shot on the Arri Alexa 65, Arri Alexa LF, and Arri Alexa Mini, all with Hasselblad Prime DNA lenses in ARRIRAW, 3.4K, 4.5K, and, 5.1K resolutions. A 4K DI was used in mastering and it was mastered in Dolby Vision HDR. The film is brought to 4K Ultra HD in a 1.85:1 HEVC 2160p (4K) encodement with Dolby Vision HDR that is backward compatible with HDR10. My LG OLEDE6P supports Dolby Vision, so that is how I watched the film. The film was heavily influenced by the 1970s dramas such as Taxi Driver and Serpico, so the palette is not always one that 'pops' like most contemporary films, but it does have a very natural look to it with an authentic 1970s feel, and an organic, very filmic look. There is a nuanced array of colors thanks to the WCG of Dolby Vision and good shadow details. The Blu-ray has a very similar look with only slightly less color variations and high-frequency information.
The Audio
Joker comes with a very atmospheric (no pun intended) Dolby Atmos audio mix that moves sounds around nicely. The very opening presents a good sample of things to come, with the sounds of conversations moving around, a news broadcast placed in the center, and then a shift to the streets of New York as Gotham with traffic noise surrounding us. The dour score is balanced superbly into the mix and the percussion has excellent low-end support from the LFE.
The Supplements
The release comes with a disappointingly slight selection of brief featurettes, most of which feature Todd Phillips offering up some good background information and a little bit of behind-the-scenes footage.
Blu-ray with feature and bonus features
Digital Code
Becoming Joker (1.78:1; 1080p; 00:01:25)
Joker: Vision & Fury (1.78:1; 1080p; 00:22:25)
Please Welcome…Joker! (1.78:1; 1080p; 00:02:44)
Joker: A Chronicle of Chaos (1.78:1; 1080p; 00:03:04)
The Final Assessment
A powerful stand-alone origin story of the Joker with a mesmerizing Golden Globe-winning performance from Joaquin Phoenix gets a masterful 4K Ultra HD release.
Joker is out on 4K Ultra HD Combo January 7, 2020 from Warner Bros.
---
The Creative Content: 4.0/5
The Video (Overall): 4.5/5
HDR Effect: 4.0/5
The Audio: 4.0/5
The Supplements: 3.0/5
Rating Certificate: R (for strong bloody violence, disturbing behavior, language and brief sexual images)
Studios & Distributors: Warner Bros. | Village Roadshow Pictures | BRON Studios | Joint Effort | DC Comics | Creative Wealth Media Finance | Warner Bros. Home Entertainment
Director: Todd Phillips
Writers: Todd Phillips (written by) | Scott Silver (written by)
Run Time: 122 Mins.
Street Date: 7 January 2020
Aspect Ratio: 1.85:1
Video Format: HEVC (H.265) 2160p (4K) | AVC 1080p (Blu-ray)
HDR Format: Dolby Vision (Compatible w/HDR10)
Primary Audio: English Dolby Atmos (Compatible w/ Dolby TrueHD 7.1)
Secondary Audio: English DD 5.1 | English Descriptive Audio | French DD 5.1 | Spanish DD 5.1 | Portuguese DD 5.1
Subtitles: English SDH | French | Spanish