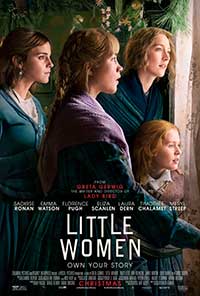 Excluding its two silent film incarnations, is the fourth time the charm for another big-screen adaptation of Louisa May Alcott's account of young women coming of age in a post-Civil War America? Writer-director Greta Gerwig seems to think so and hopes that audiences will agree with her new version of Little Women.
The March family resides in "reduced circumstances" (they have only one housekeeper) in Concord, Massachusetts. Father March (Brian Odenkirk) has lost their family fortune and is away serving as a Union Army pastor. Mother March "Marmee" (Laura Dern) looks after their four young daughters: independent-minded Josephine "Jo" (Saoirse Ronan), romantic Margaret "Meg" (Emma Watson), artistic Amy (Florence Pugh), and promising pianist Elizabeth "Beth" (Eliza Scanlen). Their affluent neighbors, Mr. Laurence (Chris Cooper) and his aimless grandson Theodore "Laurie" Laurence (Timothee Chalamet) eventually become the token male figures for the Marchs. Wealthy spinster Aunt March (Meryl Streep) lives in Plumfield mansion and her sharp tongue readily expresses her candid opinions about her nieces to anyone within earshot.
Little Women's storyline is based on Jo's collected vignettes of her family life, as the Marchs experience the joys of love and the heartbreak of loss. Laurie gets briefly involved with Jo and Meg who both reject him before marrying Amy. Professor Friedrich Bhaer (Louis Gamel) has an off-again-on-again relationship with Jo while Laurie's impecunious tutor John Brooke (James Norton) weds Meg. Beth, the "baby" of this family eventually succumbs to the ravages of scarlet fever and her death inspires Jo to write her signature novel.
[envira-album id="121757″]
Gerwig stays reasonably true to Alcott's semi-autobiographical book, including a good bit of word-for-word dialogue from its pages. Unlike the novel, her script often unfolds in a nonlinear fashion over a seven-year period, a device that some viewers might find confusing. After becoming accustomed to this dramatic approach, I found it effective in presenting the contrasting personalities of the four young women at the center of the story. This latest rendition of a literary classic benefits from the sense of ensemble generated by its young cast, all twenty-somethings who look age-appropriate for their respective roles. Laura Dern takes a back seat to her film daughters but paints a credible portrait of a woman who has suffered through penury and her husband's long absence yet never forgets the fundamental importance of parenting. Meryl Streep's Aunt March is a case study in how to turn a relatively minor role into an unforgettable on-screen character. Outside of Timothee Chalamet's winsome young man trying to find himself, the other men in the cast get relatively short shrift but, after all, this is Little Women.
In judging the Little Women cinematic sweepstakes, the 1933 debut "talkie" featuring Katherine Hepburn's Jo has long been the standard-bearer for veteran cineastes. Gerwig's take will definitely resonate with 21st-century viewers. Her film is clearly message-driven in depicting the challenges that a young woman of that era must surmount as Jo, dressed in men's apparel,  must convince male chauvinist publisher Mr. Dashwood (Tracy Letts) that her literary voice is worth hearing. Aunt March informs a jaded Amy that marriage is not about love but rather a mercenary transaction that will enable her family to escape poverty. Little Women also gets a terrific boost from cinematographer Yorick Le Saux's images of historic Massachusetts settings and Alexandre Desplats's romantic score often mirrors the film's emotion-laden content. The holiday season spirit infuses much of this story and makes it a perfect Christmas watch for the family. Highly recommended
Little Women began nationwide distribution on December 25, 2019  
[youtube https://www.youtube.com/watch?v=AST2-4db4ic&w=864&h=486]
---
The Film: 4.0/5
Studios & Distributors: Columbia Pictures | Regency Enterprises | Pascal Pictures | Di Novi Pictures | Sony Pictures
Rating Certificate: PG (for thematic elements and brief smoking)
Country: USA
Language: English
Run Time: 135 Mins.
Aspect Ratio: 1.85:1
Director: Greta Gerwig
Writer: Greta Gerwig
Release Date: 25 December 2019