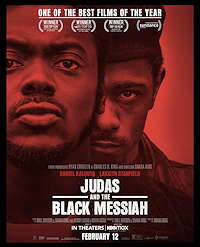 With Judas and the Black Messiah, writer-director Shaka King and co-scriptwriter Will Berson deliver a powerful biopic that covers the meteoric rise of Fred Hampton (Daniel Kaluuya) to the leadership of the Illinois Branch of the Black Panther Party and his FBI-led assassination at the age of only twenty-one. This story of betrayal literally struck very close to home for me. At the time the events portrayed in this film were taking place, I was living on the South Side of Chicago, and attending  medical school near a neighborhood controlled by some Black Panther Party affiliates. Fred Hampton was a compelling public speaker and although he was only 18-years-old when he joined the Black Panthers, his ability to motivate young people was quickly noticed by the national Black Panther Party leadership. His "Judas" was the Black, petty criminal William "Bill" O'Neal (Lakeith Stansfield). O'Neal, posing as a federal agent, gets arrested while attempting a carjack. FBI Special Agent Roy Mitchell (Jesse Plemons) offers to get O'Neal's charges dropped if he agrees to infiltrate the local BPP chapter and provide continuing intelligence on Hampton's activities.
Hampton succeeds in getting some major Chicago gangs to form the multiracial "Rainbow Coalition," and falls for pretty Black Panther Party member Deborah Johnson (Dominique Fishback). He is later arrested on trumped-up petty theft charges but gets released from jail, pending his appeal. After returning to his apartment, Deborah informs him that she is pregnant with his child. Meanwhile, O'Neal is rising up the ranks of the BPP and when he begins to feel growing loyalty to the organization, he tries to quit his informant role, but Mitchell refuses to let him off the hook.
Judas and the Black Messiah (2021)
Hampton's appeal gets denied and when he is about return to prison, FBI director J. Edgar Hoover (Martin Sheen) calls a meeting of his forces and issues an order to "neutralize" the Black Panther leader.  The night before Hampton is to be reincarcerated, a small BPP meeting that includes O'Neal, now ironically his security chief, takes place at his apartment.  O'Neal secretly drugs Hampton's drink so that he will be completely knocked out when FBI agents and the police break into the apartment and shoot him to death.
The use of archival footage of Hampton's actual speeches at this film's conclusion underscores how spot-on was Kaluuya's impersonation of this highly charismatic figure. Stanfield does a superb job of conveying the essence of what I thought was the film's most challenging role—that of a conflicted Black man doing the bidding of two masters, the FBI and the BPP. In his mercifully brief appearance, a nearly unrecognizable Martin Sheen leaves viewers no doubt that Hoover and many in his organization were racists who had civil rights leaders and organizers continually in their crosshairs. The Hampton assassination got massive media attention that cast both the Chicago Police Department and the FBI in a very poor light, a point that this film clearly conveys. Seen in the historical context of its times, the themes of Judas and the Black Messiah should still resonate with 21st century audiences, particularly since the racial divide in America remains. This is a film with a powerful message, well scripted, directed and acted and one that should attract considerable Oscar buzz. Highly recommended.
---
If you found this review useful please consider clicking the button below and donating to help keep TheaterByte funded and to allow us to continue posting great content.
---
Judas and the Black Messiah is now playing in theaters and on HBO Max. Streaming through March 14.
---
Rating Certificate: R (pervasive language and violence)
Studios & Distributors: Bron Creative | MACRO | Participant | Proximity | Warner Bros. Pictures | HBO Max
Country: USA
Language: English
Run Time: 126 Mins.
Aspect Ratio: 2.39:1
Director: Shaka King
Written By: Shaka King | Will Berson
Release Date: 12 February 2021