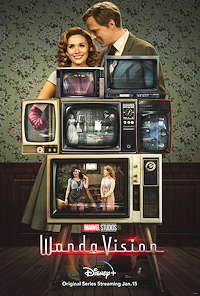 If you remember the family-friendly sitcoms of the 1960s like Bewitched or The Dick van Dyke Show, Disney+'s new series WandaVision will bring back some of the good vibrations that such shows usually elicited, complete with laugh tracks and old-school commercials intended to reflect their respective eras. Both main characters will be very familiar to fans of the Marvel Comics Universe as members of the Avengers.  Those not familiar with the MCU could get confused by the numerous references to characters, symbols, and situations of that and other Marvel Comics film franchises. However, MCU-newbies should not worry because this show can carry its own weight. Elizabeth Olsen plays Wanda Maximoff/Scarlet Witch with telekinetic and telepathic capabilities.  Paul Bettany is the highly intelligent android Vision who can convert his machine-like features to those of a normal human being.  Although Vision was killed by Thanos at the end of Avengers: Infinity War, his unexplained reappearance is most welcome. The first two of the nine episodes are in black and white and, as the technology of the times advances, the remaining seven are presented in color.
Newlyweds Wanda and Vision move into Westview, a typical 1950s American suburban community, as this odd couple attempts to assimilate into their new town. Vision works at Computational Services, Inc. where he is a whiz with numbers.  Wanda is supposedly a housewife but, as we soon discover, she frequently needs the domestic skills of nosy neighbor Agnes (Kathryn Hahn). We will discover that Westview and its citizenry are entirely Wanda's creations in her search for "normalcy."
WandaVision (TV) (2021- )
Each episode moves the calendar up by one decade. The 1960s episode has Wanda and Vision preparing a magic act for a neighborhood talent show fundraiser. Vision gets his innards "gummed up" (he cannot eat food) by a piece of Big Red gum but Wanda's magic powers make the unsteady Vision look like a sleight-of-hand wizard!
Moving forward, Wanda finds out that she is now expecting and, as her pregnancy progresses at record speed, she delivers a set of twins—Tommy (Julian Hilliard) and Billy (Jett Klyne). The birth is attended by neighbor Geraldine (Teyonah Parris) who just happens to be Captain Monica Rambeau of S.W.O.R.D. (Sentient World Observation Response Department), an analogue to another Marvel-created defense organization, S.H.I.E.L.D.   Rambeau and her FBI colleagues, Director Tyler Hayward (Josh Stamberg) and Agent Jimmy Woo (Randall Park) have Westview literally on their screen as astrophysicist Darcy Lewis (Kat Dennings) picks up random signals that broadcast the WandaVision comedy series to a military encampment set up outside of Wanda's town.
More confrontations will ensue between Wanda, who is briefly joined by twin brother Pietro (Evan Peters), and the S.W.O.R.D team and we should expect a typical over-the-top MCU denouement before all is said and done.
WandaVision is exactly the kind of escapist fare that we all need during these trying times.  One has to commend this series' creative and production crews for managing to work around the COVID-19 pandemic. Filming in Atlanta stopped on March 14, 2020 and did not resume in Burbank until September, wrapping up in November 2020.  Show creator Jac Schaeffer, director Matt Shakman, film crew chief Jess Hall, have collaborated to deliver a picture-perfect recreation of the golden age of television's sitcoms that will morph into situations that these classic shows never dreamed of, and in technicolor to boot!  While some viewers might find the insertion of superheroes into 30-minutes of laugh-out-loud comedy off-putting, given a chance, I found that this device actually works.  Elizabeth Olsen channels her inner Elizabeth Montgomery while costar Paul Bettany presents a nice mix of Dick Van Dyke and Dick York as her unintentionally comic foil. The initial use of old-time television's black-and-white film stock and 1.33:1 aspect ratio provides an authentic recreation of what the original shows looked like in an era when they dominated the small screen.  Whether or not you are an MCU fan, as an old television ad of the sitcom era once said: "Try it, you'll like it." Highly recommended.
---
If you found this review useful please consider clicking the button below and donating to help keep TheaterByte funded and to allow us to continue posting great content.
---
WandaVision is currently being streamed weekly on the Disney+ network
---
Show Creator: Jac Schaeffer
Original Release Date: 15 January 2021
Streaming Service: Disney+
Ep. Run Time: 27-30 Mins.
No. Eps.: 9
Studios & Distributors: Marvel Studios | Disney Platform Distribution
Rating Certificate: TV-PG