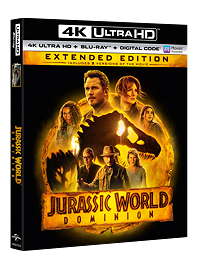 Jurassic World Dominion is the third and final installment in the Jurassic Park reboot. The film picks up after the events of Jurassic World: Fallen Kingdom and the destruction of Isla Nublar. Humans and dinosaurs now share the world, sometimes with disastrous effects. Owen Grady (Chris Pratt) and Claire Dearing (Bryce Dallas Howard) have been hiding themselves away hiding the cloned Maisie Lockwood (Isabella Sermon) who is being hunted by nefarious characters. When she is finally found and kidnapped along with Blue's baby raptor, with which she apparently shares some DNA, Owen and Claire have to go recue her. Meanwhile, expert paleontologists Alan Grant (Sam Neill) and Ellie Sattler (Laura Dern), who are investigating a new and dangerous breed of locusts with ancient DNA that are bringing the world to the brink of famine find a connection back to a corporation that may be responsible for kidnapping Maisie. Soon, they are helping out Owen and Claire.
The film is action packed and Colin Trevorrow does an excellent job directing most of the set pieces and keeping this moving along. Like most of the Jurassic films, this is where the strength lies. Where the film collapses is the storyline, which has some plot holes as well as some lulls, even in the extended edition which one would have hoped would smooth out the rough edges. The first half of the film does not even deal much with the dinosaurs, which is the main reason for these films' existence.
Naturally, the number one strength of Jurassic World Dominion are the special effects. The CGI is magnificent, and not just for the dinosaurs. Having just suffered through the awful CGI work on She-Hulk, it was and is a pleasure to see the CGI done well. Even as CGI has become so common place and so advanced, it is still amazing to see the difference in visual effects between this film and the original Jurassic Park.
Unfortunately, this film just does not work well as a whole, it only works in its individual parts. It has its exciting moments, and the action is great, but the lulls and convoluted story hinder it too much.

Jurassic World Dominion (2022)
The Video
Jurassic World Dominion was shot on various Arri and Panavision cameras on 35mm, 65mm, and 8K Redcode Raw digital. It uses a 4K digital intermediate and comes to 4K Ultra HD in a 2.00:1 HEVC 2160p (4K UHD) Dolby Vision encodement with a MaxLL of 542 nits and a MaxFALL of 415 nits. From the opening to the ending this film is pure reference with nothing to complain about. The image looks clean and crisp, and very cinematic. There is some aspect ratio switching in certain scenes. The colors are stunning, especially the sunrises and sunsets. There are superb specular highlights in lamplights, flashlights, and flames.
The Audio
The film is given a DTS:X mix on 4K Ultra HD and, boy, is it a fantastic, reference quality sound mix. The low end is staggering, so the footsteps and growls of those dinosaurs resonate greatly. There is plenty of height awareness, so we get the sounds of choppers, airplanes, and dinos overhead. Meanwhile the surrounds are filled with plenty of atmospherics and solid sound effects. The dialogue sound great even in the most active scenes.
The Supplements
Jurassic World Dominion comes with only a few bonus features, but they add up to over an hour of behind-the-scenes and 'making of' featurettes all in HD or 4K.
Movies Anywhere Digital Code
Blu-ray
Battle at Big Rock (4K; DV; 00:10:17)
A New Breed of VFX (1080p; DV; 00:06:16)
Dinosaurs Among Us: Inside Jurassic World Dominion (1080p; DV; 00:47:09):

Together for the First Time
Underground Dino Market
Mayhem in Malta
Scary Real Animatronics
Final Fight
The Final Assessment
Impressive reference quality audio and video for a middling finale to this Jurassic reboot. This still works as a popcorn flick especially for the home theater. Recommended.

---
Rating Certificate: PG-13 (for intense sequences of action, some violence and language)
Studios & Distributors: Amblin Entertainment | Latina Pictures | Perfect World Pictures | Universal Pictures
Director: Colin Trevorrow
Written By: Emily Carmichael (screenplay by) | Colin Trevorrow | (screenplay by) | Derek Connolly (story by)
Run Time: 147 Mins. (Theatrical) | 161 Mins. (Extended)
Street Date: 16 August 2022
Aspect Ratio: 2.00:1
Video Format: HEVC 2160p (4K UHD)
HDR Format: Dolby Vision (HDR10 Compatible)
HDR Metadata:

MaxLL 542 nits
MaxFALL 415 nits

Primary Audio: English DTS:X (DTS-HD MA 7.1 Compatible)
Secondary Audio: Spanish DTS-HD HR 7.1 | French DTS-HD HR 7.1
Subtitles: English SDH | Spanish | French