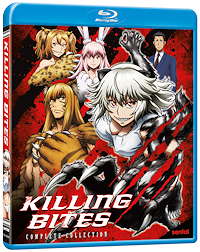 Killing Bites is a 12-episode anime series based on the Japanese manga series written by Murata Shinya and illustrated by Sumita Kazuasa.
Middling male college student Nomoto Yūya encounters the strange girl named Hitomi. Yūya is stunned when Hitomi transforms into a beast-like creature and battles another lion-like creature. Both of them are genetically modified humans called "Brutes" who have had their DNA crossed with animals so they can be used to take part in an ongoing battle of Japan's centuries-old elite families for power and control over business and industry. Hitomi, who has been crossed with the strong and courageous Ratel, has a great fighting instinct and never gives in. Now Yūya has been drawn into this underground battle royale and must act as Hitomi's manager in these battles.
This series is very interesting on paper, but in reality, it grows quite tiring early on as they don't grow these characters much, explore the backstory of these "Killing Bites" tournaments, or the real feelings the Brutes, also known as Therianthropes, have toward each other. Most of the time they really seem to dislike each other with only some passing respect of each other's battle skills, but why? Is it part of their genetic modifications? Have they been brainwashed? What's the deeper story?
Issues aside, the series is action-packed from beginning to end. Think of this as Dragon Ball on an overdose of Red Bull with some great animation and character designs to prop it up. There's no strong story arc, but it's bingeable in one weekend and definitely fun for a time waster.


Killing Bites (TV) (Anime Series) (2018)
The Video
The digital animation for Killing Bites arrives on Blu-ray in an AVC 1080p encodement that provides a nice step up over the Amazon stream for sure, getting rid of much of the issues with posterization, blocking, and banding, but there's still just a little bit of softness to the overall image that keeps this from being an absolutely reference animated release. That being said, it is more than satisfying and the colors look great as well.
The Audio
This Blu-ray collection is provided only with the original Japanese-language mix in DTS-HD Master Audio 2.0 stereo and English subtitles. The sound is quite good for stereo-only, offering wide panning, decent dynamic range, and clean dialogue of the solidly performing cast.
The Supplements
Killing Bites: Complete Collection comes only with the clean opening and closing animations, Japanese promos, and additional Sentai Filmworks trailers.
The Final Assessment
Killing Bites bares its fangs in a barebones but solid Blu-ray release from Sentai that is a step up from the streaming version in terms of picture and sound.
---
If you found this review useful please consider clicking the button below and donating to help keep TheaterByte funded and to allow us to continue posting great content.
---
Killing Bites: Complete Collection is out on Blu-ray January 26, 2021 from Sentai Filmworks
---
TV Rating: TV-MA (VS)
Animation Studio: Liden Films
Distributor: Amazon Video (streaming) | Sentai Filmworks (home video)
Director: Nishikata Yasuto
Written By: Akashiro Aoi
Run Time: 300 Mins.
Street Date: 26 January 2021
Original MSRP: $59.98
Aspect Ratio: 1.78:1
Video Format: AVC 1080p
Primary Audio: Japanese DTS-HD MA 2.0 Stereo
Subtitles: English