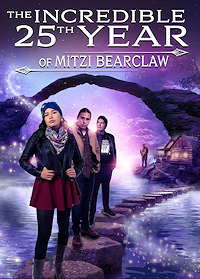 The Incredible 25th Year of Mitzi Bearclaw is the latest indie film from Mohawk photographer and filmmaker from New York and Toronto Shelley Niro, whose films to this point have focused on the Native American experience.
In this dramedy, recent 25-year-old indigenous woman Mitzi Bearclaw (Morningstar Angeline, 'Yellowstone,' 'Drunktown's Finest') from Toronto is trying to live her best life in fashion school and design world-changing hats. It's her world that changes when her father contacts her telling her, her mother is ill, and she must return to the small island reserve in Southwestern Canada, population 80 people, where she grew up and the place from which, she desperately wanted to escape. Upon her arrival she is confronted with old romances and rivalries and the childhood feelings resurfacing from a cold, unsupportive mother and over the course of a year stuck on the tiny island of her childhood she slowly begins to rediscover herself and her past.
MorningThe Incredible 25th Year of Mitzi Bearclaw (2019)
Niro's film is an intimate portrait of the daily lives of the indigenous people and it is especially wonderful to see from the perspective of people within the community devoid of so many of the stereotypes we are normally fed. She also graces us with beautifully imagery, courtesy of the cinematography of Michael Caterina, of the Atikameksheng Anishnawbek First Nation Reserve, Ontario, Canada. There are beautiful wide-angle shots of the scenery, slow panning shots, but also some intimate close-up shots indoors that make it a very personal film.
Morningstar Angeline's performance is the standout in what is generally a cast of competent performers. Her balance between frustration, listlessness, wry humor and compassion is perfect for this quiet film about self-discovery.
The Incredible 25th Year of Mitzi Bearclaw is an intimate portrait of a young woman finding herself and one that cuts across cultural lines. It's a warm, endearing dramedy that will rope you in from the opening scenes.
---
If you found this review useful please consider clicking the button below and donating to help keep TheaterByte funded and to allow us to continue posting great content.
---
The Incredible 25th Year of Mitzi Bearclaw is in theaters in the US on February 5, 2021 and on Digital HD & DVD March 23, 2021.
---
Studios & Distributors: Circle Blue Entertainment | Freddie Films
Country: Canada
Language: English | Ojibwa
Run Time: 96 Mins.
Aspect Ratio: 2.35:1
Aspect Ratio: Shelley Niro
Director: Shelley Niro
Written By: Shelley Niro (written by) | Ken Chubb (story editor) | Shirley Barrie (story editor)
Release Date: 12 February 2021 (Limited Theatrical Release) | 23 March 2021 (Digital HD & DVD)