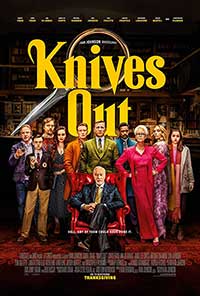 The late Agatha Christie would have thoroughly enjoyed Knives Out, a contemporary version of the venerable murder mystery genre in which members of a dysfunctional family become suspects in the apparent suicide of their patriarch, the super-wealthy mystery writer Harlan Thrombey (Christopher Plummer) on the occasion of his 85th birthday party.
The following morning, Thrombey's body is discovered in his attic study, throat slit by his own knife. When Detective Lieutenant Elliott (Lakeith Stanfield) and his partner Trooper Wagner (Noah Segan), a Thrombey fan-boy, arrive on the scene, this appears to be an open-and-shut case. But not so fast, since an anonymous party has hired private eye par excellence Benoit Blanc (Daniel Craig). Benoit begins to investigate nearly everyone in the Thrombey mansion including Harlan's entrepreneurial daughter Linda Drysdale (Jamie Lee Curtis), her philandering husband Richard (Don Johnson), their aimless son Ransome (Chris Evans), Harlan's feckless son Walt (Michael Shannon), and his daughter-in-law Joni (Toni Collette), the late Neil Thrombey's widow. The only folks that appear above suspicion are Harlan's devoted nurse Marta Cabrera (Ana de Armas), his other grandchildren Meg (Katherine Langford) and Jacob (Jaeden Martell), and his ancient mother Wanetta AKA "Nana" Thrombey (K Callan).
Although the actual circumstances leading up to Harlan's death are revealed early on, the dogged Blanc remains unconvinced that this case should be closed. He continues to pry into the varying motives of the dead man's heirs, all explicitly linked to Harlan's intentions to leave them penniless when he dies. Without spilling any spoilers, viewers should heed the film's title as knives play prominent visual and dramatic roles in the storyline.
[envira-album id="121197″]
Writer-director Rian Johnson has produced a relatively small body of screen work but Knives Out, an homage to one of the greatest mystery writers of all time, succeeds on all counts. The effective ensemble of actors compares favorably with most of its earlier Christie film counterparts. Ana de Armas first caught my attention in War Dogs and Blade Runner 2049 and is most appealing as a young woman with a generous heart but burdened with a propensity to puke when she tells a lie. Daniel Craig's Big Easy accent enhances his spot-on impersonation of a Hercule Poirot-type PI and provides one of the principal strengths of the film. A casting irony finds K Callan as Plummer's mother (she is actually six years younger than him) but her make-up added years to her actual age and made her look like a proper centenarian. It took a willing suspension of disbelief to accept Chris "Captain America" Evans as a nasty boy but he eventually sold me on this character as well. I wished that the Harlan siblings had gotten a bit more screen time but their limited contributions were still nice additions.
Having suffered through a number of lackluster films so far this year, Knives Out was a real breath of fresh air notwithstanding its reliance on a cast of hothouse flowers that typically bloom in the Christie-era mansions. A new millennium take on a cinematic genre, this film will delight audiences and provide many laugh-out-loud moments before the final curtain descends. Highly recommended.
Knives Out is in theaters November 27, 2019  (USA)
[youtube https://www.youtube.com/watch?v=sL-9Khv7wa4&w=864&h=486]
---
The Film: 4.0/5
Studios & Distributors: Lionsgate | Media Rights Capital | T-Street
Rating Certificate: PG-13 (for thematic elements including brief violence, some strong language, sexual references, and drug material)
Country: USA
Language: English
Run Time: 130 Mins.
Aspect Ratio: 1.85:1
Director: Rian Johnson
Writer: Rian Johnson
Release Date: 27 November 2019