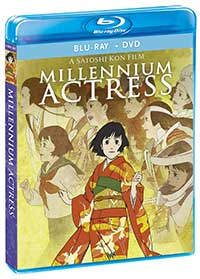 Millennium Actress is the late anime filmmaker Kon Satoshi's (Paprika, Tokyo Godfathers) second feature film, an almost perfect follow-up to his debut, Perfect Blue. In this time-bending film-within-a-film, the career of a legendary actress, Fujiwara Chiyoko, now living a quiet life in retirement, is seen through the eyes of two documentary filmmakers as she relates her stories and memories of her life to them. Her career, which began as a young woman during the early days leading up to World War II, is in part driven by her determination to succeed against her main rival Eiko and in hopes of finding a man she fell in love with right before the War.
Kon's signature filmmaking style is perfectly displayed in Millennium Actress. In telling this story of a passion in one's craft and passionate love of both work and romantic love, he is fearless in bending reality and intertwining timelines. It's a style that would culminate in Paprika, but the story in this film is arguably more timeless and less surreal. It's one that a greater number of people can relate to, and that is unrequited love, growing older, and how great changes in the world beyond our control can determine the outcome of our lives without us even realizing it.
The animation and artwork in Millennium Actress are also fascinating and beautiful to look at. The character designs are brilliant, as we watch Chiyoko age from a teen to an elderly woman and throughout wear a number of costumes and everyday clothes that are meticulously designed. The film may be from 2001, but I would say the sort of designs almost place it in a throwback 1980s style.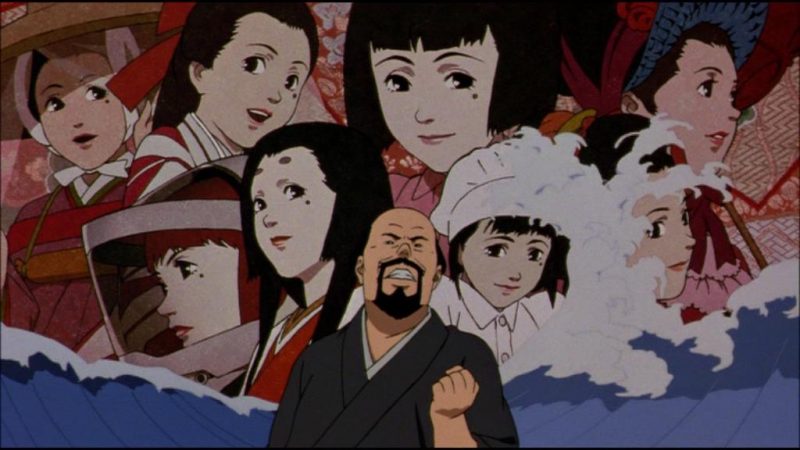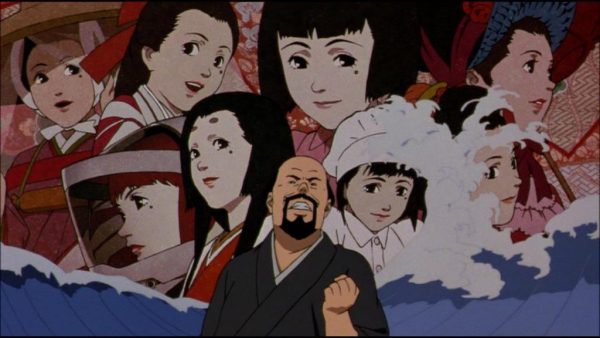 The Video
Millennium Actress was originally done on 35mm film and has been restored and remastered from a 4K transfer for this Blu-ray release, which is provided in a 1.85:1 AVC 1080p encodement. The animation looks gorgeous in this new restoration, apart from a few frames here and there where there is some washout in the blacks and a hint of source damage, this looks clean, crisp, and rich in detail without being overly DNR'd.
The Audio
The original Japanese-language audio mix is included in DTS-HD Master Audio 5.1 along with an English dub in the same format. The sound is engulfing, with good use of the surround channels for some solid sound effects and occasional dialogue to follow the action. Balance us excellent as well and low end extends into the upper ranges of the lower frequencies – not too deep and floorboard shaking, but a good solid foundation.
The Supplements
Shout! Factory and Eleven Arts include a strong set of interviews with this release, including two from the English voice actors and two from the Japanese crew.
DVD w/Feature Film
Interview with Abby Trott (Young Chiyoko – English Version) (1.78:1; 1080i)
Interview with Laura Post (Eiko – English Version) (1.78:1; 1080i)
Interview with Producer Masao Maruyama (Japanese w/ English subs) (1.78:1; 1080i)
Interview with Producer Taro Maki (Japanese w/ English subs) (1.78:1; 1080i)
The Final Assessment
Millennium Actress is truly deserving of classic status, as all of the, unfortunately, few feature films Kon left behind before he passed well before his time. This new 4K restoration of it looks and sounds magnificent. If you're an anime fan, then you have to get this.
Millennium Actress is out on Blu-ray Combo on December 10, 2019 from Shout! Factory/Eleven Arts
---
The Story: 4.0/5
The Animation: 4.5/5
The Video: 4.5/5
The Audio: 4.0/5
The Dub: 3.5/5
The Supplements: 3.0/5
Animation Studio: Madhouse
Distributor: Shout! Factory | Eleven Arts Animation Studio
Director: Kon Satoshi
Writers: Murai Sadayuki | Kon Satoshi
Run Time: 87 Mins.
Street Date: 10 December 2019
Original MSRP: $26.99
Aspect Ratio: 1.85:1
Video Format: AVC 1080p
Primary Audio: Japanese DTS-HD MA 5.1
Secondary Audio: English DTS-HD MA 5.1
Subtitles: English for Original Language Version | English SDH