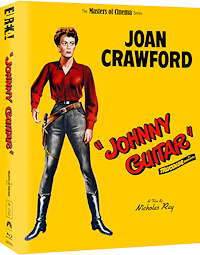 A strangely out of place western from Nicholas Ray set in a bold color palette that the director would later use to great effect again in Rebel Without a Cause, Johnny Guitar is set in world of fiery passions, lust, and irrational hatred.
The title character (played by Sterling Hayden) is hired on by the strong-willed Vienna (Joan Crawford) to help her protect herself and her saloon from the townsfolk who want her out. Apparently, she and Johnny were past lovers and Johnny is also a gunslinger with a hot temper he troubles keeping under control, but he's keeping his quick trigger finger under control for Vienna's benefit. Vienna's main rival is Emma Small (Mercedes McCambridge), the Arizona town's bank treasurer who has developed an irrational hatred for Vienna for two reasons. The first because the smooth-talking gangster people call Dancin' Kid (Scott Brady) whom Emma can't admit she has feelings for, has also set his sights on Vienna; secondly because she believes that Dancin' Kid and his friends killed her brother. Emma convinces the people of the town to gather a posse and arrest Vienna, but the first confrontation results in no more than a tense standoff in Vienna's saloon and an ultimatum for her to shut down her saloon and get out of town within 24 hours. This doesn't sit well with Dancin' Kid or Emma. Dancin' Kid and his cronies plan a bank robbery and take all the bank's stash, and it just happens to go off when Vienna is there withdrawing her funds and closing her account. This gives Emma all the fuel she needs to finally link Vienna to the Dancin' Kid and a crime, and another posse is gathered, this time with a lynching on their mind. Johnny Guitar, meanwhile, who'd been sent away, must come to Vienna's rescue, and save her from the angry mob.
Martin Scorsese has said that Johnny Guitar feels more like an opera than a western, and he's right. The melodrama, the angst, the romance, the tight indoor scenes, the numerous set pieces and the psychosexual subtexts of these two, strong, angry women in their butch cowboy uniforms in a battle royale against each other surrounded by weak-kneed men uninterested in entering into the arena makes this one a special, western.

The Video
This Eureka Entertainment Masters of Cinema series Blu-ray release of Johnny Guitar arrives framed at 1.66:1 in an AVC 1080p encodement. This transfer as far as I can tell is taken from the same 4K restoration master as the 2016 US Olive Signature release and it looks equally brilliant. 4K digital restoration framed at 1.66:1. The Trucolor imagery looks breathtakingly saturated and the film's grain structure is organic and thinly layered, apart from a few places where the optical effects process of the day leads to extra grain levels from the dupe process.
The Audio
The monaural soundtrack for Johnny Guitar is supplied in LPCM 2.0. It is clean and reasonably dynamic with good air around the score and intelligible dialogue.
The Supplements
The archival intro by Martin Scorsese appeared on the Olive Signature Blu-ray release of this film from 2016 and while we don't get the feature length audio commentary from Geoff Andrew which appeared on the Olive release, there is a brief video commentary from Andrew. An equally intriguing and enlightening audio commentary from Adrian Martin takes its place along with an excellent video essay by and a brief video interview on the film by the knowledgeable Tony Rayns among other bonus materials.
Limited Edition Contents:
Limited Edition 60-page collector's booklet featuring new essays on the making of Johnny Guitar and on female gunslingers in the western genre, both by western expert Howard Hughes; an essay by Jonathan Rosenbaum; and archival writing and ephemera.
Limited Edition Hardbound Slipcase.
Archival Martin Scorsese Introduction (upscaled 1080p; 00:03:28)
Audio commentary by film scholar Adrian Martin
Geoff Andrew on Johnny Guitar (1080p; 00:14:01)
Tony Rayns on Johnny Guitar (1080p; 00:15:31)
Never is a Long Time: Video Essay by David Cairns (1080p; 00:23:53)
Stranger – Interview with Susan Ray (1080p; 00:29:30)
Alternate Opening Credits (upscaled 1080p) – Used on some early home video releases
Theatrical Trailer (upscaled 1080p)
The Final Assessment
A fantastic, operatic feminist western brought to Blu-ray in a vibrant and reference quality Blu-ray release from the Masters of Cinema series.
Johnny Guitar (Masters of Cinema) is out on Blu-ray in the UK 20 September 2021 from Eureka Entertainment.
---
Rating Certificate: UK:PG
Studios & Distributors: Republic Pictures | Eureka Entertainment
Director: Nicholas Ray
Written By: Philip Yordan (screenplay) | Roy Chanslor (based on novel by)
Run Time: 110 Mins.
Street Date: 20 September 2021
Aspect Ratio: 1.66:1
Video Format: AVC 1080p
Primary Audio: English LPCM 2.0 Mono
Subtitles: English SDH