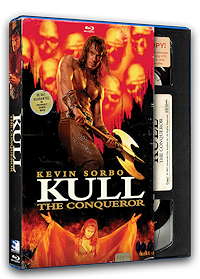 In the 1997 sword & sorcery film Kull the Conqueror, action star Kevin Sorbo plays the titular character Kull, a barbarian warrior who becomes king through an act of valor trying to stop the out-of-control king. As king, the benevolent Kull is loved by his subjects, but is instantly hated by forces of evil including the seductive and villainous sorceress Akivasha (Tia Carrere).
While this film is visually appealing in a 1950s and 1960s Saturday matinee way, harkening back to the Cold War monster films and seeming like a B-grade Spartacus at times. Where the film really falls apart is in the lack of logical storytelling. It is just difficult to follow and lacks any fleshed-out characters. Sorbo feels surprisingly out of place although Tia Carerre really does play up her role as the seductive villainess.

The Video
Kull the Conqueror hails from 1997 and was originally shot on Arriflex 535 and Arriflex 435 with Zeiss Super Speed lenses in the Super 35 format. It comes to Blu-ray from Mill Creek in a 2.35:1 AVC 1080p encodement. The overall video quality for this release is middling at best. Detail is on the soft side with some definite noise in the darker areas and perhaps even a little bit of red push in flesh tones. Source damage isn't a major issue, but this one does not particularly sparkle in this release but should be satisfying enough at the budget price.
The Audio
Kull the Conqueror comes with an English DTS-HD Master Audio 5.1 mix that is quite aggressive. There are lots of solid sounds coming from the surround channels and good dynamic range. Dialogue is full and clean.
The Supplements
Kull the Conqueror Retro VHS Edition is packaged in a retro VHS slipcover. The only on-disc bonus is the theatrical trailer (SD).
The Final Assessment
B-movie mavens will love this release and may in fact relish the camp of this film. This one falls neatly into the Retro VHS line from Mill Creek Entertainment.
Kull the Conqueror (Retro VHS) is out on Blu-ray October 19, 2021 from Mill Creek Entertainment
---
Rating Certificate: PG-13 (for fantasy action violence and sensuality)
Studios & Distributors: Universal Pictures | Raffaella De Laurentiis Productions | Korsala Productions | Mill Creek Entertainment
Director: John Nicolella
Written By: Robert E. Howard (worlds and characters) | Charles Edward Pogue (screenplay)
Run Time: 95 Mins.
Street Date: 19 October 2021
Aspect Ratio: 2.35:1
Video Format: AVC 1080p
Primary Audio: English DTS-HD MA 5.1
Subtitles: English SDH