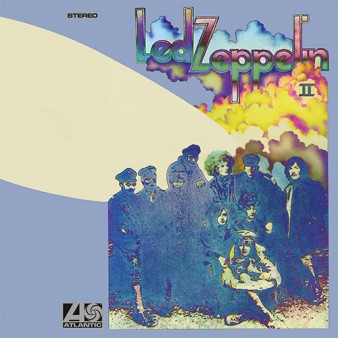 – –
The Album
[Rating:4/5] 
Led Zeppelin II followed hard on the heels of Led Zeppelin's first album and took the game to another level with more varied songs and some neat engineering tricks. Of course, this album retained the winning combination of Robert Plant's vocals, Jimmy Page's guitar riffs, John Paul Jones' keyboards and Jon Bonham's solid keeping of the beat. This "Deluxe Edition" reissue contains the nine original tracks listed below and extra rough mixes and backing tracks:
Whole Lotta Love (5:35)
What Is And What Should Never Be (4:46)
The Lemon Song (6:19)
Thank You (6:29)
Heartbreaker (4:14)
Living Loving Maid (She's Just A Woman) (2:39)
Ramble On (4:34)
Moby Dick (4:21)
Bring It On Home (4:20)
Whole Lotta Love (Rough Mix With Vocal) (5:39)
What Is And What Should Never Be (Rough Mix With Vocal) (4:34)
Thank You (Backing Track) (4:21)
Heartbreaker (Rough Mix With Vocal) (4:25)
Living Loving Maid (She's Just A Woman) (Backing Track) (3:11)
Ramble On (Rough Mix With Vocal) (4:45)
Moby Dick (Backing Track) (1;38)
La La (Intro-Outro Rough Mix) ((4:08)
The party kicks off with one of Led Zeppelin's monster hits, "Whole Lotta Love" that just explodes from the very first chords. As was their wont, the Zeps easily shift gears into the R&B-flavored "What Is And What Should Never Be." One of their loveliest and most touching ballads "Thank You" seems to come out of nowhere, but this mood is abruptly shattered by the heavy-metal track "Heartbreaker." A typical rocker, "Living Loving Maid," gives us no warning of the folksy "Ramble On" that follows. After the powerhouse "Moby Dick," our trio finishes things with a harmonica-laden blues number "Bring It On Home."
A very successful second album, in many respects, Led Zeppelin II outstripped its predecessor in the wide-ranging material that its tracks covered.
Audio Quality
[Rating:3.5/5]
Like the eponymous Led Zeppelin, the original cuts are all stereo recordings with some interesting special effects like shifting the instruments and vocals around the speakers (think Pink Floyd). Most of the tracks tend to put each player in a one channel with vocals mostly in the middle. A very good recording for its times, this high resolution remastering gives us some of the goods and bads of the studio sound in full measure with a bit of the dryness that typified the vinyl originals (as I remembered them). The bonus tracks are in very good and quite dynamic mono.
A technical look:
(Audacity waveforms with clipping detection and spectrum analyses. Red lines (if present) indicate clipping of the sound wave.)
"Thank You":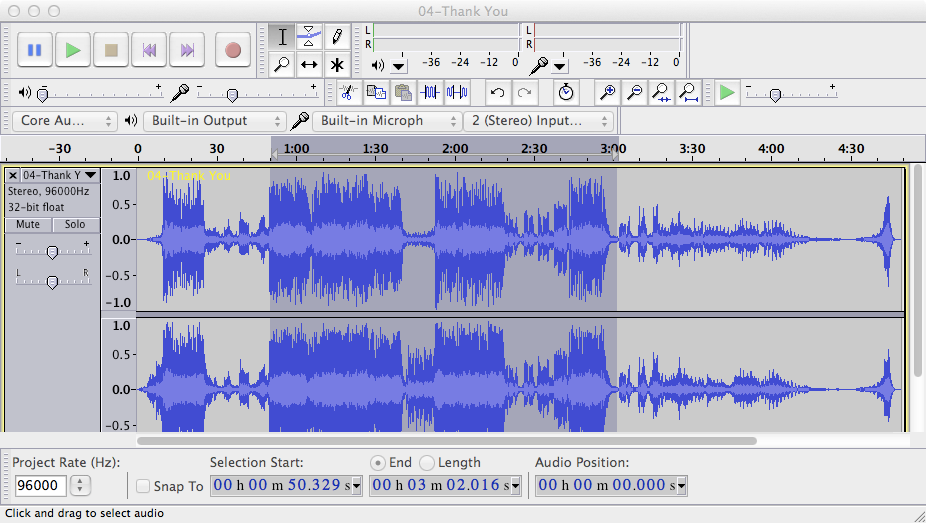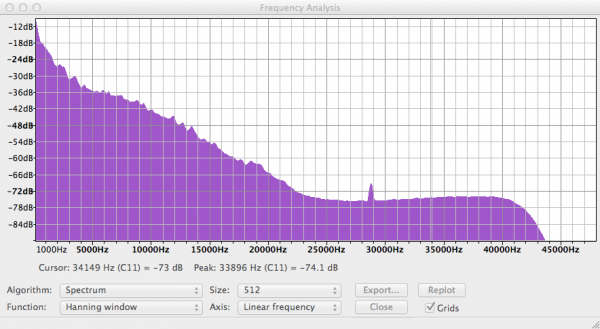 "Whole Lotta Love":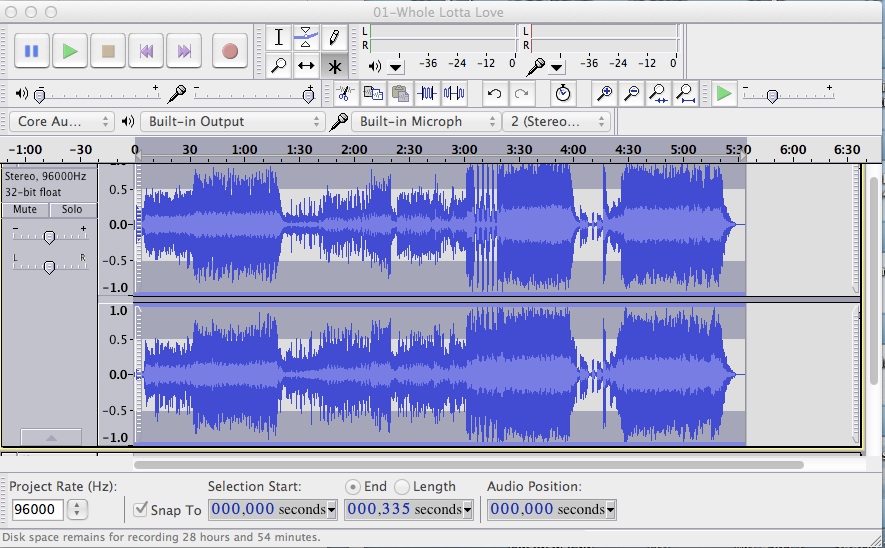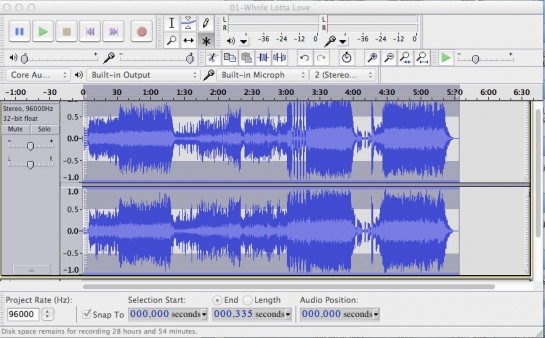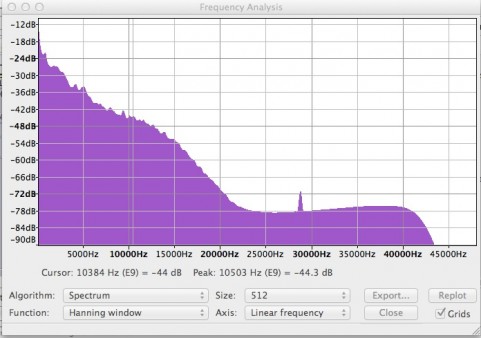 "Ramble On":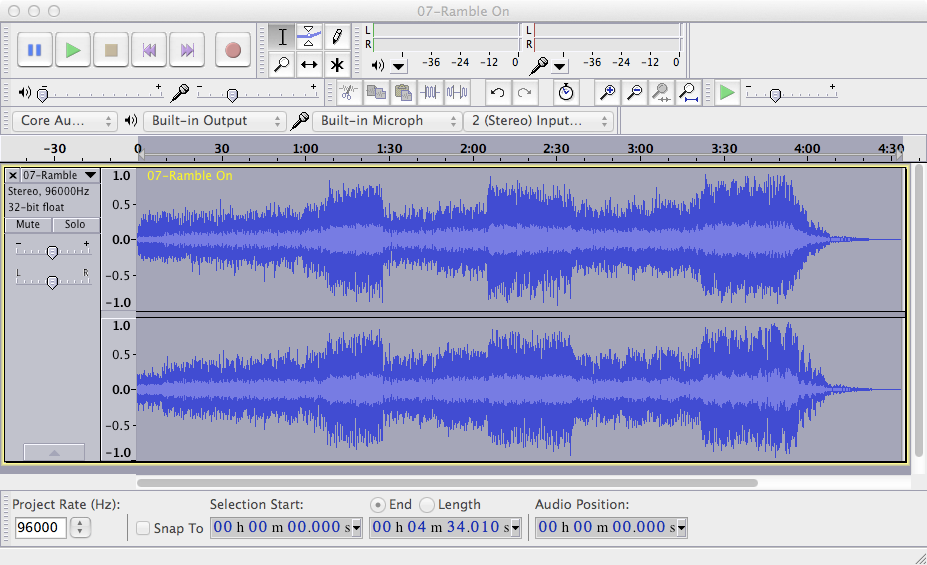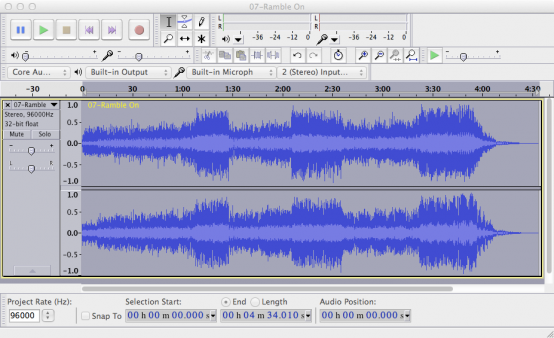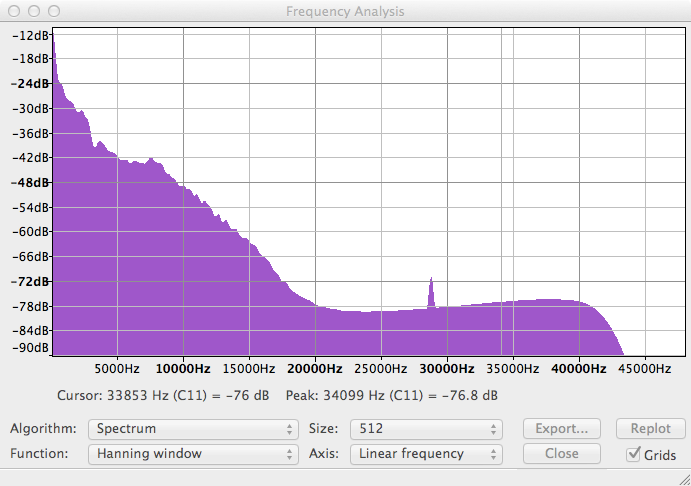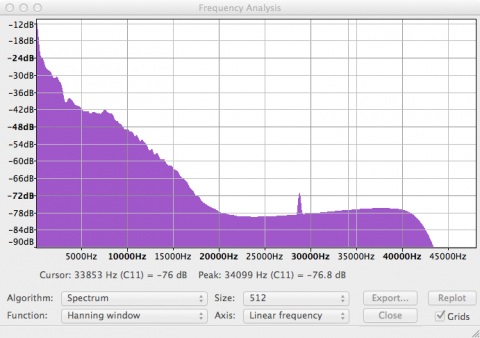 The tracks on this download were free from clipping with a smooth and extended high frequency roll off.
Supplemental Materials
[Rating:0.5/5]
A PDF formatted photo of the original cover art.
The Definitive Word
Overall:
[Rating:4/5]
An extremely well received album at its 1969 release, Led Zeppelin II has remained an inspiration for the heavy metal movement that followed in the 1970s. What LZ II demonstrates is the incredible talent that this group possessed and its ability to shift musical gears at the literal drop of a hat. Listeners should move beyond "Whole Lotta Love" and focus on some of the other treasures that these tracks possess. Rolling Stone magazine placed Led Zeppelin II at 79 on its list of the 500 greatest albums of all time, a level of recognition that should be obvious to LZ fans old and new.