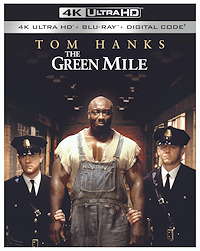 Frank Darabont returns to the work of Stephen King for The Green Mile, another work set in a prison as with 1994's The Shawshank Redemption. Set during the Great Depression in 1935, the story follows a group of inmates at the Cold Mountain Correctional Facility on death row. They refer to it as "The Green Mile" because of the faded green tile that decorate the floors outside the cells. Tom Hanks plays Paul Edgecomb head guard on the Green Mile when a new "dead man walking" is brought into custody: John Coffey (Michael Clarke Duncan). Coffey, an oversized black man convicted of the gruesome murder of two young white girls, has a fearsome appearance, but it turns out Coffey is a mild-mannered man with a gentle soul and has a personality more akin to a young child than a hardened killer.
Edgecomb and two of the other Green Mile guards, Howell (David Morse) and Stanton (Barry Pepper), soon notice that Coffey seems to be able to perform what appears to be miracles, starting with one of his inmates. They soon begin to question if it was even possible for Coffey to commit the crimes he was convicted of.
Like he did with the brilliant The Shawshank Redemption, Darabont manages to take King's material and find the humanism in it on the screen. He turns the claustrophobic confines of the death row quarters into a larger than life set by focusing on the characters and utilizing brilliant imagery and camera work.
This film is admittedly more fantasy than Shawshank, but the fantastical elements do not overwhelm the human story, and the sociopolitical commentary, which is not breezed over, but also not handled with the delicacy of a sledgehammer. There are plenty of nods here to issues dealing with racism and prejudice, but these are never directly confronted, just alluded to.
Michael Clarke Duncan, who garnered a nomination for Best Supporting Actor for this role, is brilliant in his portrayal here. His performance is nuanced and powerful, sympathetic, and never overdone. Hanks' performance is overshadowed by Duncan's, and that's something one rarely has a chance to say. Although the king's story of confronting racial issues, the death penalty, and morality are often overshadowed a bit by Darabont's more sentimental take, there's no denying that this is a powerful a watchable film.
The Video
The Green Mile was shot with Panavision Panaflex Platinum cameras using Panavision Primo and Frazier lenses on 35mm Eastman EXR 50D 5245 and Kodak Vision 320T 5277 film stock. This new 2022 remaster uses a 4K digital intermediate and arrives on 4K Ultra HD with a HEVC 2160p (4K UHD) HDR10 encodement framed at 1.85:1. I have to say this 4K disc is definitely a nice upgrade over the Blu-ray as far as the colors and dynamic range plus the finer details, but I am not seeing as crisp an image I would have liked to see with this. I'm not missing detail; things like textures in clothing and pores on skin are all there, but there just a hint of softness and the depth of field rolls off a little in the backgrounds. That said, the specular highlights added by the application of HDR10 adds a lot of dimensionality to the image. We can see excellent 'pop' in sweat on skin or the reflection of light off of flesh or metallic bits of uniforms, nuance in the shadows of the prison and so on.
The Audio
The English Dolby Atmos mix offered up by Warner Bros. for The Green Mile is very subtle. At first, I was unimpressed with this audio mix, but I came around to it given how well suited it is to the film. The mix may be a bit front-heavy, but this is a very dialogue-heavy film. Where it needs to liven up, it does, such as during thunderstorms or in the execution chambers. Then, we get a lot of height awareness, a little bit more low-end extension, and heightened atmospheric activity in the surrounds.
The Supplements
The bonus features have been previously released. The audio commentary from the director is interesting and informative, but Darabont also doesn't give a very lively commentary, for what it's worth.
Movies Anywhere Digital Code
Audio Commentary by Frank Darabont
Also on Blu-ray previously released special features:

Walking the Mile: The Making of The Green Mile Documentary
Miracle and Mystery: Creating The Green Mile Featurette Gallery
Tom Hanks Makeup Tests
The teaser trailer: A Case Study
Theatrical Trailers
The Final Assessment
A classic Stephen King adaptation with powerful performances has satisfying 4K audio/video upgrade from Warner Bros. but lacks any new special features. This is still a good upgrade.
The Green Mile is out on 4K Ultra HD Combo February 22, 2022 from Warner Bros.

---
Rating Certificate: R (for violence, language and some sex-related material)
Studios & Distributors: Castle Rock Entertainment | Darkwoods Productions | Warner Bros. | Warner Bros. Home Entertainment
Director: Frank Darabont
Written By: Stephen King (novel) | Frank Darabont (screenplay)
Run Time: 188 Mins.
Street Date: 22 February 2022
Aspect Ratio: 1.85:1
Video Format: HEVC 2160p (4K UHD)
HDR Format: HDR10
Primary Audio: English Dolby Atmos (Dolby TrueHD 7.1 Compatible)
Secondary Audio: French DD 5.1 (Quebecois) | French DD 5.1 | German DD 5.1 | Italian | Spanish (Castilian) | Spanish (Latino)
Subtitles: English SDH | German SDH | Spanish (Castilian) |Chinese | Spanish (Latino) | Finnish | Norwegian | French | Italian SDH | Dutch |Korean | Danish | Greek | Swedish