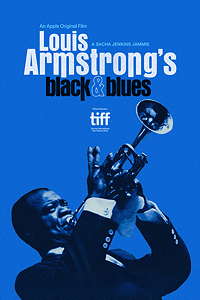 Director Sacha Jenkins, who gave us the documentary Burn, Motherf****r, Burn! about the roots of civil unrest in California, and the Wu-Tang documentary mini-series Wu-Tang Clan: Of Mics and Men, turns his sights on a jazz legend with Louis Armstrong's Black & Blues.
The 104-minute-long documentary culls archival footage from "Satchmo's" career, dips into personal photographs, and uses his vast trove of personal audio diaries to cover his career both in his own words and from many commentators such as Stanley Crouch, Wynton Marsalis, and a number of people, alive and passed who were a part of Armstrong's life and career.
Jenkins does not pull any punches with this documentary. He leaves in all of Armstrong's frank speech about racial issues he faced in the South, his involvement with members of the mafia, and use of herbal laxatives. This is a full spectrum, warts, and all, behind the curtain look at a man, not a demigod or simply a legend. He was an innovator and often the first to break open doors, but one often forgets that behind the photos, the vinyl records, and the films, there are three-dimensional, breathing human beings with faults and feelings.
Louis Armstrong's Black & Blues (2022)
Black & Blues goes a long way to dispel the long-lasting criticism that Louis Armstrong often faced as being an 'Uncle Tom' or "shucking and jiving." This was a serious man who had deep feelings on many ideas he often expressed to his close friends, but publicly, 'pops' was the consummate showman who stayed strong and mostly stayed out of politics even as he was demanding in his contracts he wouldn't play at establishments that would not allow him to stay in them. Louis Armstrong's Black & Blues is truly a 360-degree deep dive into a fascinating and influential artist in the world of music that is a must-see.
---
Rating Certificate: R (for language.)
Studios & Distributors: Imagine Documentaries | Polygram Entertainment | AppleTV+
Country: USA
Language: English
Run Time: 104 Mins.
Aspect Ratio: 1.78:1
Director: Sacha Jenkins
Release Date: 28 October 2022