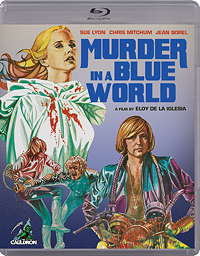 Spanish filmmaker Eloy de la Iglesia's 1973 film Murder in a Blue World has reached cult status over the years since its first release. At the time when it first came out it was overly compared to Stanley Kubrick's A Clockwork Orange. In fact, it was even marketed as Clockwork Terror (see the UK VHS cut of the film under this title included on this new disc being released by Cauldron Films). While the film does reference the Kubrick film in that there is a roaming gang of young toughs who even carry out a home invasion and one member is arrested after witnessing a murder and forced to go through a mind-altering experiment, the similarities end there, apart from the fact that it is set in a near future dystopia.
The Iglesia film deals mostly with the subplot involving a beautiful blonde nurse named Ana (Sue Lyon), who also does some roaming of her own. But Ana roams the bars and streets to find vulnerable men whom she lures back to her apartment and to hotel rooms for sex and afterwards she takes their life.
Murder in a Blue World is visually striking even on its slim budget, in comparison to the Kubrick film. It is also very subversive. Produced during the fascist Franco era in Spain, the gay filmmaker had to subvert many of his themes. The scene set in the bar with the gay coded characters is one example, or Ana herself, is a sexually fluid and deadly establishment figure. What could be more a poke at the establishment than a killer nurse? One cannot even trust the very people meant to aid you when you are ill. Then there is the gender reversal of the woman being the pursuer stalking and killing the men.
In all, this is an interesting if not perfect film. This one needs more than one viewing to sink in, but do watch with the Spanish track as the English dub sounds a bit too melodramatic.
Murder in a Blue World (1973)
The Video
According to Cauldron, Murder in a Blue World is a 2K restoration of the Spanish Producer's cut from the negative. It is presented in a 2.40:1 AVC 1080p encodement on Blu-ray. Unlike the release of Contraband, also from Cauldron, and releasing the same time, this one does not have so many visual issues and actually looks quite lovely on Blu-ray. The grain structure looks very organic and there is strong detail in the image. Depth of field is nicely extended although there is some trail-off and unavoidable hints of film softness. Where the transfer really shines is the in the color reproduction, especially in primaries. The reds in the helmets of the gang members or 'droogs' or the walls in the restroom at the gay bar are a deep vermillion that is eye-catching. Flesh tones are spot-on as well, with natural peachy hues.
The Audio
Murder in a Blue World comes with the original Spanish soundtrack in LPCM 2.0 mono and the original English dub in LPCM 2.0 mono. Both soundtracks sound a little boxy, but the dialogue is clear and clean for both.
The Supplements
This is an excellent collection of bonus features, including the always informed and easy to listen to Kat Ellinger in the audio commentary and the UK VHS cut of the film, titled Clockwork Terror.
Audio commentary by film historian Kat Ellinger
Chris Mitchum – International Man of Cinema (720p; 00:20:26) – Archival interview with actor Chris Mitchum, son of Robert Mitchum, recorded in 2008.
Dubbing in a Blue World – An interview with Ben Tatar (SD; 00:12:28)
Video essay by film scholar Dr. Xavier Aldana Reyes (1080i; 00:15:23)
Clockwork Terror (UK VHS cut of the film in standard definition) (1080p-upscaled; 01:36:43)
Image Gallery (1080p; 00:02:59)
The Final Assessment
An interesting and offbeat dystopian sci-fi film from Franco era Spain that is visually striking and subversive. Comparisons to A Clockwork Orange are overstated. Watch this one on its own merits and enjoy this fantastic restoration from Cauldron Films.
Murder in a Blue World is out on Blu-ray November 22, 2022, from Cauldron Films

---
Rating Certificate: Not Rated
Studios & Distributors: José Frade Producciones Cinematográficas S.A. | Intercontinental Productions | Cauldron Films
Director: Eloy de la Iglesia
Written By: Eloy de la Iglesia (story and screenplay) | José Luis Garci (story and screenplay) | Antonio Fos (story and screenplay)
Run Time: 97 Mins.
Street Date: 22 November 2022
Aspect Ratio: 2.40:1
Video Format: AVC 1080p
Primary Audio: Spanish LPCM 2.0 Mono
Secondary Audio: English LPCM 2.0 Mono
Subtitles: English for Spanish Audio | English SDH