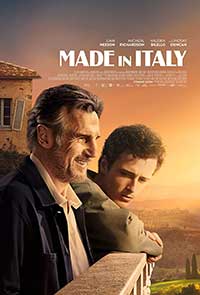 As was the case in Under the Tuscan Sun, Made in Italy features a dilapidated Tuscan villa and leading characters that need major makeovers.  Jack Foster (Micheál Richardson) is having words with his soon-to-be ex-wife Ruth (Yolanda Kettle) in her parent's art gallery that has served as his workplace and dwelling.  Ruth gives him thirty days to clear out but Jack counters with an offer to buy the place.  However, in order to raise the money needed for this purchase, Jack must reconnect with his estranged father, the once-famous painter Robert Foster (Liam Neeson), and convince him to sell the abandoned Tuscan villa that he inherited from his late wife and Jack's mother Raffaella Pazzini (Helena Antonio).
After arriving in Tuscany, Jack and Robert see the ravages caused by decades of neglect—holes in the terra cotta roof, paint peeling off the walls, dangling shutters, unhinged doors and a resident weasel.  The piece de resistance is a garish mural that Robert painted shortly after Raffaela died in a car crash. Realtor Kate Lewis (Lindsay Duncan) insists that significant repairs be made before they can put the house on the market, but Jack tells her that they only have one month to accomplish this.  On a trip into town, Jack meets pretty restauranteur and chef Natalia (Valeria Bilello). Natalia is a divorced mother and shares custody of her delightful 8-year-old daughter Anna ((Costanza Amati) with her ex-husband Marizio (Gian Marco Tavani). It takes little or no imagination to figure out that Jack and Natalia will eventually become an item.
After days of nonstop painting and repairs, the emotional crux of this film occurs when Jack discovers a pile of paintings and drawings in a spare room which were portraits of him and his mother that Robert had done before Raffaella's death.  We ultimately get the backstory of Robert's difficulty in dealing with the loss of his wife, his guilt over not being the one who should have been driving the fatal car, and his misguided efforts to distance young Jack from the heartbreak of losing his mother. Astute viewers will figure out quite early that Robert never intended to sell the villa and that there will be a quite predictable but welcome happy ending.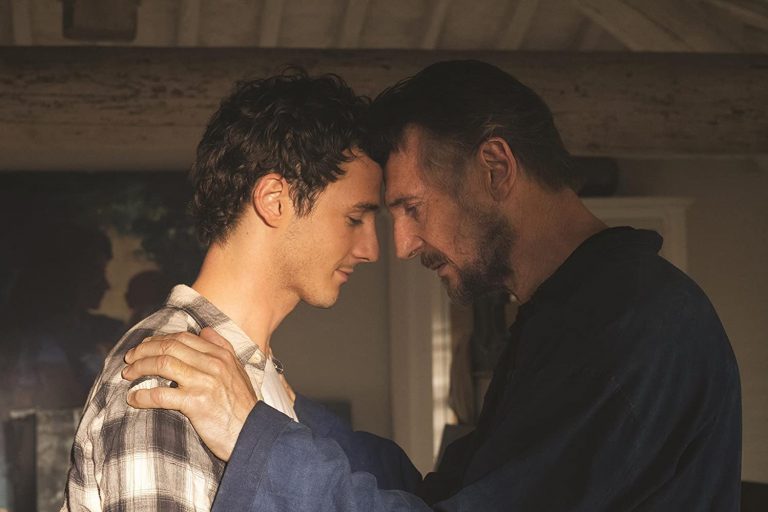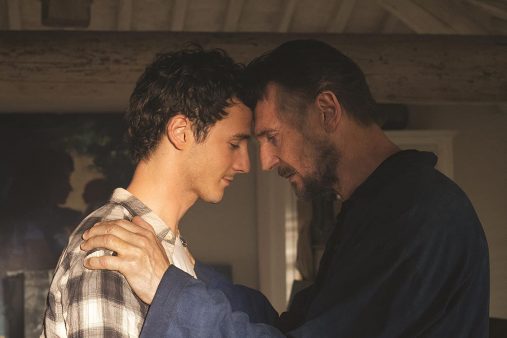 I will confess that I am a sucker for romantic comedies set against the backdrop of Tuscany and Made in Italy certainly fills that bill. Veteran screen actor James D'Arcy, making his debut as a writer-director,  gives us a pretty formulaic storyline but one that still manages to tug on our heartstrings.  The on-screen relationship between Liam and his real-life son Micheál is made all the more poignant and emotionally credible when one is aware that Natasha Richardson, Liam's wife, and Micheál's mother, died following a skiing accident when the boy was only thirteen years old. There are also plenty of very welcome laugh-out-loud moments like Robert's "home-made" pasta dinner for Natalia and the exorcism of the pesky weasel by a village elder. The Tuscans that I have met on my trips to this region of Italy are warm and welcoming people and, although Valeria Bilello is Sicilian, her Natalia certainly fits these expectations to a tee. Besides the film's strong cast, the co-stars of this film should be Mike Eley's camera crew who delivers scene after scene of the ravishingly gorgeous Tuscan countryside. While in-theater screenings of Made in Italy were abruptly curtailed by the onset of COVID-19, this film may just be what the doctor ordered for home-bound audiences whose spirits will be lifted at least for a couple of hours.
Made in Italy is now available for viewing on various digital and VOD platforms
[youtube https://www.youtube.com/watch?v=tJHcv0Pm0RU&w=853&h=480]
---
The Film: 3.5/5
Studios & Distributors: CrossDay Productions, Ltd. | Indiana Production | Rojovid Films | Hanway Films | Ingenious Media | IFC Films
Rating Certificate: R (Language and some sexuality)
Country: UK | Italy
Language: English | Italian
Run Time: 120 Mins.
Aspect Ratio: 1.85:1
Director: James D'Arcy
Writer: James D'Arcy
Release Date: 7 August 2020