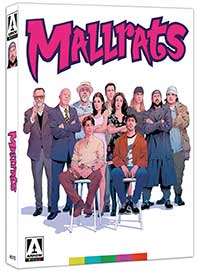 Kevin Smith followed up his sleeper hit Clerks with this 1995 comedy Mallrats, this time expanding the in-jokes, goofy humor, and of course the world of Jay and Silent Bob (Jason Mewes and Smith respectively) into the world of a junky New Jersey shopping mall and the various characters that work and reside in it.
One of the last gasps of the American mall culture, the film follows two slacker best buds, T.S. (Jeremy London) and Brodie (Jason Lee), who are both dumped by their girlfriends (Shannon Doherty and Claire Forlani, respectively) and decide to head to the local shopping mall to recuperate. There the pair are entangled in numerous hijinks and scheme to appear on a planned game show taking place at the mall and to win back their girlfriends who also show up at the local gathering place.
There's no real point to Mallrats other than the quick wit, constant jokes, and absurdity. Kevin Smith (who wrote and directed the film) keeps the pace brisk and scenes often jump from one seemingly unconnected set piece to another, but it all manages to make some sort of madcap sense. Jay and Silent Bob appear doing, whatever it is they do, like a post-modern Laurel and Hardy, and today's viewers will probably find it entertaining to see the appearances of young Ben Affleck, Claire Forlani, Shannen Doherty, Kim Cattrall, Jason Lee, and others.
Surprisingly for a film set in a shopping mall about a couple of comic book nerds with a lot of jokes that really don't pass the test as being "PC" today, Mallrats holds up well and is still a funny and definitely a classic example of 1990s comedy films.
[envira-album id="125405″]
The Video
This release features a brand new restoration by Arrow Films of both the Theatrical and Extended cuts of the film, approved by director Kevin Smith and cinematographer David Klein. These are both exceptional restorations of the original 35mm source. The grain structure is intact, looks crisp and organic without being overwhelming while at the same time the image has been nicely cleaned up without damaging the detail. The colors look vibrant – check out the pink background of the game show set in the mall – while flesh tones look completely natural. Blacks are deep without any crush.
The Audio
Mallrats comes with its original stereo mix and a 5.1 remix, both in DTS-HD Master Audio. The Extended Cut is only available in 5.1. Regardless of which you choose, you're getting great sound here, and the 5.1 mix is surprisingly good for a remix. They haven't just put on an up-mixed 5.1 track that boosts ambience in the surround channels, there is a balanced mix here with solid effects moved around to follow action, good extension into the low end to give the subwoofers a little bit of work, and clear dialogue. The stereo track is also clean and has good stereo balance.
The Supplements
This Arrow release of Mallrats comes with an abundance of bonus features and extras. You can enjoy three different cuts of the film and a number of brand-new interviews.
Disc One:
Introductions to Theatrical and Extended Cuts (Disc 2) by Kevin Smith
Audio Commentary with Cast and Crew
(NEW) My Mallrat Memories (1080p; 00:29:58) – An all-new interview with Kevin Smith sharing his memories of the making of Mallrats.
Mallrat: A Tribute to Jim Jacks (1080p; 00:12:56) – Kevin Smith pays tribute to producer Jim Jacks.
(NEW) Blunt Talk (1080p; 00:09:59) – A brand new interview with Jason Mewes.
(NEW) Hollywood of the North (1080p; 00:10:13) – A newly produced animated making-of documentary featuring Minnesota crew members who worked on the film.
(NEW) When we Were Punks (1080p; 00:06:08) – A brand new interview with director of photography David Klein.
Deleted Scenes (upscaled 1080i; 01:02:48) – Kevin Smith and Vincent Pereira discuss deleted scenes and sequences originally cut from the film.
Outtakes and Behind the Scenes Footage (upscaled 1080p; 00:08:11)
Cast Interviews from the Original Set (upscaled 1080i; 00:08:36)
Erection of an Epic: The Making of Mallrats (upscaled 1080i; 00:22:09) – An archival retrospective with cast and crew looking at the making and release of the film.
Q&A with Kevin Smith (upscaled 1080i; 00:09:00) – Archival Q&A filmed for the 10th
Build Me Up Buttercup music video (upscaled 1080p)
Disc Two:
TV Cut — Newly assembled TV cut of the film featuring hilarious overdubbing to cover up profanity
Brand new introduction to the TV cut by director Kevin Smith
Extended Cut
Trailer (upscaled 1080p)
Soundtrack EPK (720p; 00:04:02) – A soundtrack promo featuring Scott Mosier and Kevin Smith
Dailies (upscaled 1080p; 01:59:35)
Stills Galleries:

Behind the Scenes Stills
Comics featured in the film opening sequence

Easter Eggs
The Final Assessment
An excellent restoration and transfer of a classic '90s comedy packed with features and extras. This is another top-quality Arrow release that cinephiles and collectors will want to grab.
Mallrats (Limited Edition) is out October 13, 2020 from Arrow Video
---
The Creative Content: 3.5/5
The Video: 5/5
The Audio: 4.5/5
The Supplements: 4.5/5
Rating Certificate: R (for strong language, including sexual dialogue, and for some scenes of sexuality and drug content)
Studios & Distributors: Gramercy Pictures (I) | Alphaville Films | View Askew Productions | Arrow Video
Director: Kevin Smith
Written By: Kevin Smith
Run Time: 94 Mins.
Original MSRP: $39.95
Street Date: 13 October 2020
Aspect Ratio: 1.85:1
Video Format: AVC 1080p
Primary Audio: English DTS-HD MA 5.1
Secondary Audio: English DTS-HD MA 2.0 Stereo
Subtitles: English SDH