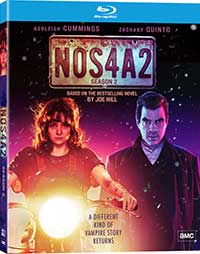 NOS4A2 (pronounced Nosferatu) is the AMC horror/fantasy series based on the best-selling novel by author Joe Hill. This review is for the Blu-ray release of the second season, which also happens to be the final season since AMC canceled the series in August of 2020.
In season 1 were introduced to Vic McQueen (Ashleigh Cummings), a troubled working-class teenager from a broken family in Haverhill, Massachusetts who discovers that her artistic bent and painful headaches actually mask more supernatural powers. She is what is called a "Strong Creative," which allows her to manifest her imagination into reality. Her power comes in the form of "the shorter way" or a bridge that only she can see when she rides her motorcycle imbued with her powers that takes her to lost things. This is the power that leads her to Charlie Manx (Zachary Quinto), a vampiric Strong Creative whose power has given him immortality, but in order to maintain that life, he must kidnap and feed off of the lifeforce of children he lures away to his manifested lair, a place called Christmasland, where Christmas takes place every day.
Season 2 takes place eight years after the events that unfolded in season 1 and the confrontation between Vic and Manx that left the latter presumably dead. But Manx was not dead for good. His minion Bing (Ólafur Darri Ólafsson) has hunted down his Wraith – the supernatural Rolls Royce that gives Manx his power – and rebuilt it, bringing Manx back to life. Now he spends the season out for revenge and threatening Vic's now eight-year-old son Wayne (Jason David).
This second season was actually a better outing than the first getting deeper into the characters, the origin of Manx, and expanding the world of the Strong Creatives. Manx became even more terrifying, misogynistic, and generally pathetic in this season, and Vic as a character grew from troubled teen to troubled mom now in a relationship with a man who has raised her son as his own. But the cracks in her family unit begin to mirror those of the family she grew up in, and she struggles not to repeat that.
Overall, this was a good season and a reasonable one to end on even if the finale felt a little too open-ended and like there was a coda tacked on to try to clean things up just in case the series wasn't brought back, which it wasn't.
[envira-album id="125386″]
The Video
The 1.78:1 AVC 1080p encodement of NOS4A2: Season 2 looks good on this Blu-ray from RLJE. Some of the darker areas can drift a little into noisiness and show a little banding as well, but generally this is a pleasing transfer with excellent overall detail, natural flesh tones, and solid dynamic range.
The Audio
An English DTS-HD Master Audio 5.1 mix is the sole audio option and English SDH are the only subtitles. The mix is a good, balanced one with clean dialogue, mostly front-heavy, with the occasional solid sound effect in the surround channels, and minor low-end extension.
The Supplements
The Comic-Con@Home Panel is the best bonus included on this release. Of course the virtual setting is due to COVID-19, but it's still interesting to watch and includes Zachary Quinto and Joe Hill.
A Look at Season 2 (1080p; 00:04:14)
Catching up with the Characters (1080p; 00:04:43)
The Origin of Charlie Manx (1080p; 00:08:40)
Comic-Con@Home Panel (1080p; 00:36:31)
The Final Assessment
It's disappointing that this series was canceled because it seemed to be coming into its own with this second season. A third season may have been able to kick it into high gear. That said, if you enjoyed Season 1, then this Season 2 Blu-ray release from RLJE will hit the spot.
NOS4A2: Season 2 is out on Blu-ray October 20, 2020 from RLJE
---
The Creative Content: 4.0/5
The Video: 4.0/5
The Audio: 4.0/5
The Supplements: 2.5/5
Studios & Distributors: American Movie Classics (AMC) | O'Brien Construction | Tornante Company | Tornante Company | RLJE
Run Time: 453 Mins.
Street Date: 20 October 2020
Aspect Ratio: 1.78:1
Video Format: AVC 1080p
Primary Audio: English DTS-HD MA 5.1
Subtitles: English SDH