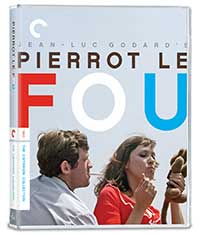 Jean-Luc Godard's Pierrot le Fou, loosely based on the pulp crime novel Obsession by author Lionel White, was the French New Wave director's swan song to the first period of his filmmaking career. Not only tying the knots on this period of his stylistic career but saying farewell to his crumbling marriage to leading lady Anna Karina, Godard crafted a rambling, colorful film eschewing traditional narrative that railed against consumerism, romanticism and even the pop-culture that drove its visual aesthetic.
Jean-Paul Belmondo is Ferdinand, an out-of-work ad executive in an unhappy marriage who leaves his wife and children behind for the babysitter Marianne Renoir (Karina), a woman with ties to an Algerian underground military group. Together the two take off on a murderous journey from Paris toward the Mediterranean like Bonnie and Clyde. Their relationship becomes increasingly complicated as their journey continues, with Ferdinand withdrawing into books and his journal. Their dialogue is disjointed and obtuse, there are musical segments and moments of quiet romance. As Godard put it, he wanted to make a film about "the last romantic couple." But Godard's intentions were also somewhat subversive. He was also lashing out at his wife, Anna Karina. By the end of the filming, their marriage was over and Karina would no longer be the leading lady in Godard's films. In Pierrot le Fou, one can see the increasing destructiveness of the romance between Ferdinand and Marianne as their journey together begins to go awry.
With a broad narrative and many improvised scenes, Godard used bold primary colors, particularly visceral reds and hot whites, against a set of pop art, Picasso and Renoir paintings, to form the look and feel, if you will, of Pierrot le fou. When scenes didn't quite work, he used technique to drive them, rather than traditional story. When Pierrot le Fou works, it is a brilliant frenzy of hyperactive energy; a living comic book, moving frames of raw energy and emotion. At its weakest moments, Pierrot le fou feels a bit awkward and clumsy, but it still fits together nicely on the whole.
[envira-album id="125438″]
The Video
This is a brand new 2K restoration of Pierrot le fou taken from the original 35mm camera negative and done at Scanlab in Saint-Cloud, France. A previous 2K restoration approved by original cinematographer Raoul Coutard (and previously issued by Criterion Collection in 2009) was used as a color reference.
The film is presented in 2.35:1 AVC 1080p and looks just as gorgeous as it did the first time around on Blu-ray from Criterion, with just a little bit more 'pop' and organic feel to the film grain. The grain looks a little crisper and more noticeable in this new restoration, but not overwhelming at all.  I wouldn't say that this release requires an upgrade if you have the original Criterion release, but if you want a release that looks just a little bit cleaner and closer to what it may have looked like when it originally screened, and is newly restored, then go ahead. Certainly, if you did not own the OOP original Criterion Blu-ray release, then jump right in.
The Audio
The original monaural soundtrack was remastered from a 35mm optical soundtrack positive using Avid's Pro Tools and iZotope RX.  The French LPCM 1.0 audio sounds relatively clean and clear and is free from major clicks and hiss.
The Supplements
Unfortunately, Criterion does not package anything new with this release outside of the new restoration of the film and the new artwork. The supplements are all repackaged from the previous Criterion release.
Anna Karina (1.78:1. 1080i/60; 0:14.55) — Recorded for Criterion at the Brasserie Lipp in Paris in 2007, Anna Karina recalls working with her former husband director Jean-Luc Goddard and her role as Perriot le Fou's Marianne Renoir.
A Pierrot Primer (2.35:1; 1080i/60; 0:36.00) — An introduction to Pierrot le Fou with commentary by filmmaker Jen-Piere Gorin
"Belmondo in the Wind" (1.33:1; 1080i/60; 0.09.21)
Venice Film Festival, 1965 (1.33:1; 1080i/60; 0:03.59) — Excerpts from an interview of Jen-Luc Godard and Anna Karina during the 1965 Venice Film Festival where Pierrot le Fou was nominated for the Golden Lion.
Godard, L'amour, La Poésie (1.78:1; 1080i/60; 0:52.59)
Trailer (2.35:1; 1080i/60)
Booklet: Excerpts of interviews from 1965 with Godard, Karina, and actor Jean-Paul Belmondo; an essay by critic Richard Brody originally written for Criterion Collection in 2007, a 1969 review by Andrew Sarris, and a 1965 interview with Godard.
The Final Assessment
Pierrot le fou can be perplexing to anyone watching the film for the first time. Its lack of a narrative in the traditional sense of the term and heavy reliance on style and technique over a solid screenplay make it at first a frustrating film. But, Godard's frenetic vision, his postcards to pop art, railings against love, romance and the constraints of the bourgeoisie quickly come into colorful focus upon multiple viewings. This new Blu-ray release from the Criterion Collection manages to improve upon what was already a reference quality release with their previous issue of the film on Blu-ray even though it is still a 2K restoration.
Pierrot le Fou is out on Blu-ray October 6, 2020 from the Criterion Collection
---
The Creative Content: 4.5/5
The Video: 5/5
The Audio: 4.5/5
The Supplements: 3.0/5
Rating Certificate: Not Rated
Studios & Distributors: Films Georges de Beauregard | Rome Paris Films | Société Nouvelle de Cinématographie (SNC) | Dino de Laurentiis Cinematografica (co-production) | The Criterion Collection
Director: Jean-Luc Godard
Written By: Jean-Luc Godard
Run Time: 110 Mins.
Street Date: 6 October 2020
Aspect Ratio: 2.35:1
Video Format: AVC 1080p
Primary Audio: French LPCM 1.0
Subtitles: English