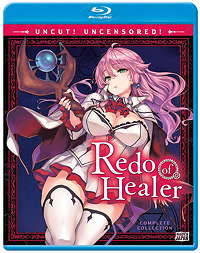 Redo of Healer is an ecchi anime series based on the Japanese fantasy light novel series written by Tsukiyo Rui and illustrated by Shiokonbu.
In a world where upon coming of age some people become "heroes" blessed with an insignia that grants them a special power or powers, the young male protagonist Keyaru, an orphan who has been raised in a quiet village by the generous local woman Anna after his parents' death, comes of age and acquires the healing insignia. When the Magic Hero and the first princess of the Jioral Kingdom Flare Arlgrande Jioral recruits him to fight for her, Keyaru, the Healing Hero, believes it to be good fortune, but Flare has always looked down on healing heroes – and demi-humans, which will come into play later in the series – and she takes Keyaru only to use him for her own nefarious purposes. Unbeknownst to Keyaru, Flare has Keyaru addicted to opioids, and he endures four years of physical, mental, and sexual abuse at the hands of the Jioral. But Keyaru perfects his skills, learning exactly what he can do with his healing power beyond simple healing during a battle, where he discovers he can not only heal, but obtain his opponent's memories and powers. He eventually manages to free himself from Flare and he "heals" the entire world, resetting the timeline to four years earlier where he goes back and embarks on getting his revenge on the people who tortured him, with the first target of his revenge being Flare. He eventually wipes Flare's memories, changes her appearance and turns her into his sex slave, turning the tables on her, before setting out to conquer the rest of his former 'allies' from Jioral.
The rest of Redo of Healer: Uncensored plays out like this. This series starts out as a typical fantasy/revenge series but quickly turns into very wild, over-the-top ecchi with a protagonist who his difficult to like; there are anti-heroes and there are anti-heroes. Keyaru becomes more a villain by the time we get to the final episode. They do go out of the way to let us know the sexual assaults and other mental and physical abuse he endured, but he turns around and becomes just as terrible and devoid of a moral compass as the people that wronged him, engaging in the exact same behavior in the name of revenge.
This being the uncensored version of the series, there are plenty of moments in the twelve episodes where there are unclothed, bodacious, big-boobed beauties, lots of sex, and even some bodily fluids flying around. You have been alerted.
Redo of Healer (TV) (Anime) (2021)
The Video
Redo of Healer hits Blu-ray in a 1.78:1 AVC 1080p encodement of its digital animation. It looks clean and has a good vibrancy in the color, but there are some hints of softness and extremely mild banding in some color fills. None of this detracts from the overall high quality of this transfer.
The Audio
Redo of Healer gets its original Japanese-language soundtrack and an English dub both in DTS-HD Master Audio 2.0 stereo. The stereo track is a strong mix with wide imaging and dynamic, low reaching bottom range and solid midrange punch. The Japanese cast perform superbly and seem to really capture the absurdity of the series in a way the English cast do not even if they do a strong job as well.
The Supplements
Only the Japanese promos for Redo of Healer are included beyond the usual clean opening and closing animations.
Clean Opening Animation (1080p)
Clean Closing Animation (1080p)
Japanese Promos (1080p; 00:03:19)
The Final Assessment
This is a series that is difficult to watch. It lures you in thinking you can cheer on the protagonist, decides to drop you into the deep end of awful sexual assault and drug abuse, and then lowers the protagonist to the same lows. It has some eye-catching animation and equally head-spinning scenes of depravity.
Redo of Healer: Complete Collection [Uncensored] is out on Blu-ray from Maiden Japan
---
Rating Certificate: 18+ (VSD)
Animation Studio: TNK
Distributor: Sentai Filmworks | Maiden Japan
Director: Asaoka Takuya
Written By: Fudeyasu Kazuyuki
Run Time: 300 Mins.
Street Date: 9 November 2021
Aspect Ratio: 1.78:1
Primary Audio: Japanese DTS-HD MA 2.0 Stereo
Secondary Audio: English DTS-HD MA 2.0 Stereo
Subtitles: English