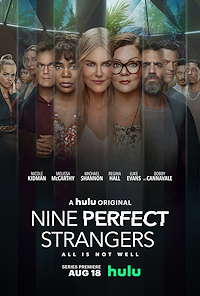 The 8-episode series Nine Perfect Strangers, adapted from Australian novelist Liane Moriarty's best-seller with the same title, has become the most-watched Hulu Original show and co-creators David E. Kelley and John-Henry Butterworth have recruited an outstanding cast to boot. Russian expatriate Masha Dmitrichenko (Nicole Kidman) runs the exclusive wellness resort named appropriately enough, Tranquillum House, located in a luxuriant green California countryside with no other people in sight except for the nine guests and its staff of therapists.
To kick start each client's wellness journey, all cellphones are confiscated cutting off contact with the world outside of the resort.  Each guest harbors deep-seated problems. Well-known author Frances Welty (Melissa McCarthy) has had two failed marriages, was scammed out of thousands of dollars, and now doubts her writing skills following the rejection of her latest novel. Three years after her son Zach's suicide, Heather Marconi (Asher Keddie) is still in mourning while her high school teacher husband Napoleon "Leon (Michael Shannon) blames himself for not doing more to prevent this tragedy. Zach's twin sister Zoe (Grace Van Patten) misses Zach and is subject to panic attacks. Leon later recognizes Tony Hogburn (Bobby Cannavale) as a former star professional football player whose career-ending injury has made him opioid-dependent and wallowing in his own self-despair. Carmel Schneider (Regina Hall) is seeking to restore her self-esteem after her husband left her for a younger, prettier woman. Benjamin Chandler (Melvin Gregg) is only driving a Lamborghini convertible because he held a winning lottery ticket worth 22 million dollars. Ben's beautiful wife Jessica (Samara Weaving) is profoundly insecure about her appearance and is considering plastic surgery. Lars Lee (Luke Evans), an investigative journalist, is trying to dig up dirt on Tranquillum and is burdened by his father's abandonment when he came out as a gay man.
Nine Perfect Strangers (TV) (Limited Series) (2021)
The nine guests meet daily in a circular room where Masha discusses the ten-day Tranquillum experience.  She has shared her own backstory, and one that still haunts her, of being a workaholic CEO whose young daughter was struck and killed by a car.  Masha was subsequently shot and left for dead in a parking deck, but miraculously resuscitated  by quick-thinking EMT Yao (Manny Jacinto). Yao, along with girlfriend Delilah (Tiffany Boone), became a Tranquillum therapist and has frequent sack sessions with Masha.  In the very first group session, Masha delivers the telling line, "I mean to f**k with all of you," which suggests that the next ten days will provide a most unconventional road to personal healing. There are hints that Masha had specific reasons for inviting each of the guests and there may be ulterior motives for drawing their blood other than just to check their cholesterol and glucose levels. When Masha reveals that some of the guests' daily smoothies were laced with micro doses of the hallucinogen psilocybin, there are further hints that this is not your typical health spa resort and that some unsettling times await our nine perfect strangers as Masha cues them up for some of her "experiments." Looming in the background are apparent threats to Masha's life, perhaps stemming from a previous client's death in the resort or perhaps generated by one of the nine perfect strangers currently at Tranquillum.
David E. Kelley has certainly mastered the television soap-series genre with a successful adaptation of another Moriarty novel, Big Little Lies, and also starring Nicole Kidman. Nine Perfect Strangers opens with its first three episodes released together. Unlike its predecessor, this new mini-series' opening episodes lack the edginess and vindictiveness that made its predecessor so appealing to audiences and critics alike. In part, this is due to the characters given to veteran actors like Melissa McCarthy, Michael Shannon, and Luke Evans that, backstories aside, are simply not that interesting.  Kidman's wellness guru is saddled with an unconvincingly fake Russian accent and lacks the aura that successful healers usually possess. The hallucinogenic scenes like the one in which Luke Evans bears Bobby Cannavale's baby are the show's high and low points as only so much mileage can be gotten from such distractions induced by magic mushrooms. The location scenery shots in Byron Bay, New South Wales, Australia are simply gorgeous, and the score composed by Marco Beltrami and Miles Hankins is entrancing but these attractions are simply not enough to bail out a show adapted from a mediocre novel. As each of the remaining five episodes are being released one per week, even BLL fans may find this one as difficult a watch as I did.
Nine Perfect Strangers is streaming now on Hulu
---
Rating Certificate: TV-MA
Studios & Distributors: Made Up Stories | Blossom Films | Endeavor Content | Hulu
Streaming Service: Hulu
Show Creators: David E. Kelley | John-Henry Butterworth
Original Premiere Date: 28 August 2021
Ep. Run Time: 43-55 Mins.
Num. Ep.: 8