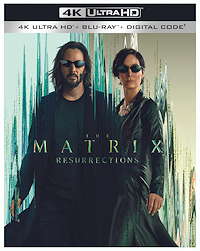 The Matrix: Resurrections is the sci-fi thriller sequel co-written and directed by Lana Wachowski, a sequel that we really didn't need, especially given the almost immediate downward spiral in quality of the original trilogy of films after the release of 1999's The Matrix.
Neo (Keanu Reeves) is a game developer whose game The Matrix is the most popular game trilogy. It ponders what would happen if AI took over the world and you didn't know it. In his everyday life, listless, disconnected, he's seeing a therapist called the Analyst (Neil Patrick Harris) who has been prescribing him some blue pills so he can get his head right. It seems Neo is back in the Matrix, and he doesn't know it, but he can feel it. Meanwhile, back in reality, there are people trying to get Neo back out of the Matrix. They also stumble across something called "modals" where incidents from Neo's past are being replayed over and over, but the outcomes are slightly different.
There are some who claim that this film's strength is in its meta references, just as a wink at why Warner Bros. wants Neo to write another entry in the trilogy, or the rewritten versions of scenes from the original film. Do not believe them. There is nothing remotely interesting or clever about this sequel from Lana Wachowski. Perhaps she needed her sibling? Or perhaps this sequel just never should have been made to begin with. Slotting Yahya Abdul-Mateen II in as an AI version of Morpheus is a clever bit of casting, but it also leaves a lot of questions unanswered. And the fact that most of the film is focused on Neo and his crew of humans searching for Trinity (Carrie-Anne Moss) who has suddenly become so crucial to the survival of humanity is just a bit too much to take.
The Matrix Resurrections (2021)
The Video
The Matrix Resurrections was shot on Red Komodo, Red Monstro, and
Red Ranger cameras with Panavision Panaspeed lenses in the Redcode RAW format at 6K and 8K resolution. It uses a 4K digital intermediate and is mastered with Dolby Vision HDR. The HDR metadata on the disc shows a MaxLL of 1044 nits and MaxFALL of 648 nits. One can see right from the opening scene that is a redux of the famous Trinity opening scene from the original film that this is going to be and is a masterful 4K disc from Warner Bros., HBO Max 4K stream step aside. The specular highlights are in a word, dazzling, as we see sparks, flashes, glistening off costumes, or the glare of lights, but we also get very pristine clarity indicative of this Red digital production. There is so much depth of field here, and then we add the shadow details which are wonderfully extended with excellent delineation of black levels, lack of crush, but still maintaining inky blacks. The wide color gamut also comes into play as well with colors that 'pop'. The scene where Trinity is rescued from the chamber is awash in a glowing, vermillion that does not look as rich on the Blu-ray.
The Audio
An English Atmos track is included for The Matrix Resurrections (German and Italian Atmos dubs are also included along with other dubs). This mix is about one would expect from a mix for a Matrix movie. I feel it is perhaps slightly less aggressive than the original trilogy, but that is in degrees. I would have liked a bit more height awareness, just a little more low-end rumble, but overall, this mix gives a lot of solid effects in the surrounds, some overhead movement of ships flying overhead, and the big active scenes get aggressive but also maintain dialogue clarity.
The Supplements
Warner Bros. includes a lot of interview segments and behind the scenes looks at pivotal scenes in the film. There are also plenty of nostalgic looks back at the original films.
Movies Anywhere Digital Copy Code
Feature Film included in HD on included Blu-ray
Bonus Features on Blu-ray:
No One Can Be Told What the Matrix Is (1080p; 00:08:52)
Resurrecting The Matrix (1080p; 00:30:44)
Neo x Trinity: Return to The Matrix (1080p; 00:08:16)
The San Fran Jump (1080p; 00:07:56)
Allies + Adversaries: The Matrix Remixed (1080p; 00:08:27)
Matrix 4 Life (1080p; 00:06:19)
I Still Know Kung Fu (1080p; 00:04:56)
The Matrix Reactions (1080p; 00:48:38):

Echo Opening
Deus Machina
Welcome to IØ
Morpheus vs. Neo
Exiles Fight
Neo vs. Smith
Bullet Time Redux
The San Fran Chase
The San Fran Jump
The Final Assessment
A disappointing entry in this franchise provides stunning visual and audio elements, with a plot that tries too hard to be clever and "meta" with its tongue-in-cheek references to the previous films, commercialism, and existential questions. This one is truly for completists and for those who just need material to show off their home theaters.
The Matrix Resurrections is out on 4K Ultra HD Combo March 8, 2022 from Warner Bros. Home Entertainment
---
Rating Certificate: R (for violence and some language)
Studios & Distributors: Warner Bros. | Village Roadshow Pictures | Venus Castina Productions | HBO Max | Warner Bros. Home Entertainment
Director: Lana Wachowski
Written By: Lana Wachowski (based on characters created by) | David Mitchell | Aleksandar Hemon
Run Time: 148 Mins.
Street Date: 8 March 2022
Aspect Ratio: 2.39:1
Video Format: HEVC 2160P (4K UHD)
HDR Format: Dolby Vision (HDR10 Compatible)
Primary Audio: English Dolby Atmos (Dolby TrueHD 7.1 Compatible)
Secondary Audio: English DD 5.1 | English Descriptive Audio (UK) | French DD 5.1 | German Dolby Atmos | German DD 5.1 | German Descriptive Audio | Italian Dolby Atmos | Italian DD 5.1 | Spanish DD 5.1
Subtitles: English SDH | French | German SDH | Italian SDH | Spanish | Danish | Finnish | Swedish