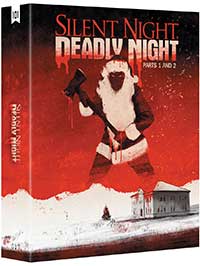 Silent Night, Deadly Night is one of the most controversial slasher films from the 1980s. It's story of a killer Santa and ad campaign that emphasized this stirred many protests and resulted in the film being pulled from theaters early. The story follows a young boy, Billy (Danny Wagner, at 8; Robert Brian Wilson, at 18) who witnesses his parents getting killed by Santa after being warned by his senile grandfather that Christmas is the most dangerous night of the year because Santa Claus punishes those who are naughty. Ten years later and ready to be released from the harsh environment of the orphanage he grew up in, right around the Holidays, Billy becomes a rampaging Santa himself, taking on the persona of the punishing Santa that so tormented his psyche in his youth.
Part 2 (included in this collection) picks up years later and follows Billy's now grown up younger brother Ricky (Eric Freeman) who recounts to his psychiatrist how he became a killer after the events that ended the first film. Is this film really worth watching? Maybe, but only if you really want to relive about half of what you already watched in the original, because they freely use footage from the first film in the form of flashbacks, some of them not really making much sense relative to Ricky's storytelling given he would not have even been present to see the things happen, in order to fill up half the run time here. That said, as slasher films go, it does have a lot of unique kills and at least, for this franchise, has some connection to the original film, where some of the films that followed seem to be in their own universe.
Is Silent Night, Deadly Night on par with some of the truly classic holiday themed horror films like Black Christmas or Halloween? Not really, but the first film at least gets you into the campy, blood-soaked, exploitative ballpark.
Silent Night, Deadly Night (Limited Edition) (101 Films)
The Video
The transfers for this 101 Films Blu-ray release are the same as the 2017 Blu-ray from Scream Factory. The Theatrical and Extended versions were taken from a new (at the time) 4K scan of the original camera negative and the extended version added in standard definition-sourced scenes. Part 2 is sourced from 2K Scan of an archival theatrical print. While there is definitely a lot of good fine detail and high frequency information in the theatrical and the HD portions of the extended version, this restoration also seems to suffer from a lot of 'sparkle' and little bits of scratches and dirt throughout that one supposes would have been too detrimental to overall picture quality to get rid of. The standard definition portions of the extended version of the film just don't look good and really stick out. One wonders if this extended version was even necessary, to be honest. Now, part two is much softer overall than Part 1 coming from a theatrical print and not the original camera negative. That being said, it looks good given the source with good color and details.
The Audio
The three films all come with LPCM 2.0 mono mixes and the sound is actually very good for mono with clean, full dialogue and no hiss or crackle.
The Supplements
For US viewers, most of the supplements here were previously released on the Scream Factory Blu-ray release from 2017. That said, if you missed the Scream Factory release or are purchasing this in the UK then this is a great batch of extras with a lot of contemporary interviews and four audio commentaries. 101 also includes an excellent booklet with includes 'Silent Night, Festive Fright' by Sarah Appleton and 'Santa's Watching, Santa's Creeping' – An interview with Morgan Ames' and the set is packaged in a rigid slipcase featuring newly-commissioned artwork by Keith Robinson.
Theatrical Version (Disc 1):
R-Rated Theatrical Trailer (1080p)
VHS Trailer (1080i)
TV Spots (1080i)
Radio Spot (1080p; 00:00:35)
Extended Unrated Version (Disc 2):
Slay Bells Ring: The Story of Silent Night, Deadly Night (1080p; 00:45:51)
Oh Deer! – An Interview with Linnea Quigley (1080i; 00:21:25)
Christmas in July – Silent Night, Deadly Night Locations: Then and Now (1080i; 00:10:00)
Commentary with Robert Brian Wilson and Scott J. Schneid
Commentary with Michael Hickey, Perry Botkin, Scott J. Schneid and Michael Spence
Audio interview with director Charles E. Sellier, Jr. (1080p; 00:58:03)
Santa's Stocking of Outrage (1080p; 00:04:30)
Poster and Still Gallery (1080p; 00:00:56)

Silent Night Deadly Night Part 2 (Disc 3):
Slay Bells Ring Again: The Story of Silent Night, Deadly Night 2 (1080i; 01:14:38)
Garbage Days Are Here Again – A Look at the Film's Locations (1080i; 00:19:30)
Ricky Today (1080i; 00:07:54)
I Don't Sleep – An Interview with Christopher Biggs (1080i; 01:02:18)
Commentary with Lee Harry, Eric Freeman, and James Newman
Commentary with Lee Harry, Joseph H. Earle, and James Newman
Theatrical Trailer (1080p)

The Final Assessment
This is a fine collection from 101 Films for anyone who is a hardcore slasher film fan and missed the first outing of this release. The 4K scans of Part 1 are a couple notches down from reference, but still better than the film has ever looked. Recommended for genre fans.
Silent Night, Deadly Night Parts 1 & 2 (Limited Edition) is out on Blu-ray in the UK 9 November, 2020 from 101 Films
---
Rating Certificate: UK: 18
Studios & Distributors: TriStar Pictures | Slayride | Silent Night Releasing Corporation | 101 Films
Directors: Charles E. Sellier Jr. | Lee Harry (Part 2)
Written By: Paul Caimi (based on a story by) and Michael Hickey (Part 1) | Lee Harry (screenplay) and Joseph H. Earle (screenplay) (Part 2)
Run Time: 569 Mins.
Street Date: 9 November 2020
Aspect Ratio: 1.85:1
Video Format: AVC 1080p
Primary Audio: English LPCM 2.0 Mono
Subtitles: English SDH