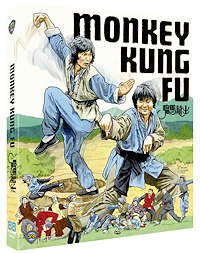 Minor wuxia classic Monkey Kung Fu from the legendary Shaw Brothers studio is a fast-paced and funny film from director Mar Lo (Shaolin Thief) and starring Ching Siu-tung (The Shaolin Boxer).
Small time thief Wei Chung (Ching) is given half a wooden keepsake by a one-eyed kung fu master on death row after an incredible fight, which starts off the wonderful and comedic choreography right from the beginning. Later Wei Chung breaks out of jail and goes in search of the other half of the wooden item, which will purportedly help impart great kung skills. But he is pursued by a gang that want that wooden item for themselves.
As the movie progresses it gets funnier and the fight sequences become even more awesome, with the monkey kung fu – a style that mimics the motions of a money meant to distract the opponent — coming more into play.
Monkey Kung Fu, also known as Stroke of Death, has a lot to like for all kung fu genre fans. Unlike Shaolin Mantis, released alongside this by 88 Films, this one lacks the complexity of plot, but makes up for it in good fun and even more acrobatic choreography.
The Video
Monkey Kung Fu is an HD remaster from the original 35mm camera negative that comes to Blu-ray in a 2.35:1 AVC 1080p encodement from 88 Films. This is one of the better Shaw Brothers releases I have seen from 88 Films so far. There is good detail and color reproduction with far less of a waxiness in the flesh and better resolution of the grain without noise or posterization that I have seen in some previous releases. This also continues the trend of excellent colors, good brightness, and nuanced shadows these Shaw Brothers 88 Asia Collection titles have had.
The Audio
Monkey Kung Fu comes with the original Cantonese Mono in LPCM 2.0 and English dub in LPCM 2.0. These aren't spectacular reference showpieces by any means, but they get the job done. There's sufficient mid-range kick in the 'whooshing' sound of arms swinging and punches being thrown, and dialogue is clean.
The Supplements
This is another beautiful package with wonderful collectibles and bonus features. The audio commentary makes for an interesting listen and the interview with the choreographer Tony Leung Siu-hung is a great inclusion.
Audio Commentary by Kenneth Brorsson and Phil Gillon of the Podcast on Fire Network
Stunting Around: An Interview with Choreographer Tony Leung Siu-hung (1080p; 00:14:46)
Original Trailer (1080p)
Slipcase with brand-new artwork from R.P. "Kung Fu Bob" O'Brien
Booklet notes by Andrew Graves
Double-sided fold-out poster
Reversible sleeve with brand-new artwork from R.P. "Kung Fu Bob" O'Brien and original Hong Kong poster artwork
The Final Assessment
88 Films has another winning kung fu release on their 88 Asia Collection imprint with Monkey Kung Fu. It's fun, looks great, and is beautifully packaged along with some good collectibles.
Monkey Kung Fu (Limited Edition) is out on Blu-ray March 22, 2022 from 88 Films
---
Rating Certificate: R
Studios & Distributors: Film Workshop | Shaw Brothers | 88 Films
Director: Lo Mar
Written By: Lo Mar
On
Run Time: 93 Mins.
Street Date: 22 March 2022
Aspect Ratio: 2.35:1
Video Format: AVC 1080p
Primary Audio: Cantonese LPCM 2.0 Mono
Secondary Audio: English LPCM 2.0 Mono
Subtitles: English