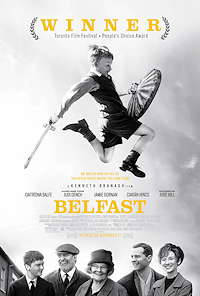 Writer-director Kenneth Branagh filmed this nostalgic account of his childhood in Belfast, Northern Ireland in seven weeks from September through October 2020.  The central character is 9-year-old Buddy (Jude Hill) as young Branagh,  as his Pa (Jamie Dornan), Ma (Caitriona Balfe), older brother Will (Lewis McAskie), Grandmother "Granny" (Judi Dench) and Grandfather "Pop" (Ciaran Hinds) try to weather "The Troubles." This unsettled period in 1969 Northern Ireland was marked by open conflict between the Protestants like Billy's family and the Catholics in their neighborhood during which there was frequent intervention by the British Army.
Pa is working in England—unemployment in Northern Ireland was very high—and he returns home to find his neighborhood barricaded to impede riots in the streets.  Ma berates Pa for their being behind on their taxes while Buddy's improving performance in the Grove Park Primary School gets him noticed by his pretty Catholic classmate Catherine (Olive Tennant). Buddy idolizes his "Pop" who will be eventually diagnosed with a terminal illness. Later, Buddy gets into trouble with the police when his cousin Moira (Lara McDonnell) gets him to steal chocolates from a candy store and into even more trouble with Ma when he takes a box of laundry detergent from a supermarket  being looted by a group led by local rabble rouser Billy Clanton (Colin Morgan).
Saddled with debts, Pa sees that leaving Belfast is his family's only way to salvation, but Buddy cannot accept leaving little Catherine behind. Pa has a good job opportunity in England and starts to work on convincing Ma that they should move there.  When Clanton takes Buddy and Ma hostage to escape from the police, he is thwarted by Pa and Will.  No longer feeling safe in Belfast, Pa must make the difficult decision to leave his home, friends and other family members like the widowed Granny.
The artistic decision to shoot the film in stunning black and white lends powerful support to the approach taken by Branagh to bring this somewhat painful memoir to life. In turn, viewers get a simple but powerful story of a young boy growing up in the divided town that was Belfast, a half-century ago. The cast is outstanding and, except for Judi Dench, an all-Irish ensemble. The interactions between Dornan, Balfe, and the young Hill paint a realistic picture of how a family would behave under these difficult circumstances. Pacing under Branagh's guidance is perfect as he leaves no room for us to relax in such troubling times.  Van Morrison's soundtrack replete with his own songs and original instrumentals provides effective backing for the action on the screen and, by itself, is worth the price of admission.  Belfast has already received seven Oscar nominations for Best Picture, Best Director (Branagh), Best Supporting Actress (Dench), Best Supporting Actor (Hinds), Best Original Screenplay (Branagh), Best Original Song (Van Morrison), and Best Sound. While some might consider this film to be old-fashioned in its methods of cinematography and storytelling, I found its style to work to perfection and transports us to the historic era that it reflects. With a large field of outstanding films vying for Best Picture, I would rank Belfast near the top of this list and would not be surprised at all if it took home multiple golden statuettes. Highest recommendation.
Belfast is streaming now on Amazon Prime Video, Apple TV+, YouTube, Redbox and Vudu