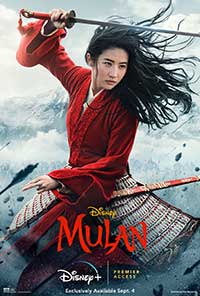 Based on the highly successful 1998 animated feature with the same title, the Walt Disney Studios filmed this live-action version on the twentieth anniversary of the original production. Prior to its official release, there were numerous controversies spurred by on-location shooting in Xianjiang province, site of the Uygur internment camps,  the hiring of a white rather than Asian director (Ang Lee was offered this job but turned it down), and the depiction of Chinese life and mores by an American production company.
The story opens in a small village in Imperial China where a young Hua Mulan embarrasses her family with her daring stunts. Years later, her father Zhou (Tzi Ma) and mother Li (Rosalind Chao) attempt to find Mulan (Yefei Liu) a husband, but the matchmaking session ends in a disaster.  Intending to avenge his father's death at the hands of the Emperor (Jet Li), Böri Khan (Jason Scott), aided by the witch Xianniang (Gong Li), and his Rouran forces overrun an imperial outpost. The Emperor hears about this from the sole survivor of the attack (a disguised Xianniang) and sends messengers to recruit a man from each family to join the fight against the Rourans. Zhou, a decorated war hero, volunteers because he has no sons, but Mulan knows that her father is too weak to fight. Under cover of night, she steals his armor, sword, and horse and, disguised as a man, she rides into Commander Tung's (Donnie Yen) training camp.  Her extraordinary combat skills attract the attention of handsome Chen Hongui (Yoson An) but that is about as far as this version takes that relationship.
A battle with Khan's forces ensues and Tung's troops wither under the assault by a trebuchet. Mulan who has barely survived an attack by Xianniang rides into the mountains above the Rouran position. She tricks the Rourans into turning their big weapon on her and a large projectile triggers an avalanche burying most of Khan's men.  Mulan returns to Tung's camp and rescues an unconscious Hongui along the way. When Mulan reveals that she is a woman, Tung expels her and promises to execute her should she return. When Mulan learns of Khan's plans to kill the Emperor, she must make a difficult choice: rejoin the army and face execution or return to her village and seek her father's forgiveness.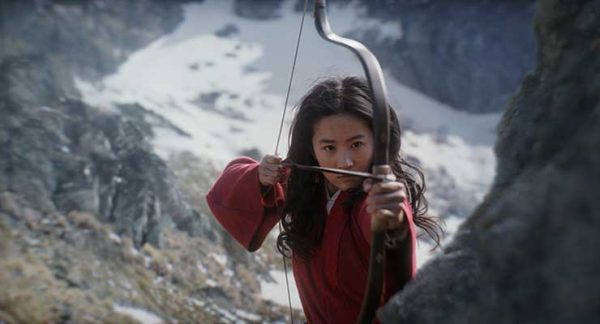 While this new Mulan is not a scene-for-scene remake of the animated version and clearly plays down its predecessor's romantic angle, it benefits tremendously from Mandy Walker's stunning cinematography. Director Niki Caro, best known for her critically successful films Memory & Desire and Whale Rider, received the largest budget ever given to a female director.  While Caro did not deliver a masterpiece like Ang Lee's Crouching Tiger, Hidden Dragon. she did bring out the best in what Rick Jaffa and his colleagues gave her in their so-so adaptation of Tony Bancroft and Barry Cook's original screenplay.
Yifei Liu's warrior woman more than holds her own against her mostly male cast and gets a nice boost from popular Chinese actress Gong Li in a small but important supporting role. With the exception of Tzi Ma and Rosalind Chao, both of whom appear a bit long in the tooth for their respective roles as Mulan's parents, the remainder of the cast, particularly the young warriors looked age-appropriate. From the opening chords, prolific film composer Harry Gregson-Willliams provides an atmospheric score of entirely new music that compares quite favorably to Jerry Goldsmith's earlier composition. As COVID-19 short-circuited Mulan's US movie theater screenings, Disney+ took over the streaming distribution of this film. There is a premium price for those viewers unwilling to wait until this film airs in December 2020 as a no-added-charge offering. Even with its less than stellar script, Mulan is still a visually and sonically impressive film, particularly in its Dolby Vision/Dolby Atmos incarnation,.and there is enough here to merit a high recommendation.
Mulan is available for streaming with a $30 early premiere access fee on Disney+ it will be free to all Disney+ subscribers in December.
[youtube https://www.youtube.com/watch?v=KK8FHdFluOQ&w=961&h=399]
---
The Film: 3.5/5
Studios & Distributors: Walt Disney Pictures | Jason T. Reed Productions | Good Fear Productions | Walt Disney Studios Motion Pictures
Rating Certificate: PG-13 (for sequences of violence)
Country: USA
Language: English
Run Time: 115 Mins.
Aspect Ratio: 2.39:1
Director: Niki Caro
Written By: Rick Jaffa | Amanda Silver | Lauren Hynek | Elizabeth Martin
Release Date: 4 September 2020