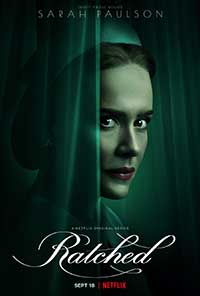 Judging from show creator Ryan Murphy's previous psychological horror series American Horror Story, I expected something quite similar when Ratched debuted on the Netflix network. To bolster these expectations, casting directors Courtney Bright and Nicole Daniels stacked the deck with some former AHS players—Sarah Paulson (Nurse Mildred Ratched), Finn Wittrock (Edmund Tolleson), and Jon Jon Briones (Dr. Richard Hanover/Dr. Manuel Bañaga).
Consider Ratched as what is now fashionably termed an "origin story" that recalls psychiatric Nurse Ratched's life before she became the "Big Nurse" of Ken Kesey's novel and, eventual film, One Flew Over the Cuckoo's Nest.  The series opens in 1947 with Edmund's brutal murder of four priests, one of whom may have been his father.  The young man is taken for mental assessment to Lucia State Hospital run by Dr. Hanover. This hospital appears to be pretty upscale with designer uniforms for its nurses and a nice common area that belies the basement dungeon where Edmund is incarcerated.  Mildred, who turns out to be Edmund's "sister," has just snaked the head nurse position away from Betsy Bucket (Judy Davis).  Through a series of flashbacks, we will also find out that handsome Edmund is the personification of evil,  as a desperate Mildred tries to save him from  lethal injection.
California Governor Wilburn (Vincent D'Onofrio) is facing a tough re-election contest and must put up a strong façade against crime. To achieve this goal, he tries using state funds to coerce Hanover to declare Edmund competent to stand trial and be executed. Wilburn's press secretary Gwendolyn Briggs (Cynthia Nixon) is attracted to Mildred and this reluctant relationship eventually blossoms during the following episodes. An important subplot revolves around super-wealthy Leonore Osgood (Sharon Stone)'s quest to track down and kill Dr. Hanover whom, as Dr. Manuel Bañaga, she believes  responsible for her psychotic son Henry's (Brandon Flynn) quadruple limb amputations. To this end, she has hired private investigator Charles Wainwright (Corey Stoll) to do the deed and bring him Hanover's head as proof but the PI has not counted on the resourcefulness of the Lucia staff.
[envira-album id="125099″]
Meanwhile, nymphomaniac nurse Dolly (Alice Englert) has developed an intense relationship with Edmund that will eventually go down the wrong rabbit hole. One of the true wild cards in this tale of love, madness, and death is Charlotte Webb (Sophie Oknendo) whose multiple personalities will create enough chaos to generate a race to a pretty "crazy" finish that may not really be the end after all.
Fans of AHS will simply lap this one up although its pacing once Dolly and Edmund make their "Bonnie and Clyde" break for freedom slows considerably. As the eerie strains of St-Saens's dance macabre introduce each episode, we come to understand that most of the principal characters like their AHS counterparts are caricatures, suggesting that we should probably not take this series all that seriously.  What makes this relatively campy show truly worth watching is an extremely strong cast of women, led by Sarah Paulson, Cynthia Nixon, Judy Davis, and the small part tossed in for Sharon Stone.  The men of the cast are definitely also-rans, but this is what show creators Ryan Murphy and Evan Romansky clearly intended.
In case you might be wondering, the eight-episode series earned its TV-MA rating for sexual content, violence, blood, gore and language that will not surprise the Ryan Murphy fan base.  What enhances this watch is Scream Queens composer Mac Quayle's atmospheric Hitchcockian score and the period costumes and sets designed by Rebecca Guzzi and Matthew Floyd Ferguson, respectively. The show's website has already announced a second season and, as Season One draws to an improbable close at a swanky Mexican resort, many storylines are left begging to be concluded. Highly recommended.
Ratched is streaming now in its entirety on Netflix
[youtube https://www.youtube.com/watch?v=ZU9ZtlkSnnE&w=853&h=480]
---
The Creative Content: 3.5/5
Show Creators: Ryan Murphy | Evan Romansky
Original Release Date: 18 September 2020
Streaming Service: Netflix
Ep. Run Time: 45-62 Mins.
No. Eps.: 8
Studios & Distributors: Fox 21 Television Studios | Further Films | Lighthouse
Rating Certificate: TV-MA