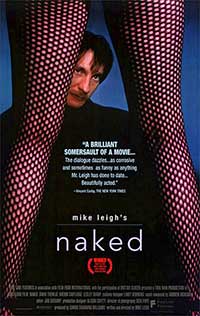 Naked (1993) revolves around two sex addicts in the area of Dalston, in London. The one hangs out discussing life with strangers, sometimes engaging in rough sadistic sexual intercourse, while the other engages himself in successive rapes.
PLOT
Johnny flees to his former girlfriend in Dalston, Louise after having non-consensual sexual intercourse with a woman in Manchester. He engages in a fling with her roommate Sophie, but he expresses violent sexual behavior and dumps her leaving her devastated. He later befriends random people and discusses various existential topics with them like some sort of street philosopher, but his inability to listen to others and his rambling makes him irritating and unwanted. He finally ends up wounded at Louise's house where the psychopathic landlord and sexual predator Jeremy lurks.
To be honest, I found the plot a bit disorienting. Firstly, I expected to learn more about the past relationship between Johnny and Louise. I believe that they omitted a really interesting part of the story because there is a lot that is implied about those two, but we never truly understand what is going on. I expected to see it in the form of a flashback or something. Secondly, the approach of the character of Jeremy was superficial. We see what he does and nothing more and his presence in the film is brief. We do not see him in other aspects of his life. Thirdly, it was very pessimistic as a general approach and we never see some kind of action. We just see passive women suffering from sexual predators and nothing more. Still, it was intuitive, in the sense that it gives light to the different ways of potential abuse, by portraying two different personalities, and the use of coincidences was interesting.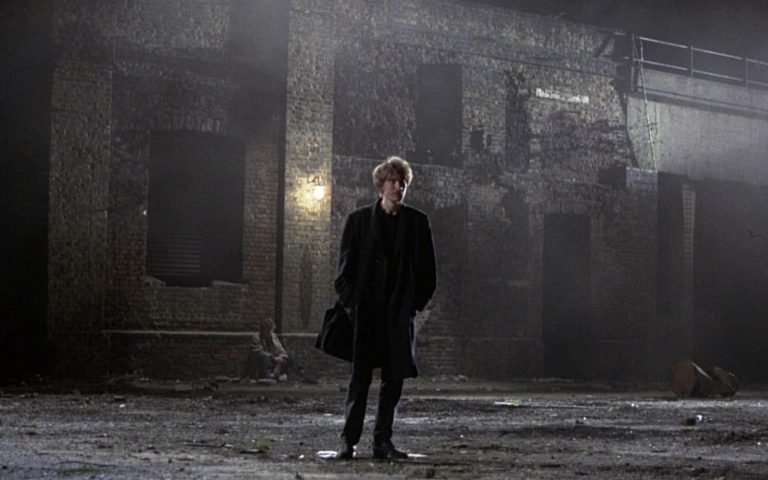 CHARACTERS
Johnny (David Thewlis) has a vast knowledge of many philosophical matters and enjoys engaging in many discussions, and appears to be open-minded which is a façade. In reality, he constantly boasts about what he knows and tries to force his opinion on others in a rude manner. In the same way, he tries to force himself on women and becomes violent during sexual intercourse.
Louise (Lesley Sharp) is Johnny's ex-girlfriend, who does not seem to be very enthusiastic about his return. She has a job and has managed to move on. However, she confesses the feelings of loneliness she experiences, being away from her home in Manchester.
Sophie (Katrin Cartlidge) is Louise's roommate, who is keen on parties and drugs. She has very low self-esteem and becomes devastated by both Johnny's and Jeremy's attitude towards her.
Jeremy/ Sebastian (Greg Cruttwell) is the psychopathic landlord of the girls' house, who enjoys having non- consensual sex with women. He is seen abusing many women, including finally Sophie.
Sandra (Claire Skinner) is Louise's and Sophie's roommate, who is a nurse and travels a lot with her boyfriend.
ACTING
As far as acting is concerned, I think the cast did an amazing job. David Thewlis and Greg Cruttwell were impeccable in their roles as Johnny and Jeremy/ Sebastian respectively. I would also like to praise Katrin Cartlidge as Sophie because I believe she delivered the best and the most heartbreaking performance among the rest of the female cast. Still, Lesley Sharp as Louise and Claire Skinner as Sandra were also very good and convincing in their roles. The rest of the cast was very good as well.
DIRECTION/CINEMATOGRAPHY
In terms of direction, Mike Leigh was very good at establishing a claustrophobic atmosphere, full of tension. Concerning cinematography, grey tones are prevalent, which evoke to the viewer feelings of melancholy, loneliness, and disruption.
END
The ending left me feeling confused and dissatisfied because of its vagueness and the lack of some kind of resolution. I needed something more concrete.
Naked was originally released in theaters 4 February 1994 (USA)
---
The Film: 3.5/5
Plot: 3.5/5
Character — Lead: 4.0/5
Character — Supporting: 4.0/5
Directing: 4.0/5
Cinematography: 4.0/5
Studios & Distributors: Thin Man Films | British Screen Productions | Channel Four Films
Country: UK
Language: English
Run Time: 132 Mins.
Aspect Ratio: 1.85:1
Director: Mike Leigh
Writer: Mike Leigh
Original Release Date: 4 February 1994 (USA)