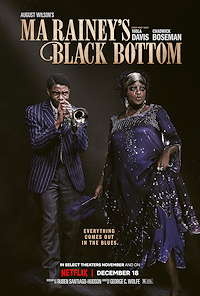 After a limited theatrical run in November 2020, the much-anticipated Ruben Santiago-Hudson adaptation of August Young's critically acclaimed Broadway play Ma Rainey's Black Bottom is now airing on the Netflix network. From the very beginning, this promises to be a bittersweet watch because it was the late Chadwick Boseman's final screen performance.
The film moves quickly from a rollicking tent performance in the 1927 South to the Hot Rhythm recording studio in Chicago run by Mel Sturdyvant (Jonny Coyne). Irvin (Jeremy Shamos), Gertrude "Ma" Rainey's white manager, is readying the band members—trumpet player Levee Green (Boseman), pianist Toledo (Glynn Turman), trombone player Cutler (Colman Domingo) and bass player Slow Drag (Michael Potts)—so the recording session can start as soon as the perennially tardy blues singer (Viola Davis) arrives. There is an additional delay when Ma's car, driven by her nephew Sylvester (Dusan Brown) gets into a minor accident that Irvin has to straighten out with the police.  Once in the studio building, it becomes obvious that Ma is enjoying a close relationship with attractive dancer Dusie Mae (Taylour Paige) who has also gotten Levee's attention.
Serious artistic differences surface when Ma hears that Irvin is planning to record Levee's trumpet intro rather than having the stuttering Sylvester introduce her signature tune "Ma Rainey's Black Bottom." After several false starts, Sylvester gets the intro right and it looks like Sturdyvant finally gets his recording take only to find out that the microphone failed. Ma, the musicians and the recordists regroup, and a number of iconic blues numbers are finally "put on wax." Once the session concludes, things go from bad to worse for the clearly unhinged Levee whose brilliant playing puts a thin veneer over his deep-seated, smoldering anger. Those viewers who have not seen the stage play may be stunned by the film's brutal conclusion.
Ma Rainey's Black Bottom (2020)
Ma Rainey's Black Bottom is blessed with powerful performances by Mr. Boseman and Ms. Davis that propel a drama unfolding mostly behind the musical scenes. Of note, a shockingly gaunt Boseman actually played the trumpet in all of his scenes. Davis flawlessly lip-synched Maxayn Lewis's stirring renditions of the Rainey songbook and to add credibility to her portrayal of the "Mother of the Blues," she gained weight and had her figure further filled out by a fat suit. Playwright Wilson presented the unvarnished racism of 1920s America and the exploitation of Black artists whose original songs were often recorded by white musicians. Nearly a century later, a number of the societal wrongs that Rainey's band recounted during their backstories in the rehearsal room have still not been completely righted.
Noted saxophonist and composer Branford Marsalis contributes an appropriately bluesy score and the Dolby Atmos soundtrack will have Chicago's elevated trains whizzing overhead. Bringing an original staged play to the screen is a challenge, but director George C. Wolfe does a masterful job in realizing this dialogue-driven story without ever losing its dramatic tension. If this was to be Chadwick Boseman's valedictory performance, it is Oscar-worthy in one of the very best films of 2020. Highest recommendation.
---
If you found this review useful please consider clicking the button below and donating to help keep TheaterByte funded and to allow us to continue posting great content.
---
Ma Rainey's Black Bottom is streaming now on Netflix
---
Rating Certificate: R (for language, some sexual content and brief violence)
Studios & Distributors: Escape Artists | Mundy Lane Entertainment | Netflix
Country: USA
Language: English
Run Time: 93 Mins.
Aspect Ratio: 2.00:1
Director: George C. Wolfe
Written By: Ruben Santiago-Hudson | August Wilson
Release Date: 18 December 2020