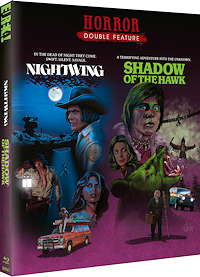 Eureka Classic brings together these two "Indiansploitation" horror films of the 1970s in one double feature. Nightwing (1979), an eco-horror cult film finds an Indian reservation's sole lawman, Youngman Duran (Nick Mancuso), and his Anglo girlfriend Anne Dillon (Kathryn Harrold) battling blood thirsty vampire bats that begin to swarm. In Shadow of the Hawk, a half-Indian, Westernized man, Mike (Jan-Michael Vincent), grandson of a shaman, returns to the wilderness to learn about his heritage and must face the curse of evil spirits with the aid of his girlfriend.
The similarities between the two films are obvious, and, though these both generally fall into the Indiansploitation subgenre, there's never a sense in either film that the Native American People are being turned into a spectacle. While neither of these films really rises to a level that makes them very memorable beyond the cult genre fans, there is much here to enjoy. Nightwing's beautiful imagery of the Southwest, for instance, or the engaging, low light cinematography of Shadow of the Hawk that adds to its suspense to allows it to reach a higher level of watchability and perceived quality than Nightwing.This is an interesting pairing indeed, and it is a good one for horror fans looking for something a little different and often overlooked.
The Video
The two films included on this Blu-ray, Nightwing and Shadow of the Hawk, come with 1080p AVC encodements. Both were originally shot on 35mm in the 1970s and they were both done on Panavision cameras and lenses with spherical lenses. Nothing here looks like it has had a major restoration, but the image for both looks natural with no hints of edge enhancement or compression noise, but there are definitely some problems with film softness, coarseness of grain and some dirt and scratches that creep in. Even though it is three years older, Shadow of the Hawk has the overall stronger presentation, despite having the grittier appearance in the darkest scenes.
The Audio
Both films are provided with LPCM audio. Nightwing gets a LPCM 2.0 stereo mix; the original mono mix is not present. Shadow of the Hawk gets the original mono in LPCM 1.0. Despite not being the original mix, the stereo remix of Nightwing is very good with wide stereo imaging that follows the action well, often panning hard left or right such as when a radio plays from off to the side. Dialogue is clean and dynamic range is good. The sound for Shadow of the Hawk sounds a bit more limited in range but no less clear and is full in sound with no major issues.
The Supplements
Bonuses:
O-card Slipcase featuring new artwork by Darren Wheeling
A Limited-Edition Collector's Booklet featuring essays by film historian Lee Gambin and film scholar and author Craig Ian Mann (First Print Run of 2000 Copies Only)
Nightwing:
Brand new audio commentary by film historians Lee Gambin and Amanda Reyes
Oil and the (Geo)Politics of Blood – Audio essay by John Edgar Browning
Trailer
Shadow of the Hawk:
Brand new audio commentary with film writer Mike McPadden and Ben Reiser
Trailer
The Final Assessment
Eureka Classics provides a couple of odd but interesting, at times bone chilling and at times a little wonky Indianspolitation and eco-horror films together in one well put together package here with the Nightwing & Shadow of the Hawk Horror Double Feature. Grab it while you can get it.
---
If you found this review useful please consider clicking the button below and donating to help keep TheaterByte funded and to allow us to continue posting great content.
---
Nightwing & Shadow of the Hawk Horror Double Feature is out on Blu-ray in the UK 15 March 2021 from Eureka Entertainment
Preorder on the Eureka Website
---
Rating Certificate: UK: 15
Studios & Distributors: Polyc International BV | Columbia Pictures | International Cinemedia Center | Rising Road | Canadian Film Development Corporation (CFDC) | The Odeon Theatres | Eureka Entertainment
Directors: Arthur Hiller (Nightwing) | George McCowan & Daryl Duke (uncredited) (Shadow of the Hawk)
Written By: Steve Shagan (screenplay), Bud Shrake (screenplay), Martin Cruz Smith (screenplay), Martin Cruz Smith (novel) (Nightwing) | Peter Jensen (story), Lynette Cahill (story), Norman Thaddeus Vane (story & screenplay), Herbert Wright (screenplay) (Shadow of the Hawk)
Run Time: 197 Mins.
Original MSRP: £24.99
Street Date: 15 March 2021
Aspect Ratio: 1.85:1
Video Format: AVC 1080p
Primary Audio: English LPCM 2.0 Stereo (Nightwing) | LPCM 1.0 (Shadow of the Hawk)
Subtitles: English SDH