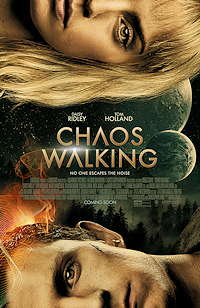 Patrick Ness' Chaos Walking trilogy of novels comes to life on screen in this first film adaptation from a screenplay co-written by Ness and directed by Doug Liman (Edge of Tomorrow).
The sci-fi thriller is set in the not-too-distant future in 2257 A.D. on a planet called New World. The male settlers on the planet develop a feature where their thoughts are displayed all the time and they call this "The Noise." This does not happen to the women, which seems to have causes a rift between the genders. Against this background a young man, Todd Hewitt (Tom Holland), grows up knowing a world where all of the women, including his mother, have supposedly been killed during a war between the settlers and the indigenous inhabitants of the planet. Todd discovers Viola (Daisy Ridley), a mysterious young woman who crash lands on his planet, purportedly from Earth and his settlement's leader, Mayor Prentiss (Mads Mikkelsen) seems very interested in her and mainly in the technology she possesses and the spaceship she comes from for nefarious reasons. Todd decides it's his duty to protect Viola and the two run, with Viola's life in jeopardy as Todd confronts truths about the planet and his past.
A bleak and dystopian sci-fi action thriller that looks promising from the start but fails to ever lift off, Chaos Walking spends most of its time in a slow churn with its central conceit, The Noise, a constant barrage of sound and holographic style images as expertly crafted by Visual effects on-set supervisor Jeff White (winner, Academy Award® Scientific and Technical Award) that explode in colorful tufts and lines from the actors' heads, being the most compelling visual and philosophical aspect of the film. But this loses its luster after a while when one realizes that neither Ness' screenplay nor Liman's direction use it much to explore more deeply the implications of this constant bombardment of information or inability to hide one's innermost thoughts other than the most obvious, such as when Todd keeps thinking how beautiful Viola is or tries to hide his knowledge of Viola's hiding place from Mayor Prentiss. The most interesting character is The Preacher (David Oyelowo) whose noise presents as red, violent, fire and brimstone. It's not unexpected, but it is an interesting use of irony.
Liman has failed to develop any sort of believable chemistry between the leads Ridley and Holland, but he has put together a visually bleak, grey dystopia reminiscent of the muted world of Edge of Tomorrow, but with more greenery. There's minimal action to sustain the film, but the action sequences that are there are well done. Mostly this feels like a sci-fi fantasy film with some undercooked world building. If you haven't read the books, you will be lost and I'm not convinced that if you have read the books you will enjoy this adaptation either.
Chaos Walking is in theaters and IMAX March 5, 2021 (USA)
---
Rating Certificate: PG-13 (for violence and language)
Studios & Distributors: 3 Arts Entertainment | BRON Studios | Creative Wealth Media Finance | Quadrant Pictures | Lionsgate
Country: USA | Canada
Language: English
Run Time: 109 Mins.
Aspect Ratio: 2.39:1
Director: Doug Liman
Written By: Patrick Ness (screenplay by & based upon the book "The Knife of Never Letting Go" by) | Christopher Ford (screenplay by)
Release Date: 5 March 2021