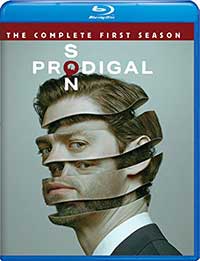 Prodigal Son: The Complete First Season is a crime procedural TV series from the Fox Broadcasting Company that follows the criminal psychologist Malcolm Bright (Tom Payne).
We first meet Bright as a criminal profiler for the FBI. Bright is fired from the FBI for unstable behavior that will come into play later on the series. He moves back to New York City, where he grew up and was mentored by New York cop, now detective Gil Arroyo (Lou Diamond Phillips) after his father, a famous doctor from a wealthy and famous New York family was arrested and convicted as a serial killer (Michael Sheen). So, has Bright inherited his father's violent tendencies or is he just naturally good at tracking killers?  As the series progresses and we find Bright leaning heavily on his incarcerated father's assistance and trying to awaken blocked memories from his own childhood, there are multiple mysteries that begin to unravel.
TV crime procedurals always follow certain patterns. There are those that try to play it down the line with cops and detectives that pretty much follow the rules of our everyday reality, whether they are gritty or polished up shows that paint a rosy picture. Then there are those that have some sort of savant detective at the center, like Numbers, The Mentalist, or Elemental. Prodigal Son falls into this category with the Malcolm Bright character falling into the category of the savant with some nearly unobtainable, superhuman ability to solve crimes. These sorts of series are intended to shake up the well-worn genre and make it fresh, but this trope itself is worn out.
Not only does Prodigal Son use the overused trope of the savant crime solver, but the series itself borrows heavily from so many other tropes we have seen in film and television. The psychopath as the only one who can help catch the other psychopaths is probably most notable in the film The Silence of the Lambs but has also been seen more recently on television in The Following. The series also uses the trope of the broken hero, as we see Malcolm Bright suffering from night terrors, heavily relying on drugs, and trying to remember his past. This has been done so often it doesn't even require mentioning others but see any Sherlock Holmes production from the recent past.
Even with its flaws, this series does strengthen as it goes on, bringing in Malcolm Bright's sister (Halston Sage) as a more prominent character, and his mother, a boozy, bossy, and totally commanding Bellamy Young who manages to steal every scene. Lou Diamond Phillips is also quite good as a gruff New York detective who has a soft spot for Malcolm, the kid he helped raise. Michael Sheen is the disappointment here, as his character just feels like an amalgamation of so many stereotypical characters from other crime dramas and he is hamming it up a bit too much. Perhaps this is one series that will settle into itself a bit more as the actors get more comfortable and the writers find their stride, assuming COVID doesn't knock it out entirely.
[envira-album id="125365″]
The Video
Prodigal Son: The Complete First Season comes to Blu-ray with a 2.0:1 AVC 1080p encodement from Warner Archive. The series has a color palette that is desaturated so nothing is going to really 'pop' but the transfer overall looks good. There are no issues with compression noise or motion artifacts, edge enhancement, or anything like that. The detail is crisp and shadow detail is nuanced despite some subtle banding.
The Audio
An English DTS-HD Master Audio 5.1 is the sole audio mix on this Blu-ray Disc release of Prodigal Son: The Complete First Season. The sound is not like an awesome action movie, but falls into line with most TV crime procedurals, meaning it is mostly front-heavy and dialogue driven with atmospherics driving the surround channels. This gets the job done in that regard providing clean dialogue, good stereo panning across the front and just enough atmosphere.
The Supplements
This is a typically barebones Warner Archives release that has no bonus features.
The Final Assessment
Prodigal Son: The Complete First Season may not stand too far out from the crowded field of crime procedurals, but it's still an enjoyable series to sit through over its 21 episodes. This Warner Archives release on Blu-ray doesn't include any bonus features but does provided the best picture and sound for this series you can possibly get.
Prodigal Son: The Complete First Season is out on Blu-ray September 8, 2020 from Warner Archives
---
The Creative Content: 3.0/5
The Video: 4.0/5
The Audio: 4.0/5
The Supplements: 0/0
Studios & Distributors: Berlanti Productions | Sklaverworth Productions | VHPT Company | Fox Entertainment | Warner Bros. Television | Warner Archives
Run Time: 880 Mins.
Street Date: 8 September 2020
Aspect Ratio: 2.0:1
Video Format: AVC 1080p
Primary Audio: English DTS-HD MA 5.1
Subtitles: English DTS-HD MA 5.1