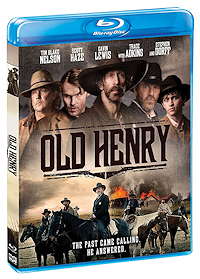 Old Henry from writer/director Potsy Ponciroli is a western that deconstructs the tropes of the genre like what Clint Eastwood did with Unforgiven.
A weary farmer and widower named Henry (Tim Blake Nelson) lives in near isolation with his teenage son Wyatt (Gavin Lewis) with his brother-in-law living a town away. When he and his son discover a riderless horse on their land with the saddle covered in blood, Henry goes out and searches for the rider, coming across the passed out and seriously injured fallen rider Curry (Scott Haze), who he also discovers has a satchel full of cash. Henry makes the fateful decision to bring Curry back to his home to nurse him back to health. When a posse shows up claiming to be the law looking to take Curry into custody, Henry must decide whether to believe Curry or trust his own instincts, and the results will reveal that there is more to Henry that he has been letting on. He has been a notorious gunslinger all along.
Old Henry is a slow burner that relies more on character and mystery than action. It flips the narrative of the western tropes while using historic characters. Ponciroli sets the film at an even pace that builds to an operatic crescendo while presiding over a cast of powerful performances. Stephen Dorff is the standout as the aptly named bad guy Ketchum while Nelson brilliantly portrays the melancholy of a widower hiding a darker side. This is a new modern classic western that will only improve with age.

The Video
Old Henry was shot on the Arri Alexa Mini with Zeiss Master anamorphic lenses and utilizes a 2K digital intermediate. The 2.39:1 AVC 1080p encodement on Blu-ray looks surprisingly filmic and compared to the 4K UHD HDR digital streaming version has better high frequency details and a more organic, textured appearance. The color pallet leans toward a sepia toned and muted appearance with 'pops' of golden grass in the outdoor scenes and cooler shades indoors. These all come across nicely on the Blu-ray. Shadows can get just a little muddy, but it is likely due to artistic choices and not the transfer itself.
The Audio
Old Henry hits Blu-ray with a very atmospheric English DTS-HD Master Audio 5.1 audio mix. The action is mainly spread across the front and that's just fine for this slow-burn, dialogue-driven western. Things do open a tad in the final act when the bullets start flying and we hear the ring of gunshots, breaking glass, and other solid foley effects in the surrounds.  The mix is more than capable of handling it all with enough low-end 'oomph' to give gunshots impact. Dialogue stays clean and full in the center channel.
The Supplements
The bonus features consist only of this brief featurette with much of the cast glowing about their first chance to star in a western, plus the obligatory theatrical trailer.
A Look at Old Henry (1080p; 00:08:03)
Trailer (1080p)
The Final Assessment
An intense, character-driven, slow burn western that looks great on Blu-ray. This one will definitely become one of the classic neo-westerns. Recommended.
Old Henry is out on Blu-ray November 9, 2021 from Shout! Factory
---
Rating Certificate: NR
Studios & Distributors: Hideout Pictures | Shout! Factory | Shout! Studios
Street Date: 9 November 2021
Director: Potsy Ponciroli
Written By: Potsy Ponciroli
Run Time: 99 Mins.
Aspect Ratio: 2.39:1
Primary Audio: English DTS-HD MA 5.1
Secondary Audio: English DTS-HD MA 2.0 Stereo
Subtitles: English SDH