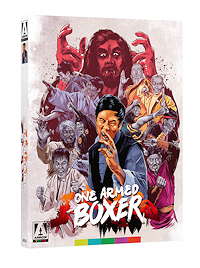 In 1970, former Shaw Brothers executive Raymond Chow founded rival studio Golden Harvest and quickly teamed up with "Jimmy" Wang Yu – Hong Kong's first kung fu superstar and formerly Shaw's biggest box office draw. Wang-Yu, a former water polo star, stars in and directs One-Armed Boxer (1972), an onslaught of martial arts brawling and action, that takes from the elegance of Shaw Brothers but brings it a little bit more down to earth.
There isn't too much innovative as far as plot in this film. A martial arts school squares off with ruthless leader of a local crime syndicate and the big boss' brutal collection of international killers culled from Japan, Tibet, and Korea. When Yu Tien Lung loses his master and his arm in a battle in his school to these ruthless rivals, he runs away and trains in the art of one-armed boxing, strengthening his fist to become virtually indestructible so he can come back and seek revenge.
Sure, this film is over-the-top and has some plot holes, and the characters are quite strange, like the Japanese judo assassin with fangs, but that's what makes One-Armed Boxer the sort of film one can't look away from. It's like a high-speed train wreck with awesome martial arts.
The Video
One-Armed Boxer is from a 2K restoration from the original elements by Fortune Star. It comes to Blu-ray in a 2.35:1 AVC 1080p encodement from Arrow. The image is a bit soft and gritty and one can spot some hints of scratches and dirt here and there. The overall look is a bit flat, but there are more than enough moments for this to stand out, like in close-ups on faces that show lots of sweat and texture or the red and yellow candles that have nice 'pop'. Grain tips a little into noise, but there is nothing too egregious in this transfer.
The Audio
The disc menu lists Cantonese DTS-HD Master Audio 1.0 and an alternate Cantonese DTS-HD Master Audio 1.0 mix as well as an English dub also in DTS-HD Master Audio 1.0, but the "Cantonese" labeling is incorrect as both the press notes and Frank Djeng in his audio commentary included on this disc confirm this film as being in Mandarin. Furthermore, One Armed Boxer was filmed in Taiwan with mostly Taiwanese actors and the language used there would almost definitely have been Mandarin not Cantonese.
Getting down to the actual audio, none of these tracks is going to set your sound system ablaze, but they get the job done. The difference between the original and alternate Mandarin mixes is mostly in the music and score. The default Mandarin track uses a lot of the music from Isaac Hayes' Shaft where the alternate mix omits that music and uses a more traditional score.
The Supplements
The Wang Yu interview and the in-depth interview from Frank Djeng are welcome bonus features. Djeng, in particular, is always nice to hear from on these films as he really knows his stuff and offers a lot of cultural and production insights.
FIRST PRESSING ONLY: Illustrated collector's booklet featuring new writing on the film by Simon Abrams
Commentary by Frank Djeng from the NY Asian Film Festival
Interview with Wang Yu (1080p; 00:41:16) – This previously unseen career retrospective interview with Wang Yu was filmed in Nantes, France in 2001 and is presented courtesy of the Frédéric Ambroisine Video Archive. The interview features some intermittent audio dropouts, which Arrow have fixed as much as possible.
Alternate English Credits (1080p; 00:01:58)
Trailer Gallery:

HK Theatrical Trailer (720p)
US TV Spot (720p)
US Radio Spot (1080p)
Wang Yu Trailer Reel (720p)

Image Gallery (1080p)
The Final Assessment
One-Armed Boxer is a knockout kung fu film. This is one for genre fans to relax and enjoy. The action is relentless, and choreography is cool, and the effects are visceral. Recommended.
One-Armed Boxer (Special Edition) is out on Blu-ray May 24, 2022 from Arrow Video.
---
Rating Certificate: R
Studios & Distributors: Cathay Studios | Cheung Ming Film | Golden Harvest Company | Arrow Video
Director: Wang Yu
Written By: Wang Yu
Run Time: 93 Mins.
Street Date: 24 May 2022
Aspect Ratio: 2.35:1
Video Format: AVC 1080p
Primary Audio: Mandarin DTS-HD MA 1.0
Secondary Audio: English DTS-HD MA 1.0 (alternate) | English DTS-HD MA 1.0
Subtitles: English | English SDH