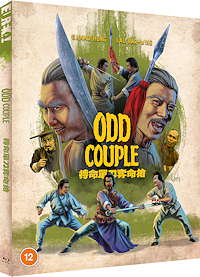 This 1979 classic martial arts comedy starring Sammo Hung, Odd Couple, features two martial arts masters in the Manchu era who gather once a year to dual. One is a master of the dao (sword) and the other the qiang (spear).
Year after year the 'king of the sword' (Hung) and the 'king of the spear' (Liu Chia-Yung) fight to a stalemate. Now, with both masters aging and realizing they will likely never be able to best the other, they agree to find younger students (also played by Hung and Liu) to train in the art of their weapons to take each other's place in their ongoing annual dual to determine who is the better teacher. This is where the plan begins to go awry as the students are eventually kidnapped by a nefarious master who wants to challenge the two masters himself, forcing them to work together to save the students before the dual can take place.
This film is clearly focuses on weaponry more than hand combat and it is one of the better choreographed films from the Sammo Hung arsenal. Dazzling blade skills and amazing acrobatics that defy Hung's physique define this film and as always with Hung, the comedic element, present from the start. His 'king of the sword' with the blushed nose looks almost clownish, but once the action begins you know he means serious business.
This is truly a classic of the genre starring the Hung and one that is a must-watch film for genre fans, especially those who love the films that focus on weaponry.
The Video
Odd Couple arrives on Blu-ray from a brand new 2K restoration in an AVC 1080p encodement framed at 2.35:1. Chalk this one up as another one of the gorgeous transfers from the Hong Kong Cinema back catalogue released by Eureka. The film grain looks organic, thinly layered, and lacks any hints of noise. The detail is crisp, and colors look quite natural and vibrant. Check out the comical rosy blush on Sammo Hung's nose. It comes across very well. Plus, the glint of sunlight off the blades has nice 'pop'.
The Audio
Odd Couple is provided with the original mono in LPCM 1.0 and English dub in DTS-HD Master Audio 5.1. I must admit they have done well with the 5.1 mix. It has some nice, subtle stereo imaging and good low-level atmospherics in the surround channels with big, full sounding dialogue in the center channel and a nice floor in the LFE underpinning the action. It's nothing floor shaking, but certainly a lot more than you get with the mono track, obviously. Still, as nice and spruced up as this sounds, I prefer the original mono track. It doesn't sound quite as clear, but the performances are superior, and it sounds a bit less artificial overall.
The Supplements
The two audio commentaries for Odd Couple are brilliant. Frank Djeng and Bobby Samuels have great personal knowledge of the Hong Kong filmmaking scene and offer lots of tidbits. Mike Leeder and Arne Venema together are so affable and knowledgeable they're always fun to listen to as well.  Plus Eureka includes an archival interview with actor Leung Kar-yan (Laughing Bandit), which is definitely worth watching.
Audio Commentary with Frank Djeng & Bobby Samuels
Audio Commentary with Mike Leeder & Arne Venema
Natural Born Killer: Archival Interview with Actor Leung Kar-yan (1080p; 00:22:22)
Theatrical Trailer (1080p)
Home Video Trailer (1080p)
Limited-Edition Slipcase with New Artwork by Darren Wheeling
Limited Edition Collector's Booklet Featuring New Writing by James Oliver
The Final Assessment
Odd Couple is a true genre classic that's fun to watch from start to finish, has dazzling choreography, and provides lots of belly laughs is brought to Blu-ray by Eureka Entertainment on their Eureka Classics imprint in a gorgeous transfer. Highly recommended.
Odd Couple (Special Edition) is out on Blu-ray in the UK 21 March 2022 from Eureka Entertainment's Eureka Classics label.

---
Rating Certificate: UK: 15
Studios & Distributors: Gar Bo Films Company | Eureka Entertainment
Director: Liu Chia-Yung
Written By: Raymond C. Lai | Raymond Pak-Ming Wong
Run Time: 97 Mins.
Street Date: 21 March 2022
Aspect Ratio: 2.35:1
Video Format: AVC 1080p
Primary Audio: Cantonese LPCM 1.0 Original Mono
Secondary Audio: English DTS-HD Master Audio 5.1
Subtitles: English