Blu Skies Smiling at Me
Panasonic has been restlessly innovating in the Blu-ray Player stand-alone market over the past 2 ½ years. After the launch of their first generation DMP-BD10 in the autumn of 2006, which was the first stand-alone Blu-ray player to internally decode the Dolby TrueHD codec and subsequently, after a firmware upgrade in the winter of 2007, DTS-HD High Resolution, Panasonic seemed to stagnate ever so slightly. The launch of their announced DMP-BD30 and DMP-BD50 players was delayed several times before they finally came to market. However, when the BD30 finally did arrive, it arrived as the first BonusView (Profile 1.1) capable stand-alone Blu-ray player and also the first capable of bitstreaming the new advanced audio codecs (Dolby Digital Plus, Dolby TrueHD, DTS-HD Master Audio, DTS-HD High Resolution) over its HDMI 1.3 output for decoding externally in an A/V Receiver or pre-processor. The BD55, when it finally saw the light, came with more firsts: the first stand-alone player to support full internal decoding of all of the codecs through its 7.1 analogue outputs and HDMI connector.

Utilizing the same design as its previously comparable model in the Panasonic product line, the BD55, the Panasonic DMP-BD80 retains the same top-notch audio/video processing and slim body design, but now adds in streaming Internet media features that bring it more in line with players from competitors LG and Samsung. Including what Panasonic has dubbed VIERA Cast, the DMP-BD80 steps up from the BD55 and adds in access to YouTube, Picasa online photo sharing service, The Weather Channel, Bloomberg, and coming soon, Amazon Videos on Demand, making it a multimedia hub in your entertainment room.
It's Got Style
The DMP-BD80 retains the same styling from the previous model with a slim body, which will once again fit easily into most home theatre systems and not look out of place amongst all that classy gear. The front panel disc tray disappears behind an automatically operating flip-down panel and the disc tray is still just as sturdy on this year's model, making it the sturdiest and most smoothly operating tray mechanism I have yet to come across still for any Blu-ray player.
Playback controls for the unit can be found behind a manual flip-down panel on the right front of the BD80 which also hides the players SD Card slot for BD-Live and a USB port which can be used for playing back MP3s, still pictures and DivX videos from a USB device. Flush against the top left of the BD80 is the "Power" button and flush against the top right the "Open/Close" button.  The BD80 also has a blue indicator LED light rignt under the disc tray on the center of the front panel that can be adjusted in the settings menu to be always on when the unit is turned on, only on when an SD card is inserted, or turned off entirely.
On the rear of the BD80 is where you will find the unit's array of connectivity options.  There is one (1) component video out; one (1) composite video out and one (1) HDMI out. Additionally there is one (1) set of 7.1 multichannel analogue audio outputs that can also be used as 5.1 or 2-ch; one (1) coaxial digital output and one (1) optical digital output.  The rear of the unit is also where the Ethernet jack can be found for connecting the BD80 to a broadband connection for BD-live content and firmware updates.

The BD80's array of connectivity options
The player's remote is identical to the previous model's other than the inclusion of a Viera Cast button, but like previous versions it lacks a backlight making it a little difficult to navigate in dark HT rooms and its Open/Close button is located too close to the Power button causing me to mistakenly hit Power and turn the player off on several occasions.

Setting it Up
To set the unit up, I attached an HDMI cable to my Onkyo TX-SR805 A/V Receiver, plugged in an Ethernet cable (attached through an Apple Airport wireless router/Ethernet hub directly to a cable modem), plugged in the power cord and then turned the unit on. I was immediately greeted with a message alerting me that there was new firmware available for the player. Knowing that this firmware update added the Viera Cast functionality to the BD80, I allowed the update to commence, which took several minutes. After the firmware was downloaded and loaded into the unit, the BD80 restarted and I was then greeted with Panasonic's Easy Setting setup guide that allows you to quickly configure the BD80 for basic operation, setting up the "TV Aspect Ratio," "Analog Audio Output" and "Quick Start" modes.
Moving on from there, I went to the player's "Audio" menu ad selected the "Digital Audio Output" menu, and set "Dolby D/Dolby D+/Dolby TrueHD" and "DTS/DTS-HD" to Bitstream and turned off "BD-Video Secondary Audio." This configuration allows me to bitstream all the codecs to my A/V receiver for outboard decoding and stops the player from converting the Dolby Digital +, Dolby TrueHD and DTS-HD Master Audio or DTS-HD High Resolution to Dolby Digital or DTS respectively.   If the Digital Audio Output is set to "PCM," "BD-Video Secondary Audio" can be turned on without the lossless codecs being converted to the legacy lossy Dolby Digital or DTS varieties for playback of secondary audio programs on certain BonusView (Profile 1.1) authored Blu-ray titles.  I then exited that menu and set PCM Down Conversion to "Off" and enabled  "High Clarity Sound, " which turns off the video circuitry when the same setting is set to "On" in the on-screen menu allowing for better sound reproduction from the unit.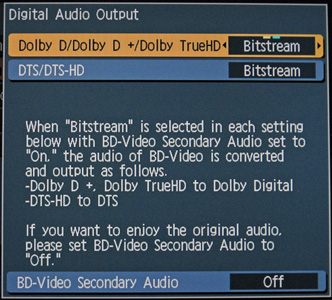 I then dropped down to the Display menu and turned of the LED indicator, set Status Messages to "Automatic" and turned the Screen Saver Function "Off." Since the BD80 does not have a screen saver in the traditional sense, the Screen Saver Function, sets the bar color when playing back material that is letter/pillarboxed to grey (on) or black (off). When it is set to on, however, a traditional screen saver does engage, but only when playing back movie and picture files from a USB device or SD card, not when pausing a DVD or Blu-ray Disc.
The TV/Device Connection menu is where I set how the BD80 outputs various aspect ratios, resolutions and also the HDMI setup.  I left the TV Aspect setting at "16:9," which sends everything to the display in its native aspect ratio. Other options include "16:9 Full," which stretches any 4:3 material to fill a 16:9 display, "4:3 Letterbox" to display widescreen program material letterboxed on displays with 4:3 screens and "4:3 Pan & Scan" will pan & scan widescreen material onto 4:3 displays.  I set the HDMI Resolution to "Auto" and set 24p Output and HDMI Audio Output to "On." Lastly I turned Viera Link "On" which allows the player to communicate with devices that support the HDAVI Control standard over HDMI. My Samsung LN52A650 display supports this, so the BD80 will automatically turn itself on and/or off when the Samsung does likewise. I bypassed the Component Video Resolution Output options since I have the player connected via HDMI, but the Panasonic DMP-BD80 can output resolutions from 480i up to 1080i over its component output.
Analogue Audio
Setting the Analog Audio Output can be achieved in two ways. Either 2ch (Downmix) + 5.1ch or 7.1ch can be selected. The former allows for the player connected to an A/V receiver and decode program material into 5.1 in addition to outputting a downmixed 2ch mix through its surround back channel outputs, for connecting to a television or any other option for those who do not have surround capabilities. The latter makes full use of the 7.1 outputs (assuming one is playing back a 7.1 mix). There is an additional adjustment diagram that allows for setting speaker sizes (bass management)* and distances (time alignment), complete with test tones for adjusting speaker levels for each channel.   Time alignment is adjusted by determining the difference in distance between the center channel, back channel and listening position then adjusting in milliseconds. This is the same setup menu Panasonic has been using since their first generation DMP-BD10 and it is still just as confusing for novices. Users should also note that in order to use the multichannel outputs on the BD80, HDMI Audio Out must be set to "Off."
*Note: When using the analogue outputs for playing back stereo (2-ch) content when the front speakers on the BD80 are set to "small" the BD80 will not redirect low frequencies below 100Hz to the subwoofer. This is how the unit is designed to operate and it cannot be fixed with a firmware update. (Special thanks to Chris Boylan, Home Theater Editor: Big Picture Big Sound).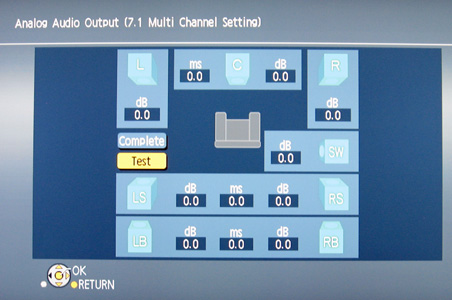 The DMP BD80's Speaker Settings Menu
Network settings were recognized automatically, so there was no need for me to make any adjustments there, but IP/DNS settings can all be adjusted manually. There is also a menu for setting up the BD80 for use through a proxy server. There are also Network Service settings specific to Viera Cast that allow for setting Time Zone, Daylight Saving Time, parental controls, Audio Gain Controls, and Screen Size options.
Source Direct: For Blu-ray Only
When the BD80's 24p Mode is set to "On" and HDMI Output Resolution is set to "1080i," The DMP-BD80 will output the native resolution encoded on any Blu-ray Disc (i.e. 1080i/60 as 1080i/60 and 1080p/24 as 1080p/24). Unfortunately, it will not output DVDs at their native 480i.
(Special thanks once again to Chris Boylan, Home Theater Editor, Big Picture Big Sound, for the tip.)
Multimedia Hub
With its all-new features for 2009, the BD80 is the first stand-alone that can truly rival Sony's immovable Playstation 3 from the Blu-ray throne. YouTube, The Weather Channel, Bloomberg financial updates, Picasa photo albums, JPEG still photos, DiviX and Xvid videos — what can't this thing do? From a USB device (up to 128GB) connected to this year's new USB port, SD or SDHC Memory Card, the Panasonic supports JPEG AVCHD movie files and MPEG2 movie playback. It also supports playback of MP3, AVCHD, JPEG, and DivX files from DVD-R and AVCHD and JPEG for DVD RAM.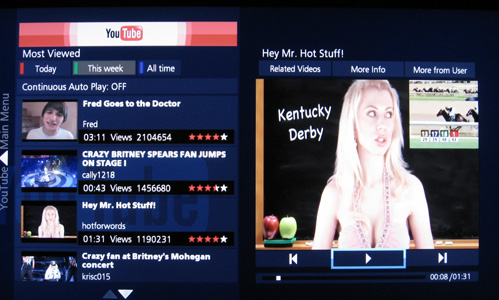 Watching YouTube on the BD80
I tested the Viera Cast features playing back some YouTube videos, checking the weather on The Weather Channel and financial news on Bloomberg. Viera Cast is not very intuitive, to say the least. Once in the Viera Cast home screen, it is easy to navigate, but logging into a YouTube account can be laborious, and figuring out how to exit the Viera Cast area was quite difficult. Simply pressing the Viera Cast button again didn't work, neither did the menu button.
The BD80 Playback
Bells and whistles are lovely, but let's get down to brass tacks — how does the BD80 do what it was really meant to do, playback high definition Blu-ray Discs and, to a lesser extent, DVDs? Well, retaining Panasonic's proprietary integrated  PHL Chroma Processor Plus, which upsamples Blu-rays from their native 4:2:2 SMPTE color space to a 4:4:4  color space, and utilizing what Panasonic refers to as "pixel precision progressive processing" for HD content, the BD80 easily breezes through the Silicon Optix HQV HD Benchmarks.
On the Video Resolution Loss test, which tests how well the player de-interlaces 1080i material into 1080p, BD80 passed showing no strobing in the SMPTE test pattern, indicating it was passing all 1080 lines. Both Jaggies tests passed effortlessly, with the BD80 displaying no stair stepping on the white waving bars in pattern one or the rotating white bar in pattern two. The BD80 performed equally well in the Film Resolution Loss Test that tests how well the player converts 1080i content sourced from a 1080p/24 master back into 1080p/60. In the first test with a SMPTE test pattern panned horizontally then a second test with a pan across an empty football stadium the player was flawless, showing no moiré, no strobing and good detail.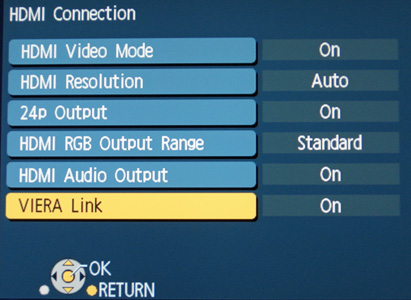 The Panasonic's real world HD playback lived up to the expectations of its HQV test results and Panasonic's marketing hype for their video processor as well. Watching everything from Sin City: Extended to The Curious Case of Benjamin Button and Wall●E, colors looked more natural, details were three dimensional, and blacks were absolutely inky. In Wall●E (1080p/24; AVC/MPEG-4) Chapter 14: "Welcome to the Axiom" when Wall●E first enters the Axiom's world of people, the BD80's proprietary UniPhier processor and 4:4:4 conversion really shines. Compared to Sony's BDP-S350 and Momitsu's BDP-899 Blu-ray players, the BD80 looked so much more detailed and defined, with less blooming and bleeding of colors.
Standard definition playback is almost as good. The jaggies tests, which test the unit's diagonal filtering, showed excellent results. On the first test with a rotating white bar in a circle there were no discernible signs of warbling or stair stepping on the white bar. The second test with three white waving bars only showed some slight shimmering on the third bar, which is not a perfect result, but is still a very good one.  A third test showing a flag waving in the breeze with a brick building in the background displayed no motion jaggies with good background detail.
On 3:2 pulldown tests, the player locked in to the 3:2 cadence quickly on a SMPTE test pattern panned horizontally, and in a scene of a race car zipping by an empty grandstand, the BD80 one again locked in quickly after only briefly displaying some moiré in the grandstand.
On the mixed 3:2 with assorted video titles test, after initially showing some combing artifacts in the text for both the horizontally and vertically scrolling titles, the player quickly locked into the cadences and displayed clean and detailed text with the background images also being rendered without any artifacts.
In real world playback, the BD80 looked just as good as one would expect, given its fine HD playback and excellent HQV test results. Turning once again to Star Wars: Episode III, Chapter 40 "Battle of Heroes" where Anakin and Obi Wan have their epic confrontation, the picture was clean and detailed, with natural colors and smooth motion. It was about as good as standard definition could get.
The BD80 is also in an elite group of players, especially Blu-ray players, that supports 24p DVD playback. The BD80 can playback DVDs at 1080p/24 by accessing the Display menu during DVD playback, selecting Video and setting 24p to "On."
Panasonic has also added a more robust Display menu to the BD80 model this year. Now, the geeky videophiles among us (myself included) can see detailed information about video codecs, video bitrates, audio codecs and audio bitrates, as well as what resolution is being read from the disc and what the player is sending out over HDMI.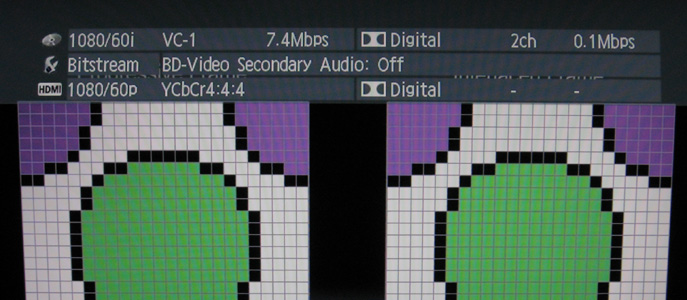 The New Detailed Display Menu for the DMP-BD80
Wait a Minute!
One of the biggest complaints about stand-alone Blu-ray players from the time they first hit the market in 2006 has been their sluggish disc loading and startup times. Panasonic's players have been amongst the worst offenders in this regard and things have only improved slightly for 2009 with the BD80. The new Quick Start mode does indeed help the startup time of the player overall, by keeping it in a lower power mode, but disc loading times are still on the "snailish" side. Loading the BD-Java intensive title Pirates of the Caribbean: Curse of the Black Pearl took 120 seconds to load the BD-J, skip through all the opening trailers and make it to the top menu screen.  Moving to titles without BD-J and trailers quickened things up, but it still took far longer than it should have.  Even Warner's Nip/Tuck: Season 4 Disc 1 with its auto start functionality took 52 seconds to reach the Warner logo screen before the start of the first episode and Baraka took 44 seconds to reach its top menu screen.
It's pretty clear that the BD80 still can't rival Sony's Playstation 3 when it comes to disc loading times, but its BD-Live playback did feel a bit quicker than the BD35 I tested some months ago and it is overall far more responsive than the Sony BDP-S350 for BD-Live and BD-Java that I used for nearly a year. It also has much smoother fast-forward and rewind motion than the Sony S350's jerky motion and is slightly smoother in that regard than my Momitsu BDP-899 as well.
The Good
Stylish Design
Excellent video processing
Superb HD Playback
Perfect 1080i de-interlacing
Natural color reproduction
Strong DVD upscaling
Streaming Internet Media Features
Full Profile 2.0 (BonusView +BD-Live)
Decoding and bitstreaming of all the audio codecs
The Bad
Sluggish disc loading times
Confusing analogue output setup menu
Source Direct only works for Blu-ray Discs
The Scorecard:
Design:

Performance:

Value:

Overall:

The Definitive Word
The bottom line is that Panasonic has another winner with the DMP-BD80. The exceptional audio and video processing built into this player make it comparable to units costing far more than Panasonic's asking price. All of the bonus streaming media features that have been added to the BD80 are just icing on the cake for this perfect centerpiece to any home theatre.
More information:
Panasonic DMP-BD80 (SRP $399.95)
Purchase:
Purchase the Panasonic DMPBD80 at Amazon.com