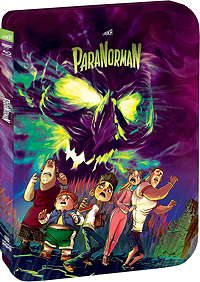 ParaNorman is a stop-motion animated adventure that tells the strange tale of Norman Babcock (Kodi Smit-McPhee), a young boy whose ability to speak with and see the dead has left him an outsider with his schoolmates and even with his own family. At school they call him "AbNorman", and his father (Jeff Garlin) is at his wits end with his seemingly unhinged behavior. But Norman's ability will soon be needed to help save his small town of Blithe Hollow from a centuries-old witch's curse that leaves it under threat by zombies. Will Norman be able to rise to the occasion? He will need the help of unlikely allies like his obnoxious, popularity-obsessed older sister Courtney (Anna Kendrick), his only friend, the chubby Neil (Tucker Albrizzi) and Neil's muscular but not too bright older brother Mitch (Casey Affleck), and his school tormentor, the cruel but dimwitted Alvin (Christopher Mintz-Plasse).
Directed by Chris Butler (Missing Link) and Sam Fell (The Tale of Despereaux), ParaNorman blends 1950s creature feature horror with contemporary comedy and adventure in such a way that is crosses genres and generations, appealing to many different audiences. From the zombies and witches' curses to the spooky graveyards or friendly spirits like Norman's grandma just hanging out in the house, this one touches on so many different horror themes, but does it in a lighthearted way.
At the core of it, however, is the story of a kid trying to find his power, his voice, and his courage to stand on his own. That is what makes the story of ParaNorman so engaging and heartfelt. When you pair this with the stunning visual work of LAIKA Studios' stop-motion animation and visual effects, plus the empathetic score from Jon Brion, you get a thoroughly enjoyable and classic film.
The Video
The digital stills for ParaNorman were taken on a Canon EOS 5D Mark II in 5K. This is listed by Shout! Factory as a new 4K restoration of the film. It arrives on 4K Ultra HD in a 2.40:1 HEVC 2160p (4K UHD) Dolby Vision encodement. The HDR10 metadata shows a MaxLL of 1047 nits and a MaxFALL of 1004 nits.  As the LAIKA Studios Edition release on Blu-ray was a reference, so is this – and it steps it up a notch. From the opening scenes one can see the image is cleaner and has even more detail and a wider color palette with better dynamics and 'pop.' Look at the screen on Norman's sister's phone in Chapter 1 and you see a vibrant colors and lots of specular highlights. If you skip to Chapter 8, as a another reference point, as the zombies run amuck, there are an array of colors and highlights in the street lamps or in the library lamps when the group enter to peruse the books for answers.
The Audio
Like the companion 4K release Coraline, ParaNorman hits 4K Ultra HD with its 5.1 mix upgraded to a new Dolby Atmos mix. While this one doesn't sound quite as balanced as Coraline to my ears, the differences are minor. ParaNorman had a strong mix before that had beefy low frequencies and solid effects in the surrounds. This is now expanded to include good height awareness like the sound of booming thunder in Chapter 8. There is clear dialogue and superb dynamic range.
The Supplements
ParaNorman does not include any new bonus features. Everything included here was released on the 2021 LAIKA Studios Edition Blu-ray release from Shout! Factory.
Brand-new SteelBook packaging with gorgeous artwork
Blu-ray with feature film and bonus features.
Commentary with writer/director Chris Butler and director Sam Fell
Inside LAIKA: Discovering the Characters and Effects of ParaNorman (1080p; 00:12:50)
Inside LAIKA: Revisiting the Puppets with LAIKA's Animation Team (1080p):

Courtney Babcock (00:01:25)
Mitch (00:01:34)
Norman Babcock (00:01:59)
Neil (00:01:21)
Prenderghast (00:01:42)
Zombie Judge (00:02:09)

Feature-Length Storyboards
Peering Through the Veil: Behind the Scenes of ParaNorman (1080p; 00:40:41)
You Don't Become a Hero by Being Normal (1080p; 00:02:43)
A Norman Childhood (1080p; 00:02:03)
Playing as a Profession (1080p; 00:02:17)
Making Norman (1080p; 00:01:33)
This Little Light (1080p; 00:01:14)
Have You Ever Seen a Ghost? (1080p; 00:02:11)
The Zombies of ParaNorman (1080p; 00:02:13)
Still Galleries (1080p):

Character Art
Concept Art
Behind the Scenes

Trailers (1080P)
Booklet featuring essay by Bill Besowtiz, crafts & animation editor of IndieWire
The Final Assessment
This is a brilliant film from LAIKA studios that is yet another reference 4K Ultra HD release from Shout! Factory. Highly recommended.
ParaNorman Limited Edition 4K SteelBook is out December 13, 2022, from Shout! Factory
---
Rating Certificate: PG (for scary action and images, thematic elements, some rude humor and language)
Studios & Distributors: Focus Features | Laika Entertainment | Shout! Factory
Director: Chris Butler | Sam Fell
Written By: Chris Butler
Run Time: 92 Mins.
Street Date: 13 December 2022
Aspect Ratio: 2.40:1
Video Format: HEVC 2160p (4K UHD)
HDR Format: Dolby Vision (HDR10 Compatible)
HDR10 Metadata:

MaxLL: 1047 nits
MaxFALL: 1004 nits

Primary Audio: English Dolby Atmos
Secondary Audio: Spanish DTS 5.1 | French DTS 5.1 | English Descriptive Video Service
Subtitles: English SDH | Spanish | French