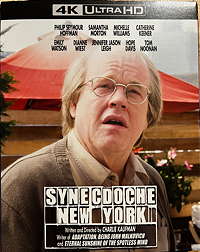 Often enigmatic and cerebral screenwriter Charlie Kaufman (Eternal Sunshine of the Spotless Mind, Being John Malkovich) made his directorial debut with the 2008 film Synecdoche, New York.
Using dream theory as a basis to drive the plot, Kaufman sets the film in Schenectady in Upstate New York. Philip Seymour Hoffman plays Caden Cotard, a middle-aged playwright who has spent years wasting his artistic potential staging mediocre adaptations of other people's plays. He is married to successful artist Adele Lack (Catherine Keener) who has grown tired of his squandering of his potential and the two have a four-year-old daughter named Olive (Sadie Goldstein). He dates the attractive box office salesclerk Hazel (Samantha Morton) who moves into a house that is constantly on fire, and when his neuroses and grappling with his hypochondria inevitably derails that relationship, he ends up dating one of his actresses, Claire Keen (Michelle Williams) and starting a new family. When Caden wins a grant for his well-received staging of Death of a Salesman, he decides to take the money and stage the grandest play ever seen, in a restored warehouse in New York City. Based on his own life, he hires innumerous actors, including Claire, who subs for Hazel in this story that mirrors his real life. Meanwhile, as his play mirrors his life, and his life increasingly begins to seem like a dreamworld, Caden is still on the search for his 4-year-old daughter Olive, who has disappeared with his ex-wife Adele, even though a decade has passed.
Kaufman's screenplay and direction, like many of the works he is known for, does not concern itself with the physics of reality. What starts out as an ordinary story about an upper middleclass man struggling with a midlife crisis slowly turns into a dreamlike drama where a house that is constantly burning, or an observer of pivotal events lurking in the backgrounds (Tom Noonan) seems normal.
Philip Seymour Hoffman, who died too young in 2014 at the age of 46, was already nailing the performance of a man having a midlife crisis six years earlier and Kaufman's direction helped to bring it out. Kaufman also deftly managed tying together the three layers of Synecdoche (the word means a figure of speech where a part is used to stand for the whole, or vice versa), the reality, the play, and the dream reality bleeding into the reality. This is one that stands up to multiple viewings and can be examined for deeper meaning endlessly.
Synecdoche, New York (2008)
The Video
Synecdoche, New York was shot on Super 35 (3-perf) film stock using various Arri cameras and lenses. It arrives in this new 4K Ultra HD release from the Sony Classics 30th Anniversary 4K Ultra HD Collection box set in a 2.39:1 HEVC 2160p (4K UHD) Dolby Vision encodement. The overall picture looks very filmic with a thin layer of organic grain consistently layered over the image. Colors are somewhat reserved but have a little bit of 'pop.' Samantha Morton's red hair looks very enticing, for example, and the fire in her house not only has a good array of orange and reds, but also good specular highlights. That said, the Dolby Vision grading on this release is very subtle and does not add a lot of extra brightness or color gradations.
The Audio
Synecdoche, New York comes with a subtle lossless DTS-HD Master Audio 5.1 mix that is dialogue-driven and uses the surround channels mostly for low-level atmospheric sounds like breezes in trees, distant traffic, and
The Supplements
The Sony Pictures Classics 30th Anniversary 4K Ultra HD Collection contains a 24-page booklet, featuring an all-new essay from renowned film critic David Thomson about the history of Sony Pictures Classics, along with information about each of the included films and an introduction from SPC co-presidents Tom Bernard and Michael Barker.
All the supplements included on the Synecdoche, New York 4K disc have been previously released.
In and Around Synecdoche, New York (1080p/60; 00:18:59)
The Story of Caden Cotard (1080p; 00:12:08)
Infectious Diseases in Cattle: Bloggers' Round Table (1080p; 00:36:38)
Screen Animations (1080p/60; 00:04:31):

Jackal and Caden
Cow and Sheep
Gravity

NFTS/Script Factory Masterclass with Charlie Kaufman (1080p/60; 00:27:40)
Theatrical Trailer (1080p)
The Final Assessment
Synecdoche, New York is a complex and powerful, multilayered drama that casts aside reality and explores dream theory. The performances are all top notch as is this new 4K restoration from Sony. The disc appears in the Sony Pictures Classics 30th Anniversary 4K Ultra HD Collection.
Synecdoche, New York is out in the Sony Pictures Classics 30th Anniversary 4K Ultra HD Collection on November 22, 2022, from Sony Pictures Home Entertainment
---
Rating Certificate: R (for language and some sexual content/nudity)
Studios & Distributors: Sidney Kimmel Entertainment | Likely Story | Projective Testing Service | Russia | Sony Pictures Classics | | Sony Pictures Home Entertainment
Director: Charlie Kaufman
Written By: Charlie Kaufman
Run Time: 124 Mins.
Street Date: 22 November 2022 (Sony Pictures Classics 30th Anniversary 4K Ultra HD Collection)
Aspect Ratio: 2.39:1
Video Format: HEVC 2160p (4K UHD)
HDR Format: Dolby Vision (HDR10 Compatible)
HDR10 Metadata:

MaxLL: 818 nits
MaxFALL: 90 nits

Primary Audio: English DTS-HD MA 5.1
Subtitles: English | English SDH