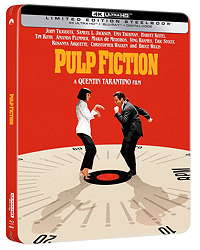 After announcing himself to the world with his 1992 debut film Reservoir Dogs, writer/director Quentin Tarantino returned in 1994 with the self-assured and more fully realized triumph Pulp Fiction. A non-linear tale of gangsters, sex, drugs, and violence, Pulp Fiction showed a director who had matured exponentially in an unbelievably brief period.
With a break out performance that resurrected the career of John Travolta, who had been languishing in the terrible Look Who's Talking films, and memorable lines of hipster dialogue that reference decades of pop culture, Pulp Fiction would go on to define the Tarantino style of filmmaking — not able to be placed in any specific time period and filled with dialogue so rapid, so quick, that it is at first listen realistic, and truthful, but not quite. It would also go on to earn the filmmaker a Palme D'or at the 1994 Cannes Film Festival, and a Golden Globe and Academy Award for Best Screenplay.
The film's narrative follows three different general story lines loosely tied together. One story follows two hitmen Vincent Vega (Travolta) and Jules Winnfield (Samuel L. Jackson) carrying out a hit for mobster Marsellus Wallace (Ving Rhames) and retrieving a briefcase with mysterious contents, one story is about aging boxer, Butch Coolidge (Bruce Willis), on the run from Marsellus Wallace for failing to throw a fight, another follows Vincent Vega and Marselleus' wife Mia (Uma Thurman) as he takes her for a night out, at Marsellus' request, and things go awry. Sandwiching the film is the story of a guy and his girlfriend (Tim Roth and Amanda Plummer) holding up a diner.
Tarantino manages to weave these unconnected stories together seamlessly, jumping back and forth in time in his nonlinear fashion until at the end everything all comes together and makes perfect sense. It is artfully crafted, skillfully edited, and cleverly written (with the help of writer Roger Avary). Pulp Fiction may be one of the greatest sophomore efforts by a director in the history of cinema and it still stands as one of Tarantino's greatest achievements, even with Kill Bill under his belt.
The Video
Pulp Fiction was originally shot on various Arriflex and Panaflex cameras on the extremely fine grain Eastman EXR 50D 5245 35mm film stock with anamorphic lenses. It comes to this new 4K Ultra HD disc framed at 2.39:1 in an HEVC 2160p (4K UHD) Dolby Vision encodement. The HDR10 metadata shows a MaxLL of 1000 nits and MaxFALL of 184 nits. I have recently viewed the 4K release of Reservoir Dogs (review still pending), which was shot on Super 35, and the super-clean look of that disc did not sit well with me. While detail is there in faces, it looks unnatural for that film stock in particular. This release, however, looks more natural. While the film grain is super-fine, this is more in line with the film stock, although it still looks like some extra grain reduction has been applied. Still, there is a very, very thin layer of grain over the image. You can really see this when Bruce Willis runs over Ving Rhames. Colors have never looked better thanks to the Dolby Vision grading. The Jack Rabbit Slim's scene with John Travolta and Uma Thurman really shines on this 4K release with fantastic specular highlights in the neon signage, an awesome array of colors, deep inky blacks, and the delicious looking red of Travolta's classic car.
The Audio
The lossless DTS-HD Master Audio 5.1 soundtrack sounds as good as it ever has with brilliant dynamic range, excellent clarity, and great punch in the mid- and bottom ranges for the various gunshots, crashes, and punches.
The Supplements
We do not get anything new with this release, unfortunately. Beyond the gorgeous new artwork on the SteelBook packaging, everything here is ported over from the 2011 Lionsgate Blu-ray release.
Digital Copy Code
Not the Usual Mindless Boring Getting to Know You Chit Chat (1080p; 00:43:01)
Here are Some Facts on the Fiction (1080p; 00:20:37)
Enhanced Trivia Track (English Only)
Pulp Fiction: The Facts – Documentary (Blu-ray Only) (SD; 00:30:31)
Deleted Scenes (Blu-ray Only) (SD; 00:24:39):

Quentin Tarantino Introduction
The Drug Deal Monologue
Mia Interviewing Vincent
The Esmarelda Cab Scene
Monster Joe's Truck and Tow
Extended Jack Rabbit Slim's Scene

Behind the Scenes Montages (Blu-ray Only):

Jack Rabbit Slim's (SD; 00:04:44)
Butch Hits Marsellus (SD; 00:06:02)

Production Design Featurette (Blu-ray Only) (SD; 00:06:22)
Siskel & Ebert "At the Movies" – The Tarantino Generation (Blu-ray Only) (SD; 00:16:00)
Independent Spirit Awards (Blu-ray Only) (SD; 00:11:29)
Cannes Film Festival – Palme D'or Acceptance Speech (Blu-ray Only) (SD; 00:05:20)
Charlie Rose Show (Blu-ray Only) (SD; 00:55:27)
Marketing Gallery (Blu-ray Only):

Theatrical Trailers (SD):

US Theatrical Trailer
UK Theatrical trailer
French Theatrical Trailer
German Theatrical Trailer
Japanese Theatrical Trailer

TV Spots (SD):

Question
Electrifying
Event
Reaction
Nominations
John
Question/Review
On the Move
React/Review
Academy 7
Travolta Academy

Pulp Fiction Posters (1080p)
Academy Award Campaign and Trade Ads (1080p)

Still Galleries (Blu-ray Only):

Behind the Scenes Photos
Special Photo Shoots
Production Stills
Location Scouting and Set Construction
Production Design and Logos
Props and Memorabilia
The Final Assessment
What is perhaps Tarantino's finest effort arrives in a magnificent 4K Ultra HD Blu-ray restoration from Paramount. Highly recommended.
Pulp Fiction is out in Limited-Edition 4K SteelBook and 4K Ultra HD Combo December 6, 2022, from Paramount Home Entertainment
---
Rating Certificate: R (for strong graphic violence and drug use, pervasive strong language and some sexuality)
Studios & Distributors: Miramax | A Band Apart | Jersey Films | Paramount Home Entertainment
Director: Quentin Tarantino
Written By: Quentin Tarantino (stories by) | Roger Avary (stories by)
Run Time: 154 Mins.
Street Date: 6 December 2022
Aspect Ratio: 2.39:1
Video Format: HEVC 2160p (4K UHD)
HDR Format: Dolby Vision (HDR10 Compatible)
HDR10 Metadata:

MaxLL: 1000 nits
MaxFALL: 184 nits

Primary Audio: English DTS-HD MA 5.1
Secondary Audio: German DTS-HD MA 5.1 | French DD 2.0 | Italian DD 5.1 | Japanese DD 2.0
Subtitles: English | English SDH | German | French | Italian | Japanese | Korean | Dutch