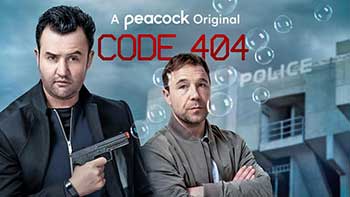 Since its recent launch in the middle of the pandemic, Peacock has been trickling out some "original" series, many acquisitions from the UK or Australia, like the latest British series set to premiere on October 1, 2020, Code 404.
The series, its title a reference to a common computer error code many of us are familiar with, is set in the near future, the series follows DI John Major (Daniel Mays, "White Lines") and DI Roy Carver (Stephen Graham, "Boardwalk Empire") two of the best of an elite police unit in London. The partners go on a stakeout to catch a drug dealing kingpin and John Major's cover is blown, resulting in him losing his life – or so it seems. The government brings in an American technology company working on a top-secret AI program to bring Major back to life using their technology. Now Major is back and better than ever – sort of — with an AI chip in his brain, and some memory gaps and glitches. He is back together with his partner Carver solving crimes and trying to find the person responsible for killing him, trying to recover lost memories, and also trying to restore his relationship with his estranged wife Kelly (Anna Maxwell Martin). But Carver is trying to hide the fact that he had an affair with Kelly while the two both thought Major was dead for good – as things usually work – and Major's AI doesn't always behave the way it should, so Carver has to keep an eye on him otherwise Major may be decommissioned.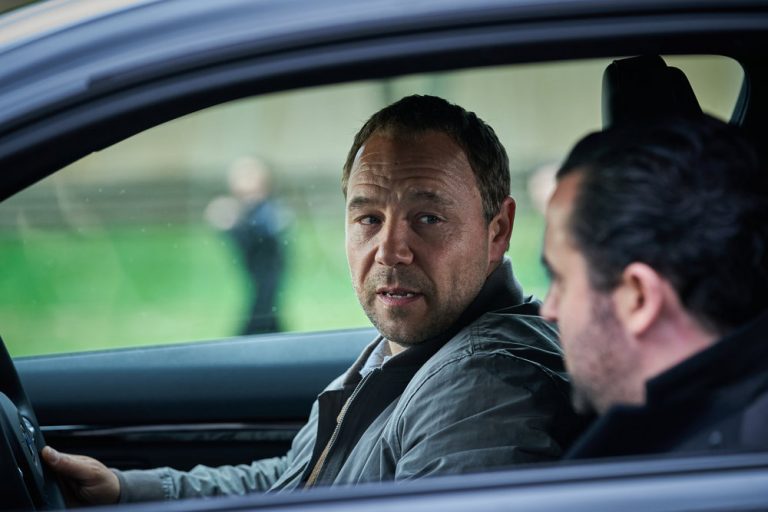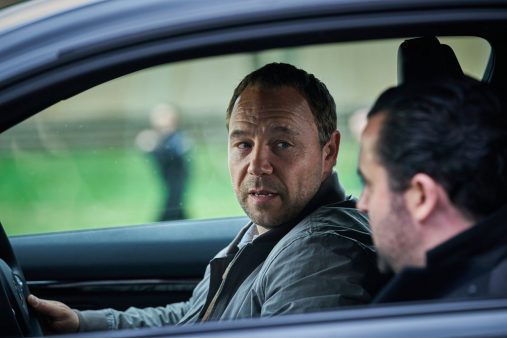 Code 404 is an interesting premise and the rare series that takes the buddy cop setup into the sci-fi realm, but rather than going for something serious, like the run-of-the-mill procedural, it leans more towards sitcom territory. One of the funnier running gags in the series, likely one that lands better across the pond or with those like myself with British relatives I see frequently, is where Major's American AI has him using Americanisms in his grammar and forgetting what the "correct" English way to say something is.
This series is definitely tongue-in-cheek and never takes itself too seriously at any turn, even during the 'dramatic' moments, which is surprising for all of the actors involved who are playing against type. Mays, Graham, and Maxwell are all typically in dramatic or even romantic roles, so if one thing Code 404 is definitely a standout for is allowing us to see these excellent actors stepping out of their comfort zones.
Code 404 premieres on Peacock, October 1, 2020
---
The Creative Content: 3.0/5
Show Creators: Tom Miller | Sam Myer | Daniel Peak
Original Release Date: 1 October 2020
Streaming Service: Peacock (US) | Sky Vision (UK)
Ep. Run Time: 25 Mins.
No. Eps.: 6
Studios & Distributors: Kudos Film and Television | Water & Power Productions