Video Codec: AVC/MPEG-4
Resolution: 1080p/24
Audio Codec: English Mono LPCM 1.0 (48kHz/16-bit)
Subtitles: English SDH

Region: ABC (Region-Free)

Discs: 1
Classification: U

Studio: BFI

Blu-ray Disc Release Date: August 3, 2009
List Price: £22.99

 

[amazon-product align="right" region="uk" tracking_id="bluraydefinit-21"]B0029XMXCY[/amazon-product]



Shop With Us for More Blu-ray Titles at Amazon.co.uk

Shop with Us for More Blu-ray Titles at Amazon.com

Overall

The Film

Video Quality

Audio Quality

Supplemental Materials


Click thumbnails for high-resolution 1920X1080p screen captures
More screen captures (22 Total)

(Screen captures are lightly compressed with lossy JPEG and thus are meant as a general representation of the content and do not fully reveal the capabilities of the Blu-ray format)
The Film

Penny Points to Paradise was the debut film for actor Peter Sellers and fellow cast members of the BBC radio comedy, The Goon Show, Spike Milligan and Harry Secombe. Directed by Anthony Young, who would later produce The Telegoons for BBC television, and written by John Ormonde, Penny Points to Paradise brought the comedy troupe's form of slapstick to the visual medium and was only halfway successful in doing so. Peter Sellers himself is quoted as saying, "it really was a terrifyingly bad film!"
The Goons were not yet as comfortable as they would become in the visual medium and as such, many of their gags, which worked so wonderfully on the radio, seemed flat and obvious on film. They also tended towards a lot more physical comedy in Penny Points to Paradise that were occasionally hilarious and other times, only vaguely amusing. Still, time requires another look a Penny Points to Paradise and Peter Sellers' opinion perhaps needs a reassessment. Penny Points to Paradise is hardly a "terrifyingly bad film" seen through the eyes of history.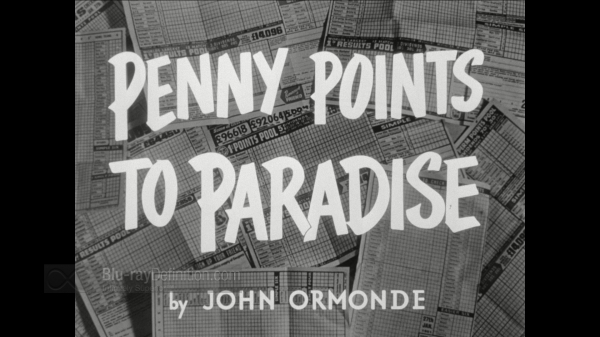 The film has a clear place in the history of British comedy and is a missing link between the comedy of Laurel and Hardy, Charlie Chaplin, The Marx Brothers, and the more contemporary thread in English humour of Benny Hill and The Pythons. There are sequences in Penny Points to Paradise that might as well have been lifted directly from a Chaplin or Laurel and Hardy film, then others that hint at the things to come from The Goons and the people they would influence, like director Richard Lester.
The film itself concerns a man, Harry Flakers (Harry Secombe), who has just become the biggest winner on the football pool in British history. After he takes his winnings, Harry and his friend Spike (Spike Milligan) decide to spend time at their usual boarding house, but there they find two women looking to marry into money and a money forger and confidence man looking to replace the money in Harry's suitcase with forged 5-pound notes.
The film opened to mixed reviews and disappointing box office takes, failing to even make back its meager budget. Eventually, the film was shortened in length and edited with sequences from a subsequent Peter Sellers film, Let's Go Crazy, for release in New Zealand, ten-years after its original release in attempt to make the film profitable and take advantage of Sellers' current fame.
Ever since then the two films had been indelibly intertwined, with the negatives edited, reels for prints long lost, and both films eventually all but forgotten — until now. For this release, the BFI have restored each film to its original length and restored the original sequences.
Let's Go Crazy is an odd little film that finds members of The Goons playing multiple characters in a nightclub, most notably Peter Sellers doing an impersonation of Groucho Marks. It can finally be seen here again separate from Penny Points to Paradise thanks to extensive work and research by the BFI.
Video Quality

Penny Points to Paradise and Let's Go Crazy were transferred in high definition from new 35mm restoration negatives. The picture on the new tape masters was restored using HD-DVNR and MTI restoration systems, removing dirt and scratches, repairing torn or missing frames and improving stability.
These new restorations of Penny Points to Paradise and Let's Go Crazy were assembled through an extensive process that involved the assessment of forty-four reels from various sources, including camera negatives, finegrain positives and prints in both 35mm and 16mm. Because none of these sources yielded a full version of the film, the restoration process had to proceed by reconstructing the films from these various sources.
Given these circumstances and the poor condition of a nitrate finegrain print, which proved the best existing source for much of the material for Penny Points to Paradise (that subsequently had to undergo extensive cleaning to remove heavy amounts of surface dirt), the BFI have done brilliant work on this project. In particular, the work in finally putting Penny Points to Paradise back together in its original length, is a marvel to behold. The differences in source material are barely noticeable, except for the few odd frames that are noticeably soft in detail and abundant in grain.
Let's Go Crazy had the bulk of its material taken from a 35mm finegrain positive in the BFI archive and the film's missing third reel was reconstructed from the finegrain and a 16mm print on loan to the BFI.
The 1.37:1 AVC/MPEG-4 transfer for both films looks incredibly solid. Penny Points to Paradise has noticeably deep blacks, crisp details in the majority of its frames and source damage, although popping up on occasion, is never distracting or intrusive. Let's Go Crazy looks equally good, although, perhaps, coming with slightly less inky black levels.  I have no complaints about this solid effort from the BFI.
Audio Quality

Audio for Penny Points to Paradise was restored from several elements: nitrate finegrain, the 35mm preservation sound prints and a 16mm print. Let's Go Crazy had its audio digitally re-edited from a 1951 print missing the third reel held by the BFI, a 35mm finegrain positive in the BFI archives, and a 16mm print loaned to the BFI.
Audio for both feature films as well as The Slappiest Days of Our Lives appears on this Blu-ray Disc in LPCM 1.0 (48kHz/16-bit).  Once again, given the conditions and circumstances, the BFI have done quite well to restore the sound on these films. Dialogue is intelligible and distortion is barely noticeable. If one doesn't go in expecting a spectacular modern day surround extravaganza, one won't be disappointed in the slightest.
Supplemental Materials

In addition to the two "feature" films, there is also another feature film, The Slappiest Days of Our Lives, provided on this disc. The film is a silent-film clip compilation featuring a voice over by Peter Sellers. Additionally, the BFI have provided a lengthy, twenty-nine-page booklet with in-depth essays on all three films and extensive information on the restoration process. The booklet also includes photos, production stills, and film credits.
The Definitive Word
Overall:

The films presented on this release are an important part of film and comedy history that should not be missed. They offer an interesting look at a young Peter Sellers, the comedy troupe that would go on to inspire many others, including Monty Python and Saturday Night Live and this disc comes highly recommended.

Shop With Us for More Blu-ray Titles at Amazon.co.uk

Shop with Us for More Blu-ray Titles at Amazon.com