Audio Codec: DTS-HD Master Audio 5.1 (192kHz/24-bit), 5.1 LPCM (192kHz/24-bit), 2.0 LPCM (192kHz/24-bit) / 5.1 DSD, 2.0 DSD, 2.0 LPCM (44.1kHz/16-bit)
Video Codec: n/a (only still images for menu navigation)

Region: ABC (Region-Free)
Discs: 2 (1 BD/1 SACD)
Composer: various
Performers: various
Label: 2L
Release Date: February 2009

List Price: NOK 199,00; $31.98; CDN$34.42
[amazon-product align="right"]B0025ZITT2[/amazon-product]

[amazon-product align="right" region="ca" tracking_id="bluraydefinit-20"]B0025ZITT2[/amazon-product]
Shop with Us for More Blu-ray Titles at Amazon.com

Overall

The Performance

Video Quality

Audio Quality

Supplemental Materials


The images below are production stills and are not taken from the disc, which only contains limited video menus for disc navigation.

The Performance

The Nordic Sound – 2L Audiophile reference recordings is one of the labels'  Pure Audio Blu-rays, featuring 19 (mostly complete) tracks from various SACDs and a few Pure Audio Blu-rays. It can be listened to without the need for a screen to navigate through a menu; it behaves just like a regular CD. On the back of the case is a color code for the different encodings: when pushing the red button on your remote you listen to 5.1 DTS-HD MA (which is also the default), green switches to 5.1 LPCM and yellow to 2.0 LPCM. There is a basic menu with directly selectable track numbers and a cover-flow style display for the artworks of the corresponding album. You can also switch between the different encodings with three (also color coded) menu buttons .
2L is dedicated to Norwegian composers and performers spanning a musical repertoire from Bach to contemporary improvisation. The same diversity is also reflected on this sampler, featuring works by Mozart, Haydn, Britten and Schoenberg but also Plagge, Nordheim, Nystedt and Gjeilo among others. Even though the main focus could lie solely on the audio quality it should be noted that the performances are on a very high level throughout.
Marianne Thorsen and the TrondheimSolistene (track 1) make for a brilliant start with the Allegro from Mozart's violin concerto in D Major. This SACD was declared a 'Record to die for' by STEREOPHILE and it has indeed replaced my reference recording by Julia Fischer on Pentatone. The same chamber orchestra performed the 'Divertimenti' released as a Blu-ray/SACD set (track 17), for which they were nominated at the 2009 Grammy awards for best small ensemble plus the recording was nominated for best surround sound album and best engineered album. It is my current reference disc for classical surround sound. The Dena Piano Duo (track 2) play Mozart's Sonata for 2 pianos with a clarity (both in performance and in sound) that I haven't heard before. It is also available as a Pure Audio Blu-ray. Ola Gjeilo (track 8 ) captivates the listener with a unique blend of Jazz, classical and popular music. Tasteful piano playing combined with trumpet and cello – beautiful. Slåttetrallin (track 10) is for Norwegian folk songs what scat is for Jazz: a way to present vocal music without actual lyrics. It is very well performed, however the left surround singer, due to the lower pitch, seems very dominant, thus unbalancing the surround mix. I prefer the stereo version for this track.
Nordheim's colorazione (track 3) starts out with a wild collage of percussion sounds followed by minimalistic electronica/synthesizer fragments. It is very aggressively mixed to the surrounds and sounds simply huge! This and the orgelimprovisata over Deilig Er Jorden (track 18) will show you if there are any loose parts in your listening room; neighbours and bass sensitive wives beware!
There are many more tracks from Elliott Carter to Nystedt's Immortal Bach that deserve serious listening.
Tracklist:
Marianne Thorsen / TrondheimSolistene – Mozart: Violin Concerto no. 4 in D major – Allegro
Dena Piano Duo – Mozart: Sonate in D-Dur for 2 Pianos – Allegro con spirito
Cikada Duo – Nordheim: Colorazione (excerpt)
Ellen Sejersted Bødtker – Åm: Vere Meininga (excerpt)
Consortium Vocale – Gregorian Chant – Crux Fidelis
Kristiansand Symfoniorkester – Islandsmoen: REQUIEM – Lacrymosa
Kristiansand Symfoniorkester – Islandsmoen: REQUIEM – Confutatis
Ola Gjeilo / T. Barber / J. Martens – Gjeilo: North Country II
Stig Nilson / Anders Kjellberg Nilsson – Plagge: Duels for 2 violins
Berit Opheim Versto – Slåttetrall: Springar etter Gudmund Eide
Johannes Martens Ensemble – Carter: Sonata for Violoncello and Piano – moderato
Annar Follesø – Bartók: SONATA for solo violin – fuga
Tone Wik / Barokkanerne – Vivaldi: Recitative and Aria from Cantata RV 679, Che giova il sospirar, povero core
Tor Espen Aspaas – Schönberg: Sechs kleine Klavierstücke op. 19 (1 and 2 excerpt)
Engegårdvartetten – Haydn: String Quartet In D, Op. 76, No. 5 – Finale – Presto
Kristiansand Blåseensemble / B. Sagstad – Ives: Overture & March 1776
TrondheimSolistene – Britten: Simple Symphony, op 4 – Boisterous Bourree
Kåre Nordstoga – Sandvold: Orgelimprovisata over DEILIG ER JORDEN
Ensemble 96 / Ø. Fevang – Nystedt: Immortal BACH
Video Quality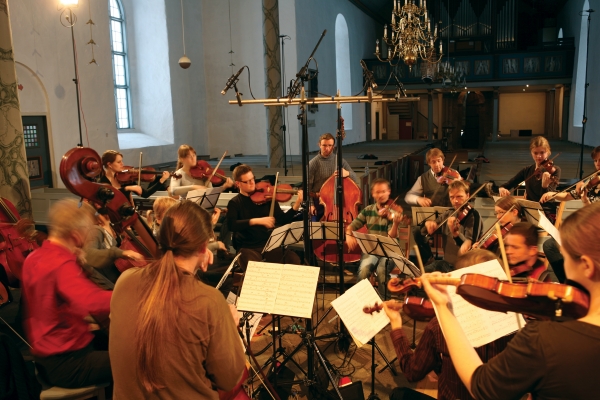 This release contains only limited video menus for disc navigation.
Audio Quality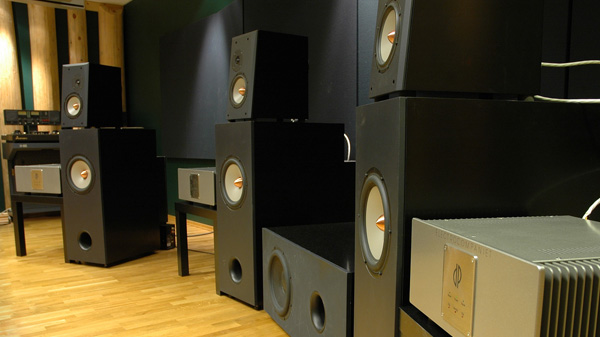 The audio presented here is all encoded with a sample rate of 24/192kHz on the Blu-ray and DSD on the SACD (plus there is also a regular CD layer for compatibility reasons on the SACD). The source quality ranges from DXD 24/352.8kHz to 24/44.1kHz. But regardless of the sampling rate used, the audio is indeed of reference quality. From clear and powerful bass to silky highs, it's all there.
There is still an ongoing debate in the audio industry whether higher sampling rates than 24/96kHz actually produce an audible difference in quality. Many people have a preference (and swear by) DSD, just as many prefer hi-resolution PCM. And last but not least there are those who claim to hear a difference between losless encoded DTS-HD Master Audio streams and LPCM streams. I don't want to turn this review into another theoretical debate and rather quote the engineer behind all the 2L recordings, founder Morten Lindberg:
'All Audio formats on The Nordic Sound are sample rate converted from the same DXD master. Comparing them in our studio we find only subtle differences from DXD down to 192kHz and 96kHz. The obvious degeneration is from 96kHz down to 48kHz. We find DSD, as used in the SACD format, somewhat different in colour from PCM; in some mysterious way DSD is softer and more beautiful but slightly less detailed. In DXD we find the shimmering brilliance from the original analogue source as directly from the microphones. Linear PCM is offered in addition to DTS-HD Master Audio on this Blu-ray with the purpose of convincing audiophiles of the true lossless qualities of commercial encoding. (…) I personally prefer extremely high resolution PCM over DSD and I would claim that DSD is not as transparent. But it all comes down to what the sound from your speakers can do to your body and mind. I find that the placement of microphones has an infinite more important role in the final experience of music, than the difference between HiRes PCM and DSD. Sometimes a lie can be more beautiful than the truth!'
You don't need to agree with Morten Lindberg, since you get it all you can do the comparisons for yourself. Personally, with my current setup I prefer the PCM stream (it's slightly more open), but the difference is really marginal. I did not detect any quality loss in the DTS-HD MA tracks. One more thing to mention is the validity of such a test. The best way to do it would be a double blind test, which is nearly impossible to do in a home setup. Proper level matching, accurate syncing and uninterrupted switching are only possible in a professional recording studio. Even when I replace my players with a Universal player I will still be subject to subconscious expectations that will alter my perception. Luckily the technology has reached a sophistication that all the differences are merely preferences, provided the audio engineering is done right. And in this case this definitely holds true.
Although the CD layer is the weakest of the 6 choices, I'd still enjoy it if that were all that's available. The 2 stereo streams in DSD and 24/192 LPCM reveal even more detail, but the real highlight are the surround mixes. 2L's innovative approach to utilize the rear speakers as equal parts and not 'just' for ambience makes for an exceptional sonic experience.
Supplemental Materials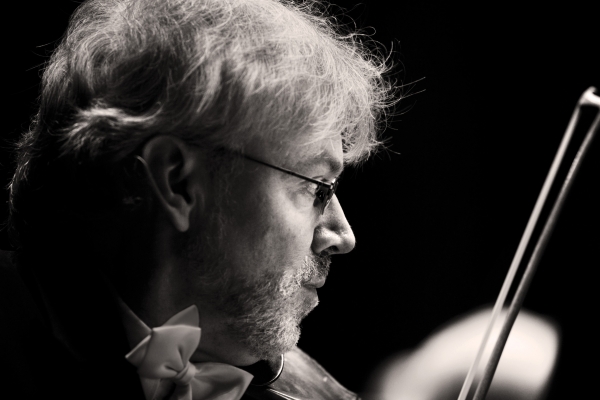 There are no supplements on this release.
The Definitive Word
Overall:

There are not many labels that push the boundaries of digital audio and distribution as consequently as 2L. With great care Morten Lindberg and his team choose the right microphones, the correct positions and the appropriate recording venue to capture music with unprecedented quality. The final result is simply a joy to listen to.
Many audiophiles still disregard surround as gimmicky and distracting. Some actually still swear by mono. Without a doubt there are many recordings that deserve exactly those adjectives, but when done right surround can be a revelation. For most of their recordings the musicians are positioned in a circle around the microphones putting the listener right in the middle of the music.
A little anecdote form Morten Lindberg quoted from the inlay:
'A senior Norwegian HiFi journalist visted our studio recently. Prior to our listening session I explained to him how we recorded MOZART and DIVERTIMENTI with the orchestra in a circle, all musicians facing each other – surrounding the listener. He rose from his chair and wanted to leave. I begged him to listen – and he stayed for 3 hours; leaving us with the conclusion: "Now I need to go home and write an article apologising to all my readers for the thirty years I have misguided them in stereo. Surround sound is the real thing."
Anyone that is still vary about surround should start their journey with a high quality recording like this one.
The 2L audiophile reference recordings Sampler gives the listener a great opportunity to explore what the label has to offer and comes with the highest recommendations.


Shop with Us for More Blu-ray Titles at Amazon.com