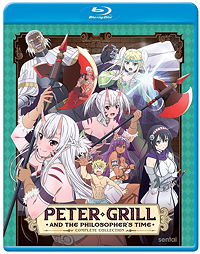 Peter Grill and the Philosopher's Time is a Japanese anime series based on the fantasy manga series by Hiyama Daisuke. The series is a brief 12-episode run with each episode running an average of 12-minutes and incorporates many elements of comedy, harem, and ecchi as well as its primary fantasy theme.
Peter Grill is an adventurer, swordsman, and champion who has just won the planetary competition to become crowned the strongest man in the world. Promised to his guildmaster's daughter, Luvelia Sanctus, Peter is in love and dedicated to Luvelia, but her sheltered upbringing by her overprotective father means she knows nothing about sexual relations, believes babies are brought by storks, and their physical contact has not gone beyond handholding in the few years they have been together. This becomes a problem when numerous, beautiful women, of all the different races, arrive who want to gain the seed of the strongest man in the world to reproduce. Two ogre sisters, a diminutive but cute elf, and an Orc who is ugly to her own people but attractive in the human world all show up and trick, tempt, even use witchcraft to get Peter to have sex with them, leaving him feeling guilty toward Luvelia – and terrified her father will find out his secret.
Peter Grill and the Philosopher's Time does not go much further beyond this basic premise of even go more deeply into exploring the vast world this story is set in. We do not learn too much about the various races, the politics behind the nations, or why there is even a contest of champions in this very brief story arc. What we do get is plenty of fan service and a lot of bad puns and plays on words related to semen like "spilling your sweet gravy inside me is the only option" when the elf Vegan Eldoriel tells Peter the only way to remove the curse she placed on his genitals.
There are some funny set pieces throughout and the animations are certainly appealing – the female characters are certainly drawn with the male otaku in mind – but the story loses steam quickly.
Peter Grill and the Philosopher's Time
The Video
Coming to Blu-ray in an AVC 1080p encodement framed at 1.78:1, Peter Grill and the Philosopher's Time shows good color reproduction and a relatively clean image beyond the slightest hint of some banding in some color fills occasionally.
The Audio
Both the original Japanese and English dub are included in DTS-HD Master Audio 2.0 Stereo mixes. While the stereo imaging is wide and dialogue clear, I felt like the louder sound effects sounded like they were being a little limited, causing a sound that was a little bit cluttered and unrefined in the midrange.
The Supplements
Clean opening and closing animations (1080p) and full storyboards (1080p) for all 12 episodes are included as well as additional Sentai Filmworks trailers.
The Final Assessment
While this series has eye-popping character designs and some likeable characters, the story itself never rises above the puerile to explore what could have been a fascinating fantasy world. Stream it if you can find it, but it is not necessarily worth owning on Blu-ray.
Peter Grill and the Philosopher's Time: Complete Collection is out on Blu-ray October 18, 2022, from Sentai Filmworks

---
Rating Certificate: TV-MA (DS)
Animation Studio: Wolfsbane
Distributor: Sentai Filmworks
Director: Tatsumi
Written By: Mōri Nora
Run Time: 180 Mins.
Street Date: 18 October 2022
Aspect Ratio: 1.78:1
Video Format: AVC 1080p
Primary Audio: Japanese DTS-HD MA 2.0 Stereo
Secondary Audio: English DTS-HD MA 2.0 Stereo
Subtitles: English