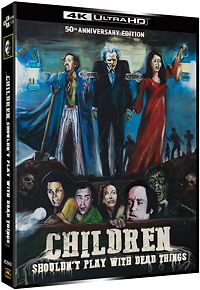 Children Shouldn't Play with Dead Things is a cult slasher/horror film from Bob Clark that has a committed following but has not aged as well as some of Clark's other films such as Black Christmas. In this low budget outing, an amateur theater troupe decide to head into a graveyard to experiment with witchcraft with the predictable results of raising the dead.
Children brings together a motley crew of characters and interrelationship squabbles. There is no doubt the film owed a debt to George R. Romero's Night of the Living Dead with its use of zombies, it is devoid of the political messaging in Romero's film and Clark's previous film Deathdream, which had a clear message pertaining to the Vietnam War. There is an interesting premise here and an atmosphere of levity, but the acting  outside of Alan Ornsby – who would go on to write Cat People, My Bodyguard, and Porky's – is of an ironically of an amateur level.
Children Shouldn't Play with Dead Things (1972)
The Video
Children Shouldn't Play with Dead Things was a very low budget horror film shot on 35mm film stock. This new 4K Ultra HD restoration is taken from a 35mm archival print, so it is not the best source available, but VCI have done as good a job as possible. The image is a bit inconsistent, with some wavering black levels and coarse granularity, but it looks natural. The film appears in a 1.85:1 HEVC 2160p SDR encodement. The dynamic range is limited by the both the source and the original production, with the image at times falling into murkiness and amorphous shadows.
The Audio
A mono soundtrack is provided for Children in LPCM 2.0 on the 4K Ultra HD disc. There is nothing special about the sound – this was a very low budget production – but the restoration and transfer do no further harm.
The Supplements
VCI provides a strong selection of bonus features along with the creepy-looking limited-edition slipcover for this release. The conversational audio commentary with the cast members is an enjoyable listen.
New Special Liner-Notes Booklet written by Patrick McCabe.
Collectible Slipcover limited to initial pressing.
Blu-ray with Restored Feature Film and Bonus Features
Blu-ray with Bonus Features
Audio commentary with lan Ormsby, Jane Daly and Anya Cronin
NEW Dreaming of Death" Bob Clark's Horror Films (1080p; 01:12:50)
Original Theatrical Trailer (4K UHD)
2022 Alan Ormsby Interview (1080p; 00:33:32)
Confessions of a Grave Digger: Interview with Ken Goch (1080p; 00:09:08)
Grindhouse Q&A (1080p; 00:11:27)
Memories of Bob Clark: A Tribute to the Late Director (1080p; 00:10:08)
Photo Gallery (1080p; 00:04:54)
"Dead Girls Don't Say No" Music Video by The Deadthings (1080p; 00:03:50)
Tribute Video (1080p; 00:02:00)
Radio Spots (1080p; 00:04:25)
The Final Assessment
A cult classic more interesting for its cast and influence by Romero's film than being groundbreaking cinema itself, this edition looks as good as can be in this new 4K restoration from VCI Entertainment given the provenance of the film. The 50th anniversary collection will appeal to genre fans.
Children Shouldn't Play with Dead Things: 50th Anniversary is out on 4K Ultra HD Combo December 6, 2022 from VCI Entertainment
---
Rating Certificate: PG
Studios & Distributors: Brandywine Motionarts Films | VCI Entertainment
Director: Bob Clark
Written By: Bob Clark | Alan Ormsby
Run Time: 87 Mins.
Street Date: 6 December 2022
Aspect Ratio: 1.85:1
Video Format: HEVC 2160p (4K UHD)
HDR Format: SDR
Primary Audio: English LPCM 2.0 Mono
Subtitles: English SDH